Today Betman has a special treat for all the Scorum members: A fight with a prominent member, our @btb at BetScorum! How? Listen up!
Now, @btb is an excellent tipper, much better than Betman is. His name is actually Beat-the-Bookies, which Betman fully supports. How shall we do that? We shall bet directly and without bookies at all! Bare knuckles, right now!

Beat-the-Bookies is, furthermore, a great guy always ready to help. He's got only one fault: Doesn't like to leave the links to the games with his advices. So, Betman will take a fighting chance to all games except one, put the links, and we'll see the results in the next installment of…
BetScorum Fight Club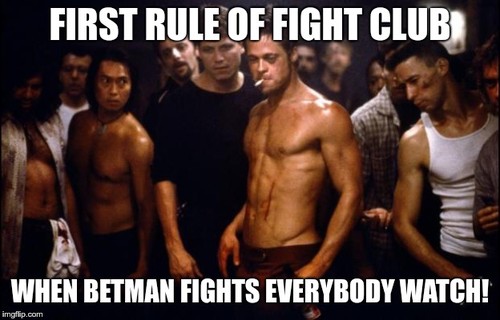 Betman will not let you wait. For an original @btb's tips you have to visit his post, right here:
. . .
https://scorum.com/en-us/betting/@btb/epl-matchday-2-predictions
. . .
And now, lets start with Saturday games:
Here, @btb expects that both teams will perform a bit different from the first round. Arsenal, which was named after former slave dri… I mean manager, Arsene Venger, strangely, did not changed the name to Unainal under Unai Emery. And they should, since he got them through the first round this year visiting at poor Newcastle. Burnley, on the other hand, burned Southampton. Betman thinks Arsenal won't learn goalgetting in a week…
His bet: Arsenal -1.5 @2.04 — Betman: Burnley +1.5 @1.962
Still can't figure out who is worse, but Watford sure looks like a beer party throwouts. Here, @btb has found beautiful value bet on Everton, but Betman goes contra…
His bet: Everton -1 @2.41 — Betman: Watford +1 @1.709
16:00 CET: Brighton vs Westham
This match is not listed at BetScorum! It's a scandal! Betman refuses to bet whenever he is deprived of betting!
His bet: Brighton 1 @2.58
Ah, Norwich, sad victim of MoSa the Terrible and the Liverpool gang of idlers, who do not have anything better to do but football… the consequence of high unemployment in Liverpool. Well, Betman admits, Norwich are close to recuperation with magpies, but since this is a fight…
His bet: Norwich City 1 @2.25 — Betman: Newcastle United X2 @1.707
Aston Villa hasn't play so good since… Savo Milošević was there. They actually won first half against Totten, and were just five minutes to draw when Hurricane hit them… Can Bournemouth surprise? They are bourne for that!
His bet: Aston Villa 1 @2.32 — Betman: AFC Bournemouth X2 @1.651
Not that Liverpool FC cannot trash Southampton, it's only historically hard to expect every win over two or three goals difference by any team… except Barcelona.
His bet: Liverpool -1.5 @2.36 — Betman: Southampton FC +1.5 @1.735
In Betman's experience, high expectations usually go bad. And there is a fair amount of chance that Tottenham Hotspur players won't lay down and play dead…
His bet: Manchester City -1.5 @2.04 — Betman: Tottenham Hotspur +1.5 @1.962
Sunday, August 18th
Derby match this week! Sheffield shufflers against the most inconvenient guests imaginable. And @btb again made a reasonable choice that Betman will challenge with his unreasonable reasoning…
His bet: Crystal Palace +0 @2.11 — Betman: Sheffield United -0 @1.901
In the Supercup Betman didn't get to stake in time, so f*ing Chelsea went to extensions, waiting and lurking for Betman…And as soon as Betman made a live bet that they will win on penalties, they, of course, lost. Go, Leicester!
His bet: Leicester City +0.5 @2.23 — Betman: Chelsea FC 1X @1.184
Monday, August 19th
Betman will here risk a possibility that Manchester United actually has a competitive team for this season. It wouldn't be the first time Betman was wrong. Betman has extensive experience in wrong tips. Already had a lecture invitation to several Universities on that topic.
His bet: Wolverhampton +0 @2.41 — Betman: Manchester United X2 @1.337
. . .
There you go. If you thought it will be easy to get it right, you were to optimistic. Now YOU will have to chose. If you miss, you can still easily find job as a CSI investigator, as a nurse in the retirement home, as a sailor on a cruiser, or on a Scorum platform promotion at promo.scr. Like sports even more? Then you can train heavy lifting with SCR price under one cent. That would be an Olympic program worth…
Join Betman's Fight Club!