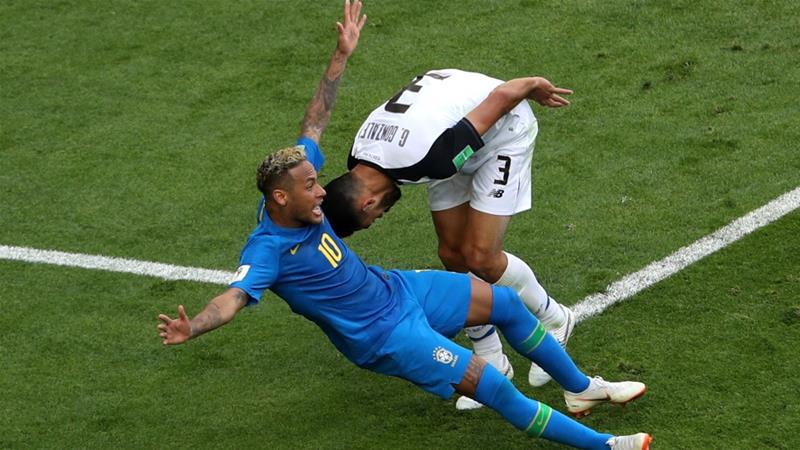 Let Betman dive into the stats for this one. Let's see — Brazil had… 0 penalties awarded. Let Betman count one more time. It still says 0 penalties. What is their star actor doing?
Well, he dived. He forced 17 fouls (more than any other player at the tournament so far) out of about forty dives. Almost 50% success. And the diver almost extorted a penalty against Costa Rica. See the pic above where he recreates famous "Zidane-Materazzi" moment, from the finals 12 years ago, in real time! VAR corrected most ignorant man on the pitch.
But he is a persistent guy. This game is the right moment for him to show his acting skills!
16:00 Brazil—Mexico 1&3+ @2.40
MozzartBet, who else?
Good luck!

Бразил—Мексико — Часови глуме
Допустите Бетману да западне мало у статистику за овај меч. Да видимо — Бразил је досад имао… 0 досуђених пенала. Чек' да Бетман преброји још једном. И даље пише 0 пенала. Шта ради тај њихов најбољи глумац?
А да је падао, падао је. Изнудио је 17 фаулова (више од било ког другог играча на турниру до сада) од око четрдесетих падова. Скоро 50% успеха. И падавичар је замало изнудио пенал против Костарике. Погледајте горњу слику где он у реалном времену реконструише чувени "Зидан—Матераци" тренутак из финала од пре 12 година! ВАР је исправио највећу незналицу на терену.
Али он је упоран момак. Ова утакмица је прави тренутак да коначно покаже своје глумачке способности!
16:00 Бразил—Мексико 1&3+ @2.40
MozzartBet, кој би други?
Са срећом!