This should be your easiest money on betting ever. It's on Betman. Because, he made his standard mistake again – with a same sinister aim: To throw Chelsea out of the competition!
If you have ever followed Betman just for one week, you must know about his blood feud with Chelsea. Yes, they have a particular pick on Betman's picks, and they have an 'intelligence' service with a task to find out what Betman have chosen of their games. Then they deliberately ruin his choice. It's not a conspiracy theory, but a long term Chelsea strategy to financially destroy Betman. And since they chose war – the war they shall have! If they want to ruin Betman, then Betman just have to invest on them to throw their sorry asses tied to even sorrier legs, out of any meaningful competition!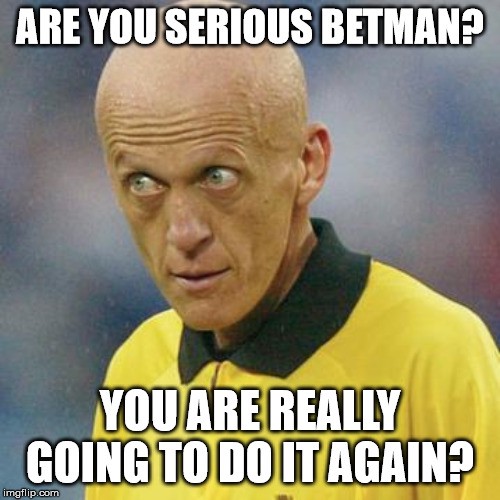 You bet, Pierluigi. And I'll give you a tip. And I'll tell you how it happened. You see, everything started while Betman was contemplating to stake at BTTS, since Chelsea cannot defend, and last season, Ajax had a trademark to concede at home. But one quick glance at the group H sow a doubt at Betman's plan. Ajax didn't concede a single one in the first two games, and send their opponents with a three balls in the net each. They must be broken somehow, and Betman didn't want to wait for a mechanic. And he was seriously thinking to leave this match alone, and then… Grof offered very nice odds that Betman couldn't resist!

Yes, Betman used it all, so nothing left for you. But now the best part comes. Since Betman did choose that Chelsea will not lose, they are baked… tost… how do you say that? So, you have left with a certain tip for this game, that cannot miss at all:
Unfortunately, this time you won't find the best odds at BetScorum offer. At BetScorum currently is just 2.15, but that juicy 2.38 you can find at Betfair, Betclic and Betway.
.

You see, it is quite small price in ever falling SCR to escort Chelsea into Europa League or Brexit Qualifications… whatever comes first. And we are going to get our refund back from the generous Scorum Loyalty Program, aimed to appease the rest of Scorum population while they are growing white beards waiting for any other sport at BetScorum…
.

Well, Betman cannot wish you luck this time, for obvious reasons, but this time you won't need it anyway. You just might need an efficient detergent ad:
Ajax, for cleaning the blue spots!
And now Betman returns watching to that fantastic 'El Classico' in Catalonia!