This brilliant loss opened the door to our brand new Betting Academy, and to the next 'Don't Do It' lesson: Never hurry with correction! Here, Betman will make a mistake for you while SCR is still buried at half a cent… So, let's first see the yesterday's results:

Not only terrible, but tragic. Just like Betman told you if you stake triple. Chelsea betrayal can never be a surprise, but Barcelona is sinking together with Catalan chances for independence.
.
Today, Betman will take the most unpredictable game in the offering − it's the Eastern Europeans, wannabe Western Europeans, but with a lot of fear of success, big pocket holes, and of course, insatiable leadership. Does that remind you of… OK, let's stay with football. Where are we going to drop our paper and SCR?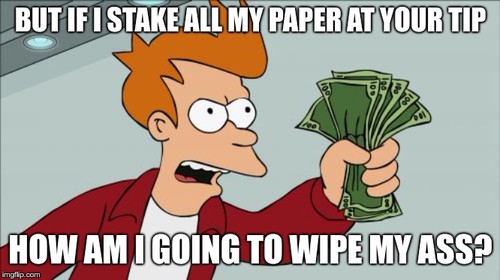 But if you use your paper first, and then bet with it, you will enormously help transition to crypto, right? Don't thank me, it's just another free tip from Betman. When you drop it all, try water shower, it's healthier and more hygienic. BTW, did you notice that largest bookies lately sucks the most? Alright, if you still insist to thank Betman despite everything, here is his bitcoin address: 1GZQG69sEKiMXKgGw9TcGcUCBoC4sC1ZYp
.
And finally, here is the tip:

Last match between these two teams finished 2:2, and now optimists would expect Dinamo win easy. Ay, there's the rub! Now Shakhtar will have a chance to play strong defense and counterattack − their favorite way of destroying the joy of football, perfected by the Italians and invented by Helenio Herrera, naturalized French and Argentinian by birth. So that you know who you have to swear at if you have staked Over 2.5 goals.
.
Betman thought that he couldn't have worse beginning of the month than it was in October, but November is already worse, and is looks like it will be a really strong month for the Betting Academy, and so much more "Don't Do It" lessons. Even Scorum Loyalty Program for tipsters (if it still exists) can hardly patch that hole. Still, how long can BetScorum in tatters survive? Maybe not, but…
At least, you will gather enormous betting wisdom!