After more than two weeks of persistent living at BetScorum front page, the matches of Coupe de France are finally deleted. Betman knows you are sad because of it… a part of your life is gone without a trace. But don't worry, there will be even longer dwellers, you just wait…
And Betman will contribute in the time of your waiting with a tip which will certainly disperse all remaining Scorum members and participants at BetScorum betting exchange. Just as the developing team would like, but still does not have a power to do it immediately. Betman has that power. So, this time, the match is… wait for it!
The last tip Betman put up was successful again… sixth time in a row…

.
…so this time there are a significant chances for a failure. Here we have two teams where Juventus already got through the group phase, and Atletico must get another win. Now Juventus can play just for fun of getting more money, or choosing an opponent in the first round of a final phase… or simply for f*cking hardworking bettors all over the World. As you may remember, it was a draw in Madrid (2:2), and now we have to ask ourselves, what can be expected here? Is Juventus, young in name only, capable to win over Spaniards, desperate for a handful of euros more? Can they win with the aging Ronaldo, who now must get as close as 35 meters from the goalpost to score? Everyone would say "hardly!"… except maybe a few that would say…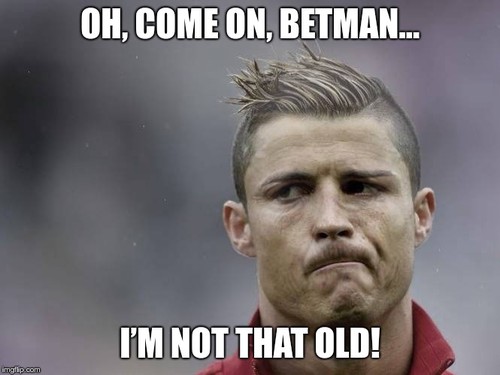 Well, if everyone say "hardly!", and if someone set the odds at 2.219 at BetScorum then Betman must try that despite the rebelling retiree in the "youthful" Juventus:
So, Betman hopes Atletico will search for their chance with Lokomotiv in Madrid, since it would be much easier to buy… I mean win and get a fair chance to embarrass themselves in the later stage of competition.
.
Of course, you don't have to listen to Betman. You can splash your SCRs (which is steadily going under 0.3 cents) on some safer match with…
Odds set by Betman:
You can also set your own odds (like someone already has done) and your own tips. If you do the latter, try to take your tip to the Scorum Loyalty Program for tipsters… and gently hammer it to their portal. You wouldn't like to wake the dev team up, would you? Imagine how grumpy they can be if you break their all-year rest. Scary!
Better watch some horror to ease your nerves!