For a few days Betman thought there were some dark forces involved in BetScorum betting. Fortunately, math did come in its way with those EU leagues games and Betman is again at the balance that will allow another day of betting…

Yes, Betman failed at the last tip in October…
…but it was an odds of 7, so it really doesn't need a dark force to fail. It was a long line of loses in every other match that persons (or a person) chose among the selected Betman's odds. Betman can't tell who was that lucky guy (or girl), but he has some doubts…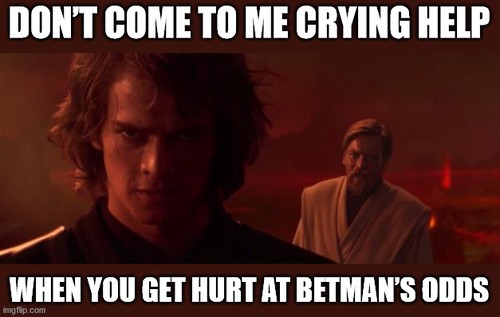 We all know what has happened next. Thank God for math, because yesterday Betman returned to a balance enough to offer new set of odds for today. I know you will not like it, but you always can set your own, better odds here:


This is a fantastic chance for those who know Turkish or Belgian league. And who still has a few SCRs left to spent while the platform still exist. Hurry up because…

There won't be more odds at BetScorum today!