When Betman says he does not like the rules, that means his own rules also! So, when you see him breaking his own rule, do not follow… unless you are feeling a little suicidish.
Here is the first rule for you not to break: "Never stake at the win of Serbian football teams!" They are incredibly incompetent. Serbia has excellent volleyball players and even better volleyball Ladies, it has great basketball legends and fantastic waterpolo teams, but in football they are hopeless… Betman breaks this rule just hoping they could made a mistake and win at least once by chance, but it never happens. You don't follow Betman when he stakes at the Serbian football club or national squad win. Never. Look what has happened yesterday…

They were in lead 2:1 until the last minute of the extension, and then… you guess, with the last Ref's breath (in the game, that is, not the last forever), while he was gathering an air to blow the end — they have conceded! 2:2!!! Bl**dy stumblers without pride! So, now Betman has to do a correction…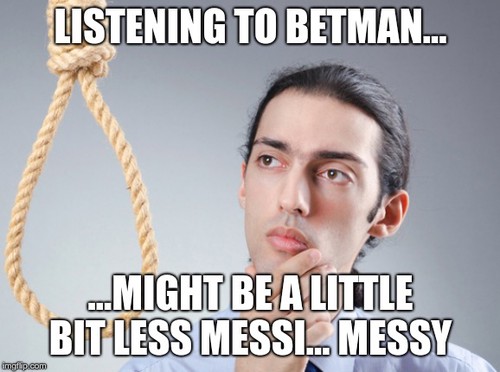 Of course it's a less messy! And less expensive with the SCR falling in this pace. Glad to see at least one rational Betman's suicide fan. Here, Betman has a killer tip… excuse the pun… just for you:

Guess who plays the most defensive football in Europe? OK, that was not a hard question, so it's not worthy of a contest. Yes, it's Greece. They go over three usually twice a year. Well, this time their group standings is already decided, and they can play a little loser… looser.If there is a difference. Not that Finland is much better, but they did quite well in these qualification games, and they should get at least one if not two… So, let's try:
It's a nice one for the end of qualifier, and if you still are not satisfied with the odds at BetScorum, you can add this one:
Yesterday there was nobody home down at Scorum Loyalty Program for tipsters, but Betman will try one last time before they switch off the light…
Greek drama, anyone?