Yesterday Betman missed another spectacular fireworks in Belgrade, where a blowing Star set a new low for Serbian football (if it ever existed), and another 'moral' win over Bayern Munich — 0:6! Blame it on Canadian goalkeeper… Today we must not miss the twin-stumblers from Belgrade, who will be guests of AZ Alkmaar in Netherlands.
At least Red Star will now have a justification for that red-shame color of theirs. Of course, unless we see another proud statement from the club that would express their love for the club: "We have proven that nobody can fill us with more that 6 in our net, at our turf! NOBODY!" Yeah, right. And no man can get to score more than four times here! Not even Lewandowski!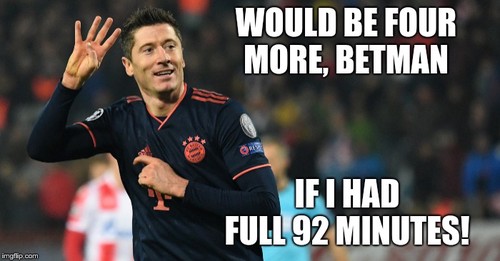 We'll never know that, Robert. Blame it on your coach. Let's return now to this post game. The odds at AZ Alkmaar have fallen dramatically overnight, and now we have only 1.4 at BetScorum betting exchange, which is a good one, but not enough to apply for Scorum Loyalty Program for tipsters. So, we have to search something else, sadly, outside of BetScorum. But the outside world is still living and offering many tempting fruits. For example: If Red Star could concede 6 times as a host, how much Partizan can get in Hague? Yes, you are right if you say more than three at least. And here we have 1XBET which is offering quite a generous odds at this match:
Surprises are always possible, since Betman has now, after Juventus−Atletico match, 7 wins in a row, and chances for a failure are rising. But even if you invest a 1000 of your SCR, that will be only a measly $3 which is almost nothing, especially if you already had a good breakfast. And if you have more that that, you can try to make Betman burst in tears by choosing all the winning odds in this realm:
Most of the games has Over/Under and BTTS options, and maybe there will be more for the games starting at 21:00 CET. And if you have a time to lose, you can also set your own odds. But you know that, right?
Good luck!