Oh, come on, you can't expect Betman will give you another winning tip after the eight winning tips in a row! Math possibility for something like that is very low! Except that Betman had only one more row of 12 winning tips since BetScorum start working… Or should I say since BetScorum attempted working…
Yes, on Thursday Betman had another win, but should se count it in? It was no brainer: Serbian football clubs are as safe bet as you can find one. Betman expected Partizan will concede at least three − which they didn't − but they did concede impressive three goals (out of four) with a player MORE at the pitch, in two games against AZ Alkmaar, and gentlemanly gave the opponent a chance to continue Europa League competition:

Those are one spectacular plonkers. Surpassed only by their neighbors from Belgrade, Red Star, which progressed from game to game against: Bayern away 0:3, Tottenham at home 0:4, Tottenham away 0:5 and Bayern at home 0:6… At least you know where to stake in the next season. And now bad news…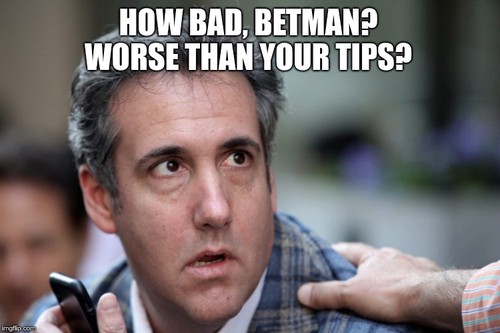 You can't get worse than that. Now Betman will tip English Premiership about which he does not have a clue. A beautiful opportunity for you to run scared to the hills! Here we have an obvious example:

It's a fox hunting by the pretty much incapable, lower value complex hunters from Liverpool. Betman would stake at Leicester as much as he consider unnecessary surplus in his wallet, despite their form, which is falling sharply. Since they have dismantled Southampton 9:0 and got the title of the most unpleasant guests, in their next three games they didn't manage to win anybody over 2:0. If they win here, that could be 1:0 at best. Or 1.5:0.5 if they do finish playing chess. But the odds are too good to miss. Even if we know that on the other side of the pitch, deeply trenched in front of their goalpost, will be one of the most unpredictable teams in the whole EPL, a team that scores almost once every game on average, team that has at least one Mason in the starting lineup, team with a Portuguese coach (no not THAT Portuguese, he is in Tottenham now), team tough as a coconut, in short — Everton. If you want to know more real stuff on them, ask @talesfrmthecrypt. From this moment on, Betman is responsible for the wacky tip only.
And you can also try to bet on the Arse(nal) players wish to impose themselves to a new (albeit temporary) manager against poor Norwich… which by chance beat Everton as guest in their last EPL game!
Who knows, maybe this time Scorum Loyalty Program for tipsters. will open a new post, since the old is so dull with Betman's tips only…
.
You can also try your luck and lose your SCR at the very rare odds in a predominantly empty BetScorum:
Don't forget Over/Under and BTTS options. But you know that, right?
Are we going to see more coach shuffle after this round?