As Betman has reluctantly concluded in Xmas Odds, Christmas is an incredibly boring period for betting, and a complete desolation in betting at BetScorum. Betman was ready to take a vacation from holidays, and then suddenly… Miracles start happen!
The only match that Betman tried since the dull Christmas, was Wolverhampton − Manchester City O2.5, and watched it till minute 24, by which Citizens goalkeeper was excluded, and then they got a penalty with 10 players — and missed it! So much of blo*dy football!
.
Then, Betman started preparations to engage into much more exciting activity — fishing. Now, I can see you screaming:
For a God's sake Betman, how can fishing be more exciting than football?!?
Well, Betman will show you how. First, you have to spot an empty chair near the water…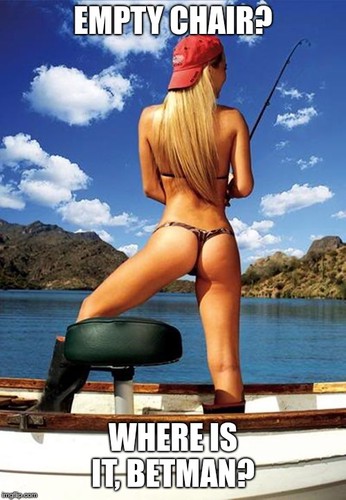 And there you go, now tell me which sport is more exciting? But, as soon as Betman finished packing the baits, hooks and tomato sandwiches, a new post arrived… at Steemit! Our @stimp1024, who disembarked Scorum about three months ago, sent a riveting story titled West Ham lose to Palace, about eccentric Icelandic owner clowns of West Ham, who bought abnormally expensive but completely worn out manager, and then sent their vice-chairman Karren Brady, to move the team to the 2012 Olympics stadium, a haunted place that has destroyed Leyton Orient… OK, let's not beat around the bush — they bought the club to launder the money. They don't care about winning. Furthermore, that stadium is made for other sports, it has a running track, which means the audience is so far from the opponent players that they cannot hit them easily with bottles, smartphones, lighters and other available paraphernalia. Which means, guest teams can play a lot more relaxed, and in such conditions, they tend to score more goals than home team. Then, look what happens today — Leicester Foxes comes to the haunted grass! Yes, the same ones that were slapped in the face by Liverpool on their ground, and are hungry for pride recovery. So, West Ham is going South Ham…
Betman would take any better odds you offer, if the fish does not drag him into the water. Betman would also wanted to bring your attention to a few more odds at your disposal this Saturday: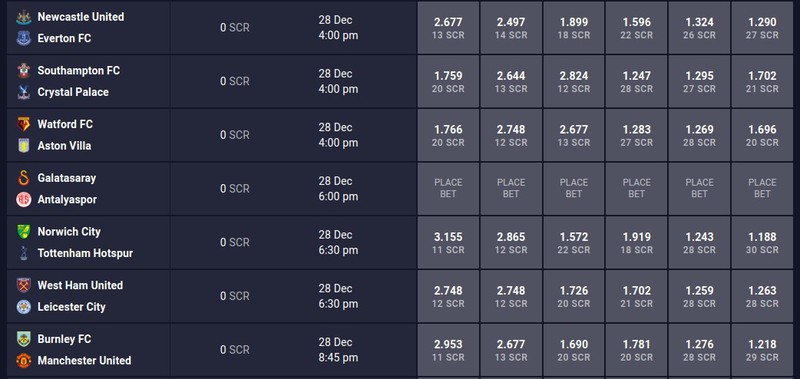 But that is not all, folks! Betman would also like to bring your attention to a few more Christmas miracles: Scorum Loyalty Program for tipsters is alive! Or zombie at least! Yes, they upvoted the last Betman's winning tip with Chelsea! EPL: Tottenham Hotspur vs. Chelsea FC — Prediction. Some miracle, right? But not the only one. Another winning tip with the Xmas competition hosted by our @dexpartacus, brought Betman 200 SCRs… Now Betman can buy that luxurious pencil sharpener he always wanted! It seems that miracles never end this Christmas. Closing to conclusion of this text, Betman got the report from the Wolverhampton − Manchester City game, mentioned in the beginning of the text — they managed to score more than three goals! Betman won another 3 cents! And the greatest miracle of all: This Christmas SCR jumped to almost $0.004!
Incredible, isn't it?