It was a prolonged Summer this September for Betman. Climate was beautiful, both, outside and inside his wallet. And all of that was achieved despite the casualties during the Summer months of this first BetScorum year…
Let's have a minute of silence for a never forgotten Bet.Bot… which has gone off the net in July. In August, Betty left us… In September, Betman tried to made things interesting launching a BetScorum Fight Club together with @btb, but it didn't last very long. Our @btb has managed to keep up with Betman only three rounds, and you could witness how all of the other "tough guys" ran away…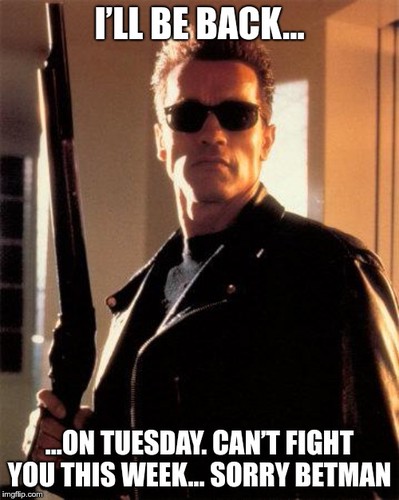 Yeah, right… go ahead, do your terminating and take care not to rust, you despicable AI. Good for nothing in betting, are you? I dare you try to win Chelsea tip! Chicken!
. . .
But let's leave those AI losers and their shooting games, and return to the things real men do — betting! Well, September was probably the last in the nice line of positive months since… let me see… April: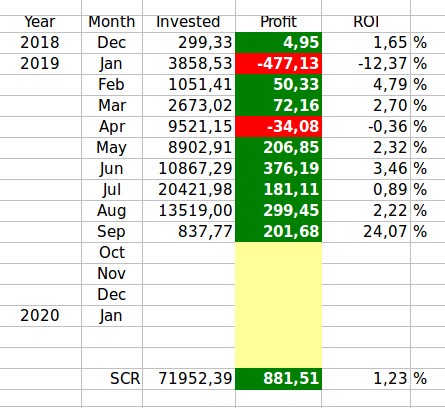 September was the month when Betman got an invitation to X-men, and was pretty unsuccessful as a Financial Suicide adiser, which made him another 201.68 SCR more in the wallet, with quite impressive 24.07% ROI. You can imagine Betman's depression when he saw that rising number of SCR in the wallet, actually means LESS value than when he started the BetScorum adventure back in December… Hence, in the first few days of October, Betman extravagantly wasted 300 SCR in hope he will have some profit of that loss when SCR value finally goes negative… It was all announced by the negative last installment of the X-men:
12:00 CET: Gamba Osaka vs. Hokkaido Consadole Sapporo X @3.1 ❌
18:00 CET: 1 FC Slovacko vs. FC Slovan Liberec X @3.0 ❌
18:30 CET: SV Darmstadt 1898 vs. Karlsruher SC X @3.15 ✅
19:00 CET: Mjondalen vs. Stromsgodset IF X @3.202 ✅
19:30 CET: Yeni Malatyaspor vs. Denizlispor X @3.202 ❌
20:30 CET: Royal Charleroi SC vs. RSC Anderlecht X @3.15 ❌
20:45 CET: Birmingham City vs. Middlesbrough FC X @3.0 ❌
20:45 CET: SC Amiens vs. Olympique Marseille X @3.1 ❌
You see, when even bots and loser AI are running scared from the platform, you can be sure that…
Winter is coming!