What is this? Déjà Vu? (excuse my French) Didn't we see this just a few days ago? That insane match In Paris? Or this Déjà Vu is just another glitch in the Matrix?
Betman just double-checked — yes, there was a match only three days ago between the teams called AS Monaco and Paris Saint-Germain. But really, only one team has played that game: Monaco. They have taken funny football thing seriously, and played without complex. They were probably not even educated enough to know what is Killian Mbape. A new kind of snack? So they have scored four times on the Paris grass, under the romantic teargas clouds, sent with love from Jupiter Macron. Unfortunately for them, one of those goals was a 'selfie'… I mean own goal. So, the game finished 3:3. In the abysmal performance of the home team nobody really played except one falling clown who scored before the match started, and got a chance to shoot a penalty…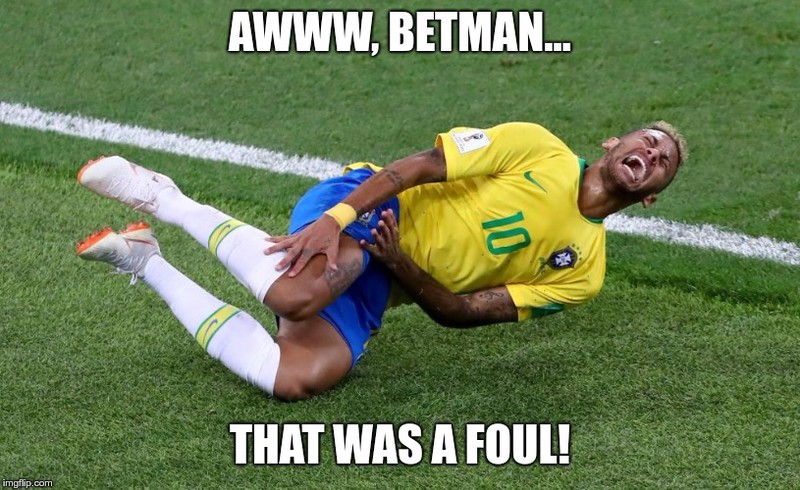 Betman didn't touch you, you crybaby, but I hope it really hurts, Junior. Would be a shame to make such a fall painless. Betman remembers his last fall, which was… well… two days ago:
It was necessary though, Betman had to break a severe line of successes, and return to almost normal life of professional sports mafia bashing and occasional hiding from the bunch of horny girls. Oh, yes, and value bets. Like this one between Monaco and those funny Frenchmen… and the falling Brazilian. So, on Sunday it was 3:3, and PSG was struggling to HODL a draw in the last 12 minutes. What could change in just three days? Could the Parisians learn to play football called soccer? Or they were too busy protesting their football pensions on the street of their beautifully burned city? Have you seen that famous historical cathedral Notre Cinder? But let's return to the most important manipulation in the World — football. Is there a chance for AS Monaco to turn to Monaco ASs, and forget how to play before their own audience? Including their Casino King… I meant Prince Albert? Hardly. We'll probably watch another two halftimes of the same game. PSG is at the top of Ligue 1 with such a point cushion that they can afford Champions League vacation. Do you really expect they are going to break their legs trying to defeat some strange kind of Monaco, and miss the bags of money? Are you serious? Besides, the odds at Betfair Exchange are too good to miss:
You even have a respectable 2,25 at BetScorum! Don't try under, because they both have defenses hollow as a Swiss cheese. Betman wonders why didn't they base their defense on a fine French melted cheese? Is it too late now? As a matter of fact, your best bet would be posting your tip here, because a phenomenal Scorum Loyalty Program (not only) for tipsters has finally woken up and upvoted Betman's previous three tips, which means you also can hope. Now, if only SCR could step over $0.007…
Don't miss this miss!