Betman was waiting for something to happen at BetScorum… in vain. We still have Coupe de France games at the front page — yes, those which God already forgot when they are finished. So, Betman has to create his own events.
First, the important news came — there is a new forum on the Steemit blockchain aiming to take the disappointed shipwreckers from Scorum&BetScorum. At least it pays in steem, which is somewhere between 3 and 4 times more value than SCR. It is called BitSports, and Betman started struggling there despite the fact it does not have a betting exchange.

.
And now a less important news, already slapped at BitSports: Tottenham has a new coach. Well, not quite & brand new, but a special one. You know, the best known, the most popular, most decorated, most phenomenal and unforgettable… errr… just a moment, I'll remember his name… he was… no, don't help me, I'll do it on my own! I have it! It's Jose! Yes, that Jose. A guy with a shelf life of 2−3 years…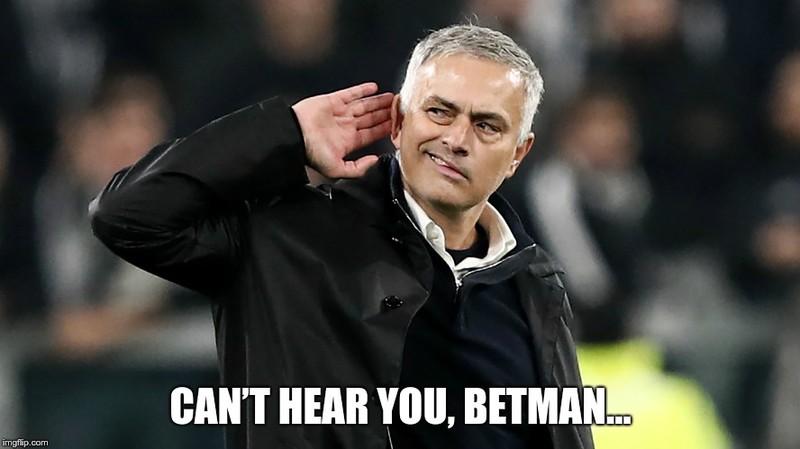 Quite understandable, Jose, those jeers from Manchester must be still in your ears, and nobody listens to Betman anyway…
.
Now Jose probably likes Ham, since the first game of his TottenHAM will be against West HAM. So, what do you think? What will be his shelf life before getting a boot embellished with a spur? Are we going to set time frame and the odds? Until we reach a consensus, here is a few quickies for this afternoon:
This one is in attempt to rescuscitate that forgotten Scorum Loyalty Program for tipsters… if anyone remembers what it is.
.
Don't worry if you late for those Betman's odds and tips. It only brings up your chances not to loose!
The Art Gallery weeps for your presence!