Have you ever stole a car and then test it's air-bags by driving it right into the wall? You should try it! What an adrenaliner! There is only one stronger excitement — following Betman's tips at BetScorum!
This is too much. Betman yesterday had another winning tip…

…and nobody even said thank you! Nobody sent a few satoshies at the address [1GZQG69sEKiMXKgGw9TcGcUCBoC4sC1ZYp] specially opened for a tomato juice contributions. And Scorum Loyalty Program (not only) for tipsters didn't upvote either of Betman's tips in the last two days. Betman is closing the car door asking: "Why all this? Is it worth to do a good deeds to this World?" Let's finish this… Pedal to the metal!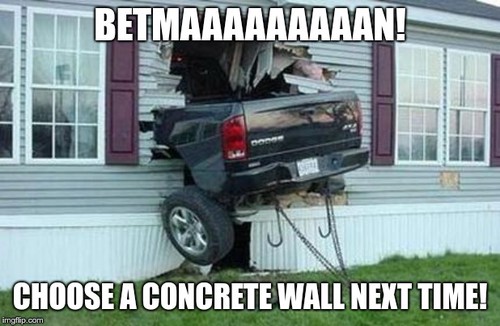 OK, this time Betman missed… But he has to have a crash. He can't live anymore hiding from hordes of young, horny girls who want to rub their erogenous zones over Betman for good luck. Betman has to have his crash even it is just a betting crash. Maybe a tip lost may distract the girls' attention to some other event. For example, watching Harry pitching his wife to some MLS team as a goalkeeper, claiming that the Duchess of SusSEX can act ANYTHING! Or for example, they could be joining protests asking for a "Game of Thrones" alternative ending… with Christiano Ronaldo and Lionel Messi death match. Anything but running for Betman through the mazes around the World…
.
So, where we can found a losing tip? BetScorum! What we have there? Oh… One game only. Italians, again. Parma and Lecce. Who's worse? Judging by the last three matches (Lecce lost all) they should be an underdog. Judging by the mutual matches, they should be even worse. What's worse than underdog? Undermole? OK, that is enough. Betman will have to choose them for this suicidal tip:
Now, spending a few dozens of SCR, even at $0.007 is not exciting enough, and certainly not deadly enough. This time, Betman will steal Elon Musk's electric truck! That bucket is in desperate need of a redesign anyway. Now pedal to the metal and crush that wall! As that slave driver guy, Nike would say:
Just do it!