There are things many people believe, or would like to believe, but there are no evidences that those things really exist. Like for example God, or ghosts, or Yetis, or aliens (not the illegal ones), or the SCR rise…
OK, we've got some serious indications that God really exists, ghosts are irrelevant unless they fill out your betting ticket incorrectly, we are still waiting Yeti selfie, and aliens (extraterrestrial ones) either don't exist or are hiding pretty well considering that they are not intelligent enough to put out the lights in their flying saucers while hovering over the desperately cameraless, but honest to God witnesses. We are going to focus at the most incredible of all of the Things That Does Not Exist — SCR rise!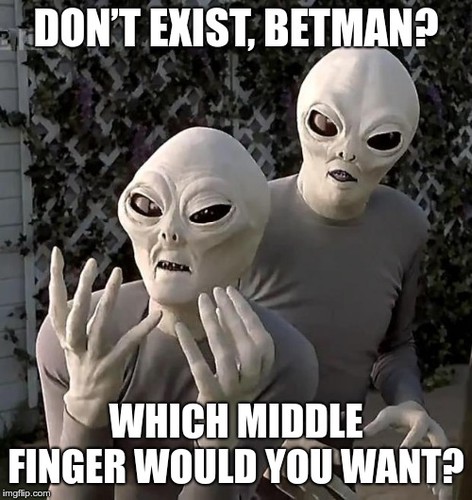 Hey ETs, don't try to distract Betman from the topic of this text! If you want to prove your existence, come down and start giving better than Betman's tips with your advanced technology! I dare you! Until then, keep your fingers clutched around light switches in your saucers!
And now, let's return to the topic: An incredible SCR rise
By the time of writing this text, SCR went over $0.008. Completely unbelievable. NASA can't explain. Ask them, and they didn't know anything. They said they are too busy searching for the extraterrestrial life. Found no trace so far…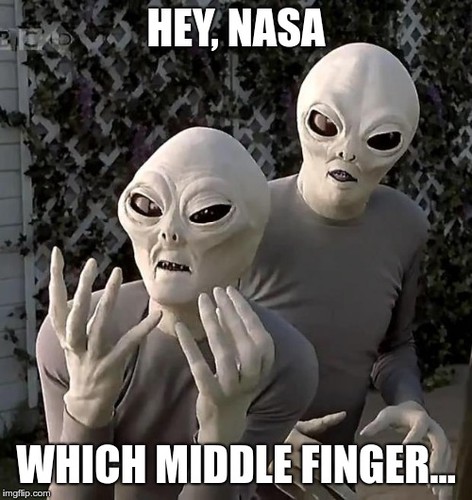 Come on, not again, you evil aliens! Use your finger to… phone home and then on your bike, ET! Leave Betman to explain the inexplicable to the Scorum community! What has happened to cause this impossible rise? Did the developing team done something good? No. Is this a reaction to the unusual occurrence of a true quality text about the beauty of sports sent by our @dzmitry? Betman would like to think so. Did Betty come to life again? Nope. Did someone else filled ever-empty betting fields? Nein.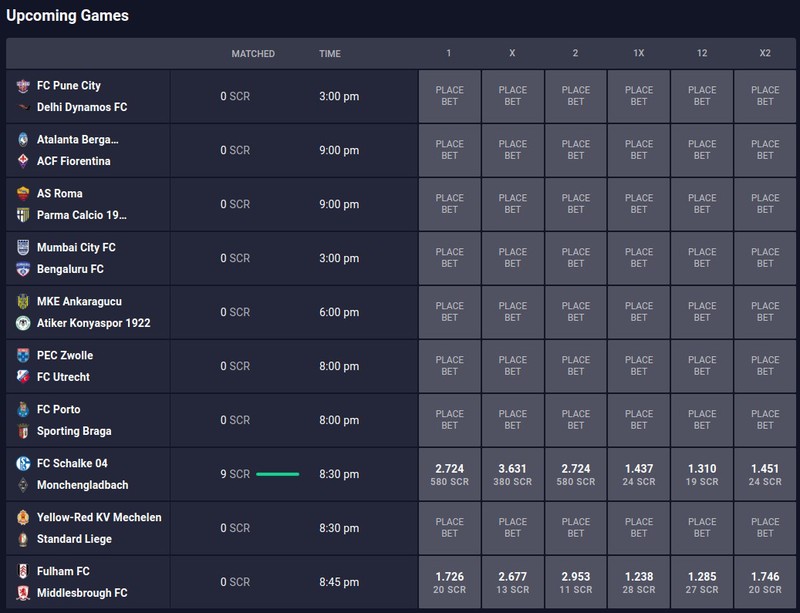 Nothing except two games in the offer:
So, was the rise a consequence of a second Betman's missed tip in a row?

Or it was because he had unprecedented five posts this week only? Then Betman should have some satoshies at his bitcoin wallet, and it it still perfectly empty. You can check it yourself at 1GZQG69sEKiMXKgGw9TcGcUCBoC4sC1ZYp. What is it then? OK, we need to consider another far fetched, but not completely impossible possibility — what if someone is sneakily buying SCR for some unimaginable alien purposes?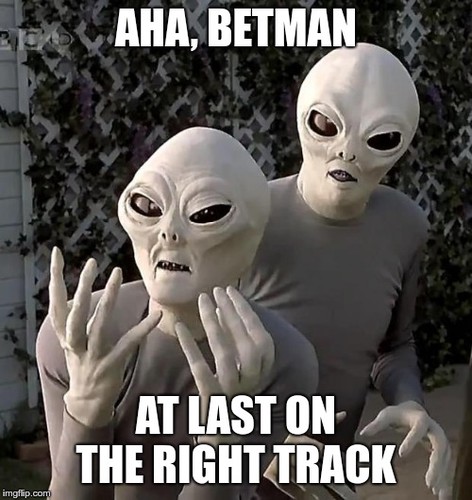 Can't believe that. I thought with your technology you would be having better blockchain betting exchanges than this one. Now Betman really has to doubt the existence of extraterrestrial intelligence. Betman deeply doubted the existence of terrestrial intelligence since previous millennia, but this comes as a hard blow to him. So, this time, Betman is bewildered. For the first time, he will leave you without his decisive answer. Betman can't tell why SCR is rising. Betman can only cite that guy, Moulder, who once expressed his decisive opinion:
The Truth is Out There!