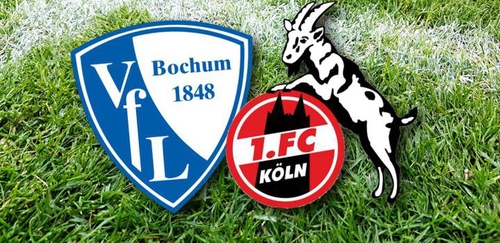 Last prediction: WIN: @2.00 - the 5th win in a row.
Hello guys! Today I chose to bet on 2. Bundesliga, on the match between VfL Bochum vs. FC Köln. It's a risky match and I know that I may loss today, but I will take my chances.
VfL Bochum:

Has a total market value of 14,15 millions euros.
They are playing in the 2. Bundesliga for 8 years.

Last season they finished on the 6th place with 13 wins, 9 draws and 12 losts.
Friendly matches: they beat Zurich and Stoke, made a draw with Wolves, Gladbach (both games were played for one halftime only) and Monaco, and lost with Millwall.

Transfers made: they signed offensive midfielder Milos Pantovic from Bayern II, midfielders Maier from Hannover and Tesche from Birmingham also got striker Ganvoula from Anderlecht on loan. Offensive players Stoger left at Dusseldorf, while Gunduz was released on a free transfer. Defensive midfielder Tomas also left the club. Left-back Jannik Bandowski is a long-term absentee.
FC Köln
Has a total market value of 75,25 millions euros
Returned to 2. Bundesliga after 4 years.
Last season they finished on the 18th place with 5 wins, 7 draws and 22 losts :(
Friendly matches: in the last 3 games they beat Mainz and Bremen and made a draw with Watford, scoring 7 goals and take 1.

Transfers made: Striker Modeste left the club for the Chinese team Tianjin Quanjian, while they also sold left forward Bittencourt to Hoffenheim, striker Osako to Werder Bremen, right back Klunter to Hertha and midfielder Jojic to Basaksehir. Their aim to promote as soon as possible was obvious from the transfer window as they spent more than 12,5 million euros only for transfer fees. Offensive midfielders Drexler came from Midtjylland and Schaub from Rapid Wien. Central back Czichos came from Holstein Kiel, while midfielder Hauptmann came from Dynamo Dresden. Right back Schmitz came from Leipzig with the team signing a couple of guys on a free transfer as well. Central midfielder Marco Hoger is long term absentee.
Head-to-head:

The two team meet in 67 games of which Köln won 38, drew 13 and lost 14.
My prediction: FC Köln or Draw & Under 2,5 goals: @2.45
Good luck to everyone!