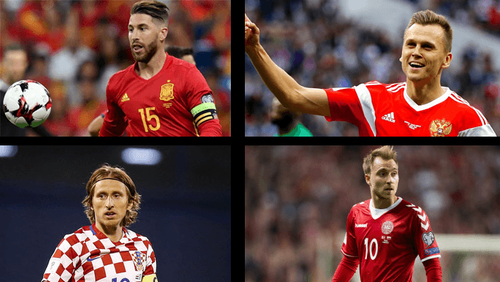 I will start with my statistics for the last month (I will do this at the start of every month):
June 2018: 3 bets made - 3 bets won:
Panama vs. Tunisia (both teams to score): 1.72
France vs. Argentina (France to qualify): 1.68
Uruguay vs. Portugal (both teams to score): 2.28
For today I will go with:
Spain vs. Russia: Spain to have under 6,5 corners: 1.61
Croatia vs. Denmark: Croatia to win: 1.8
Spain vs. Russia
The knockout stage is usually a refresh for each team present at this stage, in the context that each mistake, as small, can prove to be decisive, so no manager can afford to act with half-measures, forcing students to play football at the highest level. I believe that we will witness exactly such a scenario on Sunday evening in Moscow. Although I saw Spain struggling in groups, defeating Iran (1-0) and equalizing Morocco in extra time (2-2), the data of the problem is radically changing, and Hierro's players are aware of this fact. Moreover, although Russia has the advantage of being a host, the difference in value is considerable, and this was reflected in the last match of the Russians, when they capitulated without the right to appeal when they broke with a stronger opponent, Uruguay (0-3).
Given the circumstances of this game, I expect a balanced show in Moscow. In the context in which I think that the Spanish national will not have emotions to qualify further, I can not rule out the scenario where we could see gaps on both sides and therefore I prefer to focus on a well-established bet on the number of cornes, with high chances of success. I think it's hard even for Spain in a game like this to have more than 6 corners.
Croatia vs. Denmark
Croatia won without emotion group D, beeing with Uruguay and Belgium among the few teams that managed to get the most points. With five wins in the last six games, Croats have every reason to hope they will repeat their performance in 1998. Then at the World Cup in France they won the little final against Netherlands. No less than eight players, including Rakitic, Brozovic and Mandzukic, are in danger of being suspended if they receive one yellow card.
On the other side, Denmark has reached 17 international matches without defeat. The last failure dates back to the autumn of 2016 when he was kneeled on his home ground by Montenegro, score 0-1. Since then, in only five games the offensive did not find the way to the gate. All these games ended with the same score of 0-0. Back after suspension, Yussuf Poulsen will be back in the top 11. Instead, William Kvist will most likely miss the Sunday match, being injured. Zanka, Pione Sisto and Thomas Delaney are liable to be suspended. I will go with the victory of Croatia, maybe 2-0 or 2-1.