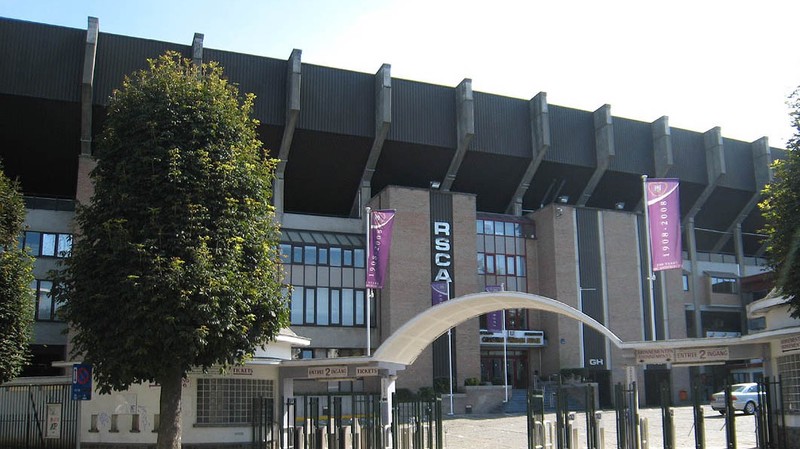 These posts contain previews from the Belgian Jupiler League with some of my personal bets, Live-betting angles, team form, injuries along with general team news...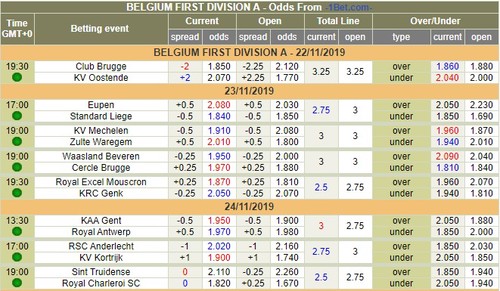 Saturday betting brought about break-even results, the 2 bigger positions I got into resulted in a push and a loss though. 3 more matches today and 1 early bet for week 17 in the league...

---
AA Gent vs Antwerp
These teams played in Antwerp last week in a match were Antwerp was clearly the best team winning with a 3-2 score. One of the things that stood out is that they seemed to act as a real team where in the past it were mostly high ego individual players who not always got along. Lamkel Zé who is one of the best players of Antwerp was suspended and will be back today. I'm not sure if AA Gent had an off day or if they just have overperformed a bit so far. The truth probably lies somewhere in the middle. Especially at home they have shown to be strong willing all matches with a 21-4 goal saldo. I see the chances quite high for this to come to an end given the fact that the previous match is only a couple days away and both showed opposite form. I took a medium pre-game bet on Antwerp +0.5 @ 1.97. I also again like the over despite the few goals AA Gent tends to get against at home and got in early one the Over 2.75 @ 1.826. I might take more on that live at a better line or higher odds.
---
Anderlecht vs Kortrijk
Kortrijk in the weeks before the international break has been really bad taking 4 losses in a row. Anderlecht also is still far from convincing hut didn't lose in their last 5 games. The new coach pretty much changed things up playing way more organized without taking all that many risks even when taking the lead. If I was forced to take anything it would be Anderlecht -1 pre-game. I'm not getting involved just yet though as I would not be surprised if Kortrijk came to build a wall. I'll wait to see what this match brings live. No Pre-Game Bets
---
Sint-Truiden vs Charleroi
The home team is one of the weaker teams in the league but also have their days where everything clicks. Charleroi is still the same annoying team as they have been for a long time. They rarely dominate matches and it often looks like they have a bad day just to score on the counter and win a match by a 1 goal margin. One of the more remarkable stats is the fact that they rank 2nd in the away 1H standings with 1 match played less. Sint-Truiden, on the other hand, is around the bottom of this ranking at home. I took a medium bet on Charleroi 1H +0 @ 1.84 and also got into a position on 1st Half Under 1 @ 2.15. Sint-Truiden at home average only 1.86 goals and are 5.5W-1L0.5P against the Asian under line while Charleroi only have slight over stats on the road going 3.5W-3L-0.5P on the over. The Belgian League so far this season has seen quite a lot of goals yet still doesn't show an overall profit on all over bets combined. With the weather getting colder I'm expecting more unders during the next month. I also took a medium bet on Stvv vs Charleroi Under 2.75 @ 1.934. I would take extra on it in BTC or EOS but the best odds I could find are 1.870 on sportbet.one. I will see how the match goes and maybe hedge out if needed.
---
Late info might change my view on what is written in this post. Matches will be covered live in our SBC Discord Channel. Bookmakers that I am using myself and can recommend are Sportmarket Pro, Nitrogensports, Sportsbet.io. Bigger bets will be shared here and on Twitter (@costanzabets) with proper record keeping. Bets can also be followed directly on copytip. Using my links when signing up helps to continue making these previews, Thanks!

---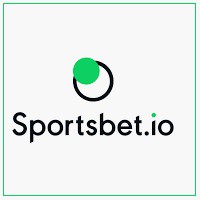 Sportsbet.io has slowly turned into my favorite Bitcoin Bookmaker because they now offer a very similar experience and odds to the Asian bookmakers while also giving nice price boosts and other promotions.

---
EARLY BET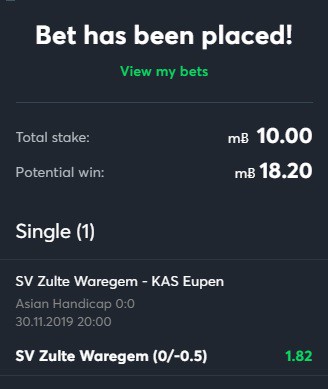 I am taking an early bet on the Belgian Jupiler League for Week 17 already on Zulte-Waregem -0.25 @ 1.82 which is available on Sportmarket Pro and sportsbet.io in BTC. Zulte-Waregem showed great form yesterday and is usually better in home matches. They will on top have Beharino back. Eupen has played quite well themselves but has difficulties to score and tend to give it away late in matches. -0.25 line on the better home team is just a bit too generous and I do expect these odds to close lower.

---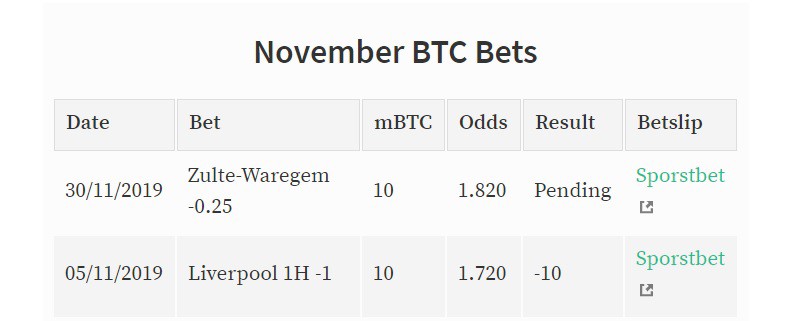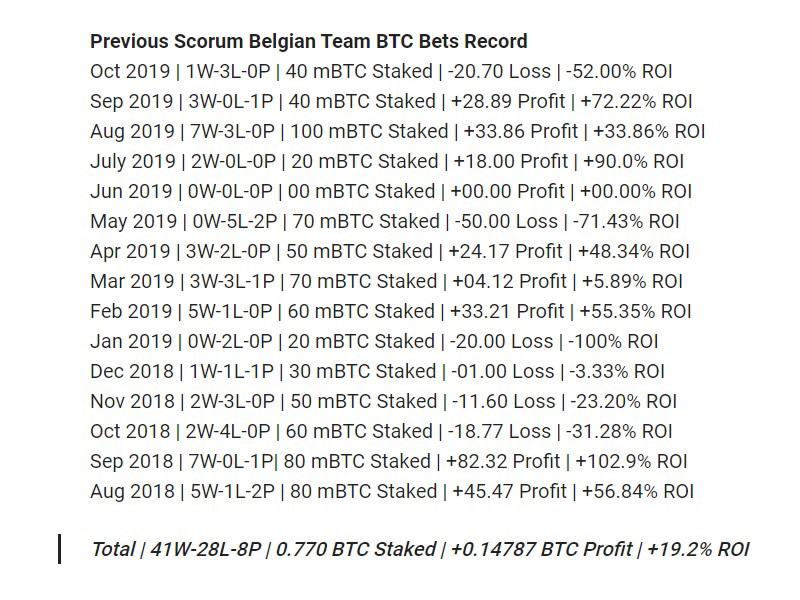 CORRECT SCORE CONTEST
Predict the correct score of the Anderlecht vs Kortrijk match in the comments. A ~50% upvote will be split between the ones that got it right...