These posts contain previews on matches from the Belgian League with some on my personal bets, live-betting angles, Team Form, Injuries and Team News.


None of the matches were very exciting on Saturday and betting resulted in an overall minor profit (Pre-game & Live Bets combined) and I've been rather carefull on the stakes. I'm still in a rather defensive mode betting wise right no. After today there will be an international break to charge the batteries up again.

Zulte-Waregem vs Anderlecht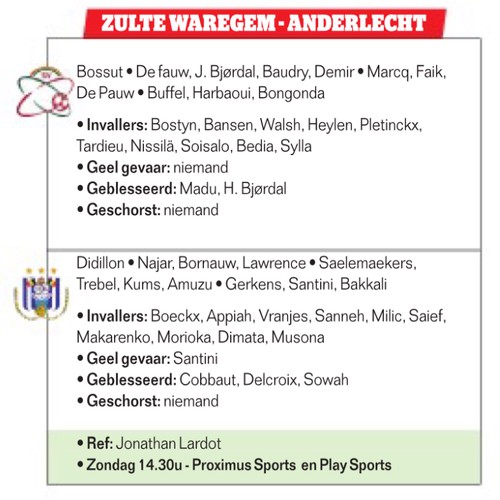 Interesting setup with 2 good teams that are very much struggling lately. It is quite rare to see this because this usually only happens with botton teams and I don't really have a reference match to compare this to. So mostly this match will be about taking notes for future situations that are similar. Anderlecht most of all has a scoring problem and can't really find the goal. Their overall team confidence is also very low at the moment and aside from goalkeeper Didillion, nobody is really reaching their potential form. Zulte-Waregem mainly has a balance issue in their team. Last week they had the intention to build a wall against Genk which did not work. I have no clue how to estimate this match right now and there is no point making a prediction. I will be looking out for Team Line-ups, see what the match intentions are. This is one of those matches with live betting potential. In case Zulte-Waregem egt behind I would not be surprised to see a similar scenario compared to the match vs Club Brugge where the coach just went all out full risk which resulted in more goals.

---
Standard vs Club Brugge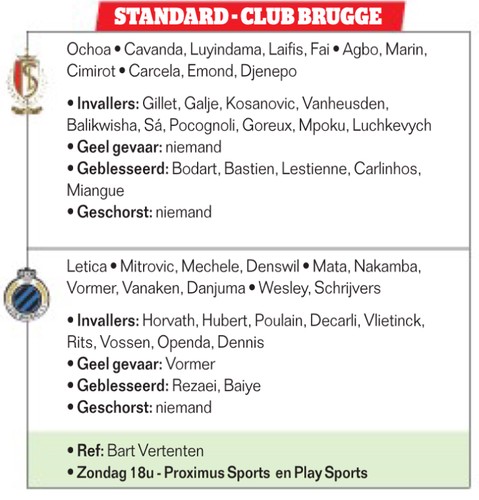 Club Brugge put up another good performance in the Champions League but again lost the match. Last time this was followed up by a match against AA Gent where they won 0-4 because they played smarter. Mostly during the first half they were not best in that match. Standard also played an Europa League match winning 2-1 at home vs Akhisarspor. Unlike Club Brugge they did not have to travel but they played a day later. Overall Club Brugge are further as a team while Standard are stil building even though they are getting better. I took a small bet on Club Brugge +0 @ 1.90 because they are the better team and Standard rarely keeps a clean sheet. It might take some time for the first goal to come and both teams are more heavy on 2H goals so the live over at some point at a better line/price compared to the pre-game odds will be a live option.

---
AA Gent vs Racing Genk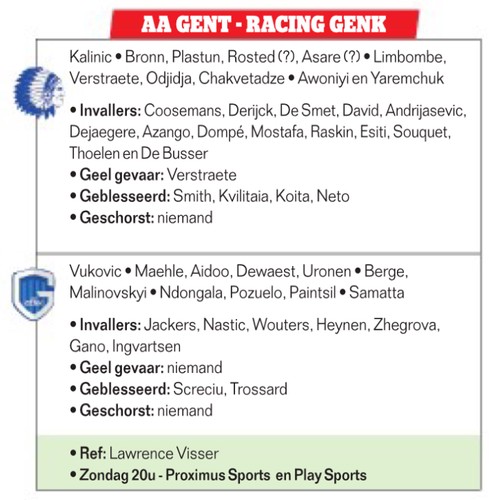 Racing Genk broke their unbeaten streak and saw player in form Trossard get injured. They do have enough quality in their team tough for this not being an issue, at least if Clement plays with his full A-squad. So far this season on each of the league matches that followed an European match he heavily rotated. In order for me to take anything I need the line-up first. Both teams are on top of the corners standings, there is no line out yet but I will keeping my eye out for when it is released. AA Gent coach is still very much under pressure and this might be his final match if he loses. My leans go out the the visitors and the over but I can't take anything pre-game. Line-ups and start of the match where intentions are shown are a huge factors to make any predictions. No Bets Pre-Game

---
Late team news might change my views on these matches. I take all my pre-game and live bets at Sportmarket Pro which are an European Betting Broker that are aimed towards more serious Sports Bettors. They always offer the best odds on the market with high limits and do not restrict winning player. On some of the bets I take a bit extra in BTC. All these bets are shared exactly as I take them right after having placed them on Nitrogensports which means the odds should be available to follow for those who want. For Live Betting coverage and bets, check out our Discord Server.

Bets October 2018 (Posted on Scorum)
04/10/2018 Racing Genk -1 @ 2.469 LOST
Previous Scorum Bets Records
Sep 2018 | 13W-0L-1P | 140 mBTC Staked | +141.82 Profit | +101.3% ROI
Aug 2018 5W-1L-2P | 80 mBTC Staked | +45.47 Profit | +56.84% ROI
July 2018 7W-4L-0P | 110 mBTC Staked | +44.79 Profit | +40.71% ROI

Total | 25-05L-3P | 0.330 BTC Staked | +0.23208 BTC Profit | +70.33% ROI