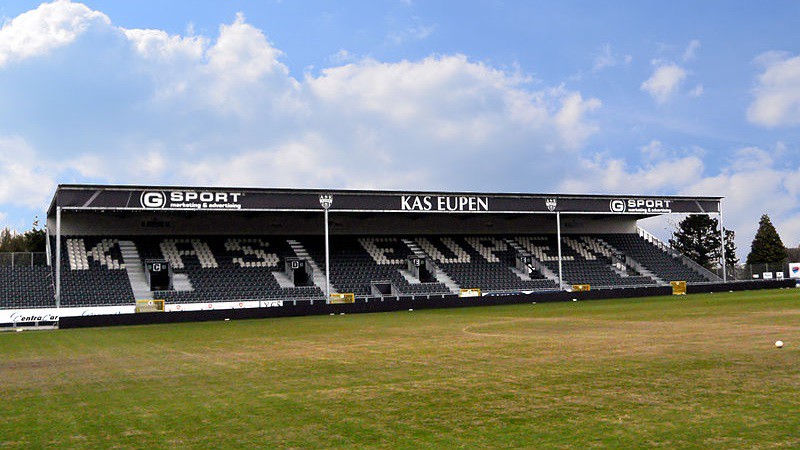 These posts contain previews from the Belgian Jupiler League with some of my personal bets, Live-betting angles, team form, injuries along with general team news...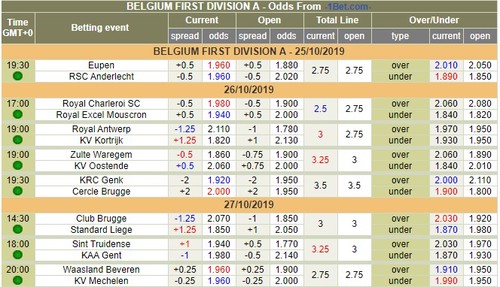 I had very limited action during the mid-week European matches. Sports Betting is all about picking your spots and if they aren't there or if you simply don't find them there is no need whatsoever to force any action. I mostly did some small position trading making a little bit of profit in the process. I do believe there is a good betting spot today on the match between Eupen and Anderlecht...

---
Eupen vs Anderlecht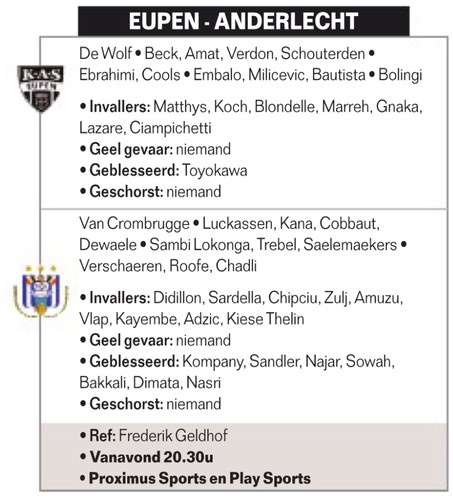 Anderlecht seems to have broken downward spiral with new coach Vercauteren who plays more realistic along with Anderlecht strikers who are starting to reach a better form. Eupen also broke a streak taking their 2nd win of the season last week away against poor Oostende after winning 3 weeks ago against poor Cercle Brugge. The streak they haven't managed to break yet is their 1st half record which by far is the worst in the league. They are last with only 2 points in the HT standings. Anderlecht all season long have played good 1st halves on average and are actually 4th in those standings taking 17 points. Anderlecht showed good focus last week and Trebel getting his chance again is a good thing. Both Chadli and Roofe have picked up a lot of confidence in recent weeks. Eupen so far only managed to get results against Bottom teams in matches where they also didn't get anything out of the 1st half. The only exception was the match away against Club Brugge where they played very defensively. Anderlecht seems to be in the streak I was waiting for and don't have to deal with European matches. I Expect a strong start and an away win and the odds are worth taking. They actually went up some yesterday which scared me away from taking them big. The odds fell back again which gave the needed confirmation to go for it. My main bet is Anderlecht 1st Half -0.25 @ 2.07 (also taken on Copytip) and I also got in on some small positions early this week taking Over 3 @ 2.45 | Anderlecht Team Total Over 1.5 @ 1.869 and Anderlecht -0.5 @ 1.960. I also took extra in BTC on Anderlecht 1st Half -0.25 @ 2.09 on Sportsbet.io which is available there with a price boost. I also could not resist taking a tiny bit on Anderlecht -2.5 @ 7.20. I'm highly looking forward to watching how this match will play out.

---
Late info might change my view on what is written in this post. Matches will be covered live in our SBC Discord Channel. Bookmakers that I am using myself and can recommend are Sportmarket Pro, Nitrogensports, Sportsbet.io. Bigger bets will be shared here and on Twitter (@costanzabets) with proper record keeping. Bets can also be followed directly on copytip. Using my links when signing up helps to continue making these previews, Thanks!

---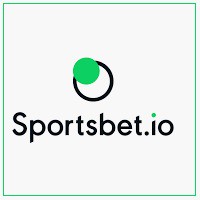 Sportsbet.io has slowly turned into my favorite Bitcoin Bookmaker because they now offer a very similar experience and odds to the Asian bookmakers while also giving nice price boosts and other promotions.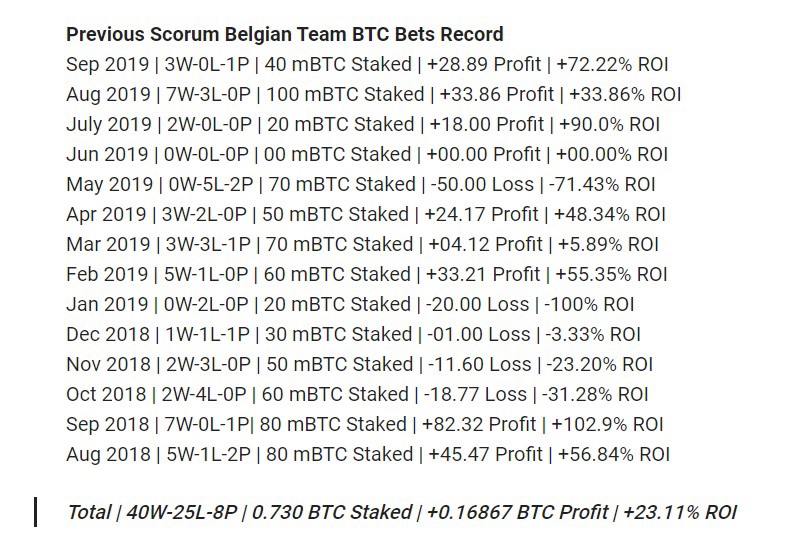 ---

CORRECT SCORE CONTEST
Predict the correct score of the Eupen vs Anderlecht match in the comments. A ~50% upvote will be split between the ones that got it right...