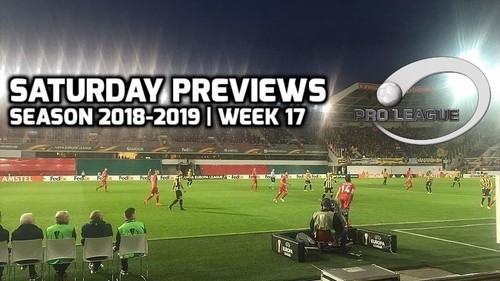 These posts contain previews on matches from the Belgian League with some on my personal bets, live-betting angles, Team Form, Injuries and Team News.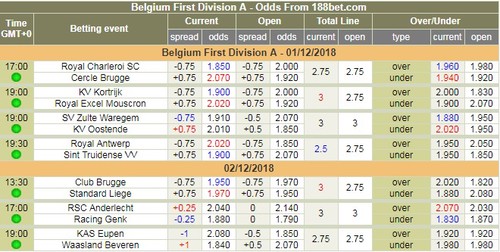 I had a solid betting night on Friday with the write-up on Lokeren vs AA Gent being pretty much spot on. There was an anticipated solid first half from the home team and a comeback from AA Gent at the end in a match with plenty of corners. 5 of the 6 positions I was in were shared on the SBC discord #live-betting Channel and they all ended up as winners. It could have all gone the other way though as is often the case in betting, but it's nice to see the ideas are there right now. I'm highly looking forward to more betting action starting today with 4 more matches.

---
Charleroi vs Cercle Brugge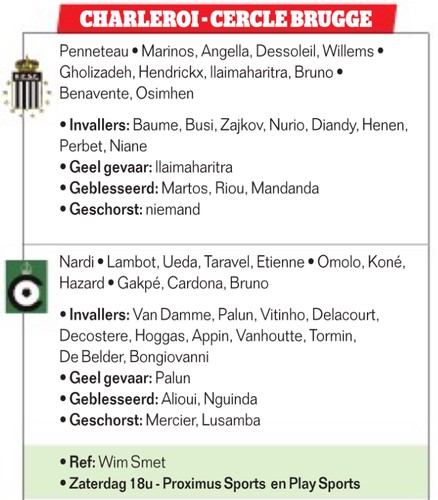 Charleroi is often a team of two halves playing poor in one and good in the other. This makes them a difficult team to bet on pre-game because you never know what it's going to be. They have been higher totals team especially on the road but their matches rarely are actually exciting and most of the time the goals just come out of nowhere. I do see this fact overly reflected into the total line and already shared my bet on the 1st Half Under 1 @ 2.21 & Under 2.75 @ 1.99 yesterday. Cercle Brugge is an underish away team going 6W-2L vs the asian line. They won last week away against Genk. this always comes along with a risk of having something of a let down the next match. Mercier who is important to them in the midfield is suspended along with Lusamba. I can't resist the high handicap on the visitors the brought about and took a bit on Cercle Brugge +1 @ 1.80. Charleroi often is a team that wins by just 1 goal. I would not go any lower in odds and I won't hesitate to hedge out live if needed though.

---
Kortrijk vs Moeskroen
Kortrijk won their first match deserved under new/old coach Vanderhaege in what was an open match. Moeskroen won the match against a very poor Waasland and had offensive intentions. finding the goal still is somewhat of a struggle for them though. They have been showing some good form as a bottom team and only lost 1 of their last 5 matches. My lean betting wise is on them, but I'm not willing to oppose the potential reversal pattern of Kortrijk who took their first win in a while and have the new coach shock effect. If The home side gets behind I will be looking to bet them making a comeback live. No Pre-game bets

---
Zulte-Waregem vs Oostende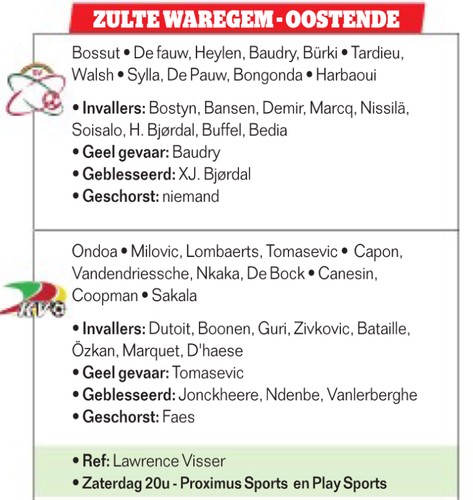 Big win last week for Zulte-Waregem away against Club Brugge and they seem to be back on track after their horrible streak without a win. I do like them at home against Oostende who has been unreliable all season long and at times relied on luck. The line though is set pretty sharp and I'm unable to take that pre-game. The same story goes for the over line which is set at O3. Both teams are on top of the 2H goal ratio standings and tend to have most their goals in the 2nd half which might provide a good live-betting spot at HT. This could be an excellent match to bet Live and I'm skipping all pre-game bets.

---
Antwerp vs Stvv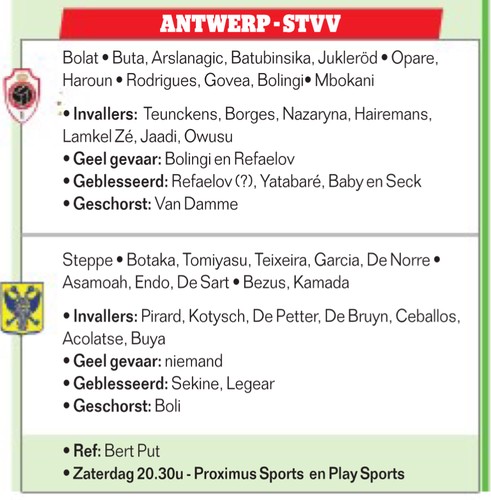 Both teams are revelations in the league and will be very aware of each other. Antwerp will likely be without key creative player Refaelov and Van Damme is suspended. This could turn out in both a very closed down match with few goals or a crazy high scoring encounter. Line-ups and early match picture will tell a lot and might provide a good betting spot because other over/under line is set somewhere in the middle more pointing towards fewer goals. I do see Antwerp as slightly overrated mostly because they tend to cover the asian handicaps in away matches. I took a pre-game position on the underdog Sint-Truiden +0.75 @ 1.935 but again won't hesitate to hedge out if the match shows a different picture.

---
Late team news might change my views on these matches. I take all my pre-game and live bets at Sportmarket Pro which are a European Betting Broker that is aimed towards more serious Sports Bettors. They always offer the best odds on the market with high limits and do not restrict winning player. On some of the bets, I take a bit extra in BTC. All these bets are shared exactly as I take them right after having placed them on Nitrogensports which means the odds should be available to follow for those who want. For Live Betting coverage and bets, check out our Discord Server.

---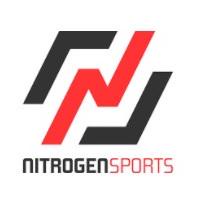 I have been using Nitrogensports as my main BTC bookmaker for over a year and have had a very good experience so far and also get a solid B+ rating on Sportbookreview. They offer market leading Pinnacle odds, have good limits. I place all the pre-game bets just before posting. affiliate link / normal link
---
Previous Scorum Bets Records
Nov 2018 | 07W-10L-0P | 170 mBTC Staked | -32.17 Profit | -18.92% ROI
Oct 2018 | 06W-09L-0P | 150 mBTC Staked | -28.29 Profit | -18.86% ROI
Sep 2018 | 13W-0L-1P | 140 mBTC Staked | +141.82 Profit | +101.3% ROI
Aug 2018 | 5W-1L-2P | 80 mBTC Staked | +45.47 Profit | +56.84% ROI
July 2018 | 7W-4L-0P | 110 mBTC Staked | +44.79 Profit | +40.71% ROI
Total | 38W-24L-3P | 0.650 BTC Staked | +0.17162 BTC Profit | +26.40% ROI
---
Correct Score Contest
Predict the correct score in the Zulte-Waregem vs Oostende match in the comments. A ~20% upvote will be split between the ones that got it right... Good luck !
---