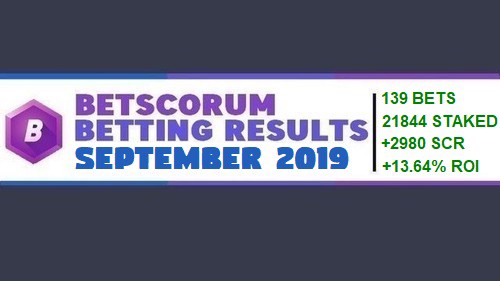 I continue to use betscorum while keeping close track of my monthly and overall results despite it pretty much feeling like a total waste of time because no development seems to be happening whatsoever on the platform.

---
It's pretty much the same story every single month, Betscorum still offers one of the best products and solution for crypto betting, yet there is nothing being done by the devs to give it a little bit of traction. This leaves only a handful of us that actually continue to use it. Despite this, it's still possible to get quite some action going which only speaks to the product.

I wrote about this before (Post) on how massive the price potential for SCR is if only betscorum had more users and some actual volume. Just to give another example, The total matched volume done on Betfair on an average EPL match is 3.6 Million Euro. If betscorum only gets to take 0.1% of that market the SCR price and the total marketcap would be way up there.


---
September Results
With SCR right now feeling like monopoly play money which is not looking to change anytime soon, I increased my stakes a bit. Where the average bet last month was ~90 SCR, this month is was ~157 SCR which at the current price is less than 1€. The month of September was somewhat of a rollercoaster going down to -2500 SCR to shoot up to 3000SCR Profit on a solid +13.64% ROI in the end.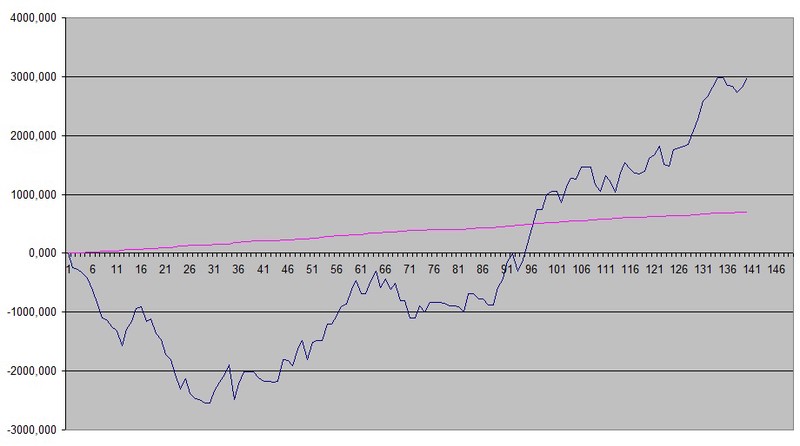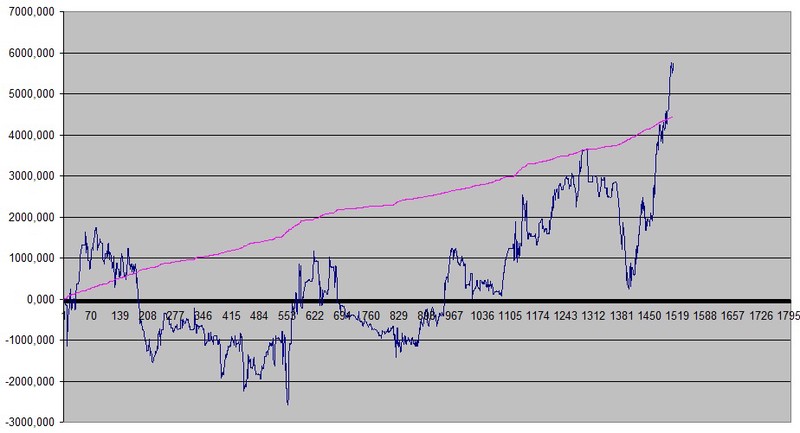 After 1500 Bets since December 2018 I'm now above the expected profit pink line (which is set at +3.2%). Since it's a 0% fee betting exchange it's hard to get crushed in the long term if you go about everything in a more analytical way. 1500 bets are not nearly enough volume though especially with the range between stakes being massive (from 1SCR to 1000SCR+). I do plan to continue until I at least have 1 year's worth of bets and probably give up if the team doesn't bring anything to the table when it comes down to development.

---
Previous Months Betscorum Results
September 2019 | 139 Bets | 21884 SCR Staked | +2980 SCR | +13.64% ROI
August 2019 | 264 Bets | 23880 SCR Staked | +1545 SCR | +6.47% ROI
June 2019 | 35 Bets | 2701 SCR Staked | +1044 SCR | +38.66% ROI
May 2019 | 128 Bets | 9407 SCR Staked | -42 SCR | -0.45% ROI
April 2019 | 121 Bets | 7998 SCR Staked |+1805 SCR | +22.57% ROI
March 2019 | 233 Bets | 13521 SCR Staked | -1209 SCR | -8.94% ROI
February 2019 | 277 Bets | 29550 SCR Staked | +459 SCR | +1.55% ROI
January 2019 | 246 Bets | 22050 SCR Staked | -1406 SCR | -6.37% ROI
December 2018 | 65 Bets | 7836 SCR Staked | +744 SCR | +9.50% ROI
Total Results |1508 Bets | 138787 SCR| +5754 SCR | +4.15% ROI
---
Let me know if you are still using betscorum and what your results were last month in the comments below...