This is my Monthly Results Roundup of the pre-game bets I posted on Scorum.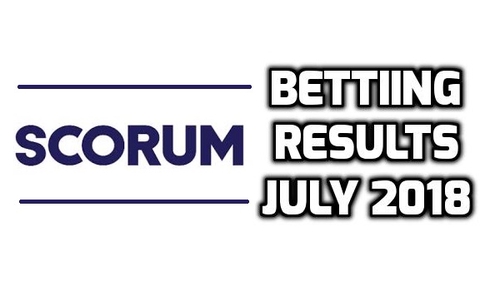 Quite some bets during the first half of last month with some World Cup and Wimbledon action. As always, these are all the bets I took in BTC and they were all posted directly after I took them myself. I mostly used Sportsbet.io because they are quite easy to beat by using the price boost promotion they offer along with some basic handicapping while comparing their odds to the more sharper asian bookmakers.

The Belgian Jupiler League started again and I will be on the look out to place some bets in BTC there next month. I will continue to use the same format for these bets.

July BTC Betting Record (Posted on Scorum)
11 Bets | 7 WON - 4 LOST | 110 mBTC Staked | +44.79 mBTC Profit | +40.71% ROI

14/07/2018 Kerber @ 2.711 WON +17.11 mBTC
12/07/2018 Kerber 2-0 @ 2.540 WON +15.40 mBTC
12/07/2018 Serena Williams -4.5 @ 2.170 WON +11.70 mBTC
10/07/2018 Cibulkova Win @ 2.159 LOST -10.00 mBTC
10/07/2018 Giorgi +4.5 @ 2.070 WON +10.70 mBTC
07/07/2018 Croatia-0.5 @ 2.310 LOST -10.00 mBTC
06/07/2018 Venus Williams 2-0 @ 2.41 LOST -10.00 mBTC
05/07/2018 Kasatkina 2-0 @ 1.86 WON + 8.60 mBTC
03/07/2018 Vikhlyantseva +5.5 @ 1.90 WON + 9.00 mBTC
02/07/2018 Venus Williams -5.5 @ 2.28 WON + 12.28 mBTC
01/07/2018 Spain -1 @ 2.052 LOST -10.00 mBTC
I have mainly been using Nitrogensports and will continue to do so with future posted betw because they have been a very reliable bookmaker and are suited for more serious players as they copy market leading Pinnacle odds.

Nitrogensports (affiliate link)
Nitrogensports (normal link)


IMPORTANT !
There are very few people that are equipped financially and psychologically to handle the ups and downs of gambling on a daily basis. If you're not a professional, every instinct you have will attempt and probably will sabotage your success. Human nature runs completely contrary to being successful at gambling. These bets are posted as a way to help myself in order to stay disciplined, always hold yourself accountable if you end up following. Proper Bankroll Management can highly decrease the risk of heavy losses!