This is my Monthly Results Roundup post on the pre-game bets I posted on Scorum along with the tracked bets for the SBC League.

I didn't have a single BTC during the month of June as I mostly stick to the Belgian League and just skip on the other sports I used to include and actually cost me. The Belgian season started again the last week of July and so did the bets. 2 pre-game BTC bets have been posted and both of them won quite comfortably making it a good start of the season.
---
SBC LEAGUE
Blitzpredict changed their priorities no longer offering the bet tracking/verification service which made the SBC League lose its main tool to run the SBC League without the hassle of having to deal with 'people management'. Something like Blitzpredict or the monthly SBC League price money should not be the primary reasons to properly track bets. Unfortunately, from over 16 people that were keeping results while the SBC was running using Blitzpredict, only a few are actually still properly posting bets and keeping track of the results. I guess few actually care about betting wanting to improve and rather just randomly bet for fun mainly using it as a tool just make quick posts and mine coins.
For as far as I'm concerned, the SBC League is still running and anyone can join using a similar format to track their betting results like some of us still do. There is no official ranking anymore or monthly prizes which should not be an incentive to join in the first place anyway. I'm alway happy to support anyone who is using blogging as a tool for their own betting activity and not so much those that are doing it the other way around.
---
Twitter Bet Alerts
I started using Twitter (@costanzabets) this season. Since all bets that have been taken in BTC have been shared right after I took them myself, it was quite a hassle last season because I had to link my "bet taking" to my "post making". Twitter solves this issue as I will always share the BTC Bets I take there right after I've taken them. One of the points of these BTC bets has always been to make it possible to actually replicate the results for the ones that are using Nitrogensport and/or Sportsbet.io which are the 2 reliable BTC bookies I'm using myself.


One bet for week 4 was already shared yesterday on Anderlecht 1H +0 @ 1.766

---
Copytip
All these bets that I take some extra on in BTC will also be taken on Copytip where all my bigger positions (including Live Bets shared in the SBC Discord) get tracked and can automatically be followed at the odds I am taking. So far my experience using their platform is quite positive, I will continue to try it out for at least an entire season and see how it all works out. I have not used it myself to follow anyone on there and am not planning to anytime soon. I take all bets there just with Symbolical 10€ stakes as my main bookmaker is still Sportmarket Pro.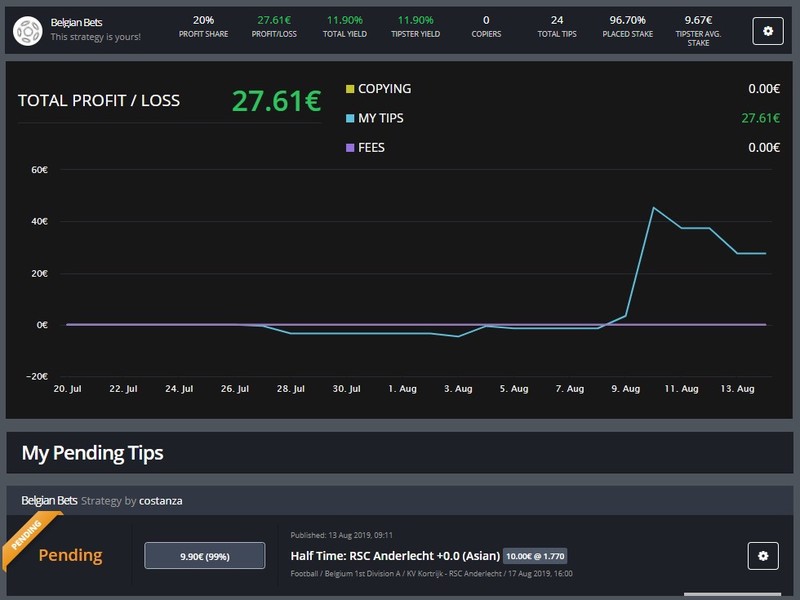 ---

June 2019 BTC Betting Record
2 Bets | 2W-0L-0P | 0.020 BTC Staked | +0.018 BTC Loss | +90% ROI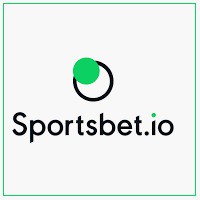 I used Sporsbet.io for the bets this month. They have been a reliable BTC Bookie and are also sponsor of EPL team Watford. The model that they use is that of a regular 1x2 bookie which is easy to beat when staying disciplined only taking the bets where they have higher odds compared to the Asian bookmakers. They offer a lot of prop bets and also have regular free bet promotions running along with odds boosts.

Sportsbet.io (affiliate link)
Sportsbet.io (normal link)
---
Previous Scorum Bets Records
July 2019 | 02W-00L-00P | 20 mBTC Staked | +18 Profit | +90.0 % ROI
Jun 2019 | 00W-00L-00P | 00 mBTC Staked |+00 Profit | +0.00% ROI
May 2019 | 00W-05L-2P | 70 mBTC Staked |-50 Loss | -71.43% ROI
Apr 2019 | 03W-02L-0P | 50 mBTC Staked | +24.17 Profit | +48.34% ROI
Mar 2019 | 03W-03L-1P | 70 mBTC Staked | +4.12 Profit | +5.89% ROI
Feb 2019 | 04W-02L-0P | 60 mBTC Staked | +23.21 Profit | +23.21% ROI
Jan 2019 | 01W-09L-0P | 100 mBTC Staked | -79.64 Loss | -79.64% ROI
Dec 2018 | 04W-10L-1P | 150 mBTC Staked | -58.88 Loss | -39.25% ROI
Nov 2018 | 07W-10L-0P | 170 mBTC Staked | -32.17 Loss | -18.92% ROI
Oct 2018 | 06W-09L-0P | 150 mBTC Staked | -28.29 Loss | -18.86% ROI
Sep 2018 | 13W-0L-1P | 140 mBTC Staked | +141.82 Profit | +101.3% ROI
Aug 2018 | 5W-1L-2P | 80 mBTC Staked | +45.47 Profit | +56.84% ROI
July 2018 | 7W-4L-0P | 110 mBTC Staked | +44.79 Profit | +40.71% ROI
Total | 55W-45L-7P | 1.120 BTC Staked | +0.0526 BTC Profit | +4.69% ROI
---