This is my Monthly Results Roundup post on the pre-game bets I posted on Scorum.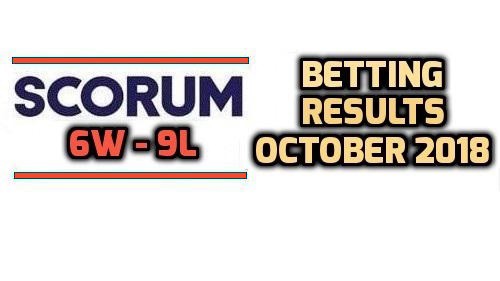 After the crazy hot run during September going 13W-0L along with the 4 prior months that also ended in a profit, this was my first losing month in a while giving something back (spoiler: It won't be the last). Betting always has a lot of ups and downs even when expecting to make profit over time. If anything, my way of blogging can be a good example of this as I do not shy away from also sharing the bad times and losing runs that are part of this game. As long as I have reasons to believe there will continue to be profit in the longer run I just keep going grinding away more bets to build a bigger and more representative sample to go by. Overall ROI is still far above expectation.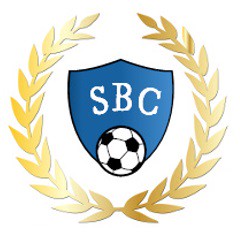 I have always been a big advocate of stats keeping for those who post their bets here on Steemit or Scorum (Without it's all quite random and meaningless) . These platforms are an excellent way for everyone who is betting to be more aware about their results and can be a real motivation to constantly improve. Some of the blogs on Scorum that also make monthly results round ups and use it as a way to imporve...
Accounts that also clearly keep their betting record
Let me know if there are accounts that also keep their personal betting stats or if you plan to do the same so I can include it in my november post and give some support. I will see what I can do to also get the SBC League started on Scorum.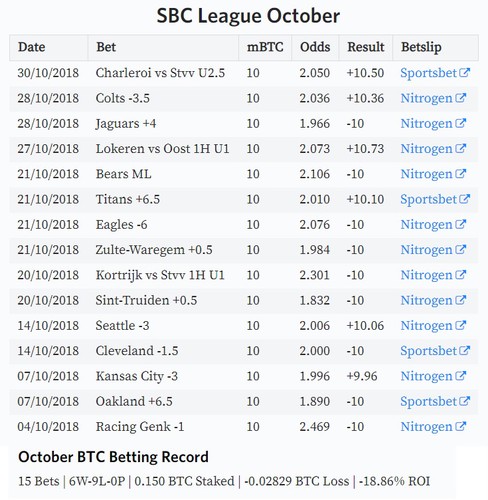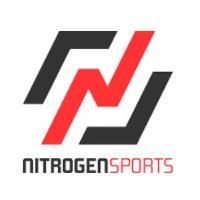 I have been using Nitrogensports as my main BTC bookmaker for over a year and have had very good experienc so far and also get a solid B+ rating on Sportbookreview. They offer market leading Pinnacle odds, have good limits. I place all the pre-game bets there just before posting. affiliate link / normal link

---
Previous Scorum Bets Records
Oct 2018 | 06W-09L-0P | 150 mBTC Staked | -28.29 Profit | -18.86% ROI
Sep 2018 | 13W-0L-1P | 140 mBTC Staked | +141.82 Profit | +101.3% ROI
Aug 2018 | 5W-1L-2P | 80 mBTC Staked | +45.47 Profit | +56.84% ROI
July 2018 | 7W-4L-0P | 110 mBTC Staked | +44.79 Profit | +40.71% ROI
Total | 31W-14L-3P | 0.480 BTC Staked | +0.20379 BTC Profit | +42.45% ROI
---
Let me know about your October Betting Record in the comments and make sure to leave a link if you made a similar results roundup post so I can give it an upvote !