This is my Monthly Results Roundup post on the pre-game bets I posted on Scorum.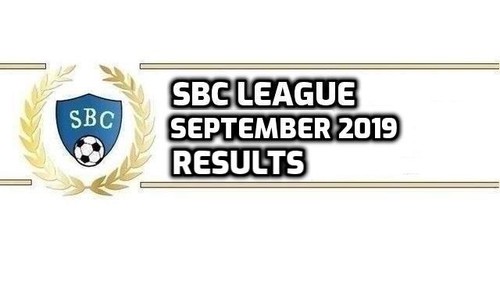 This was the 23rd month in a row I have been sharing the bets I end up taking some extra on in BTC at the time when I take them using 2 reputable BTC Bookmakers (Nirogensports & Sportsbet.io) and it was a good one despite the limited amount of action.

The last match between Stvv and And Racing Genk was suspended around minute 90 while it was in the win and depending on the bookie that it was taken with it got paid out or was voided. Nitrogensports ended up paying out the bet as a winner. (See Betslip).

I also started taking these bets along with my Discord Live Bets (see the latest record update) on Copytip where they can be auto-followed at the same odds I was able to get. It's not always 100% the same as available betting options along with limits are not always the same in different bookies. The AA Gent Team total over 1.5 was taken on copytip as an Over 2.5 which both won. I'm slowly getting a bigger following there so it might become a lot harder to follow them for free here at the same odds as it usually doesn't take all that much to move the lines. I will continue similar to how I have done things here the past few years though.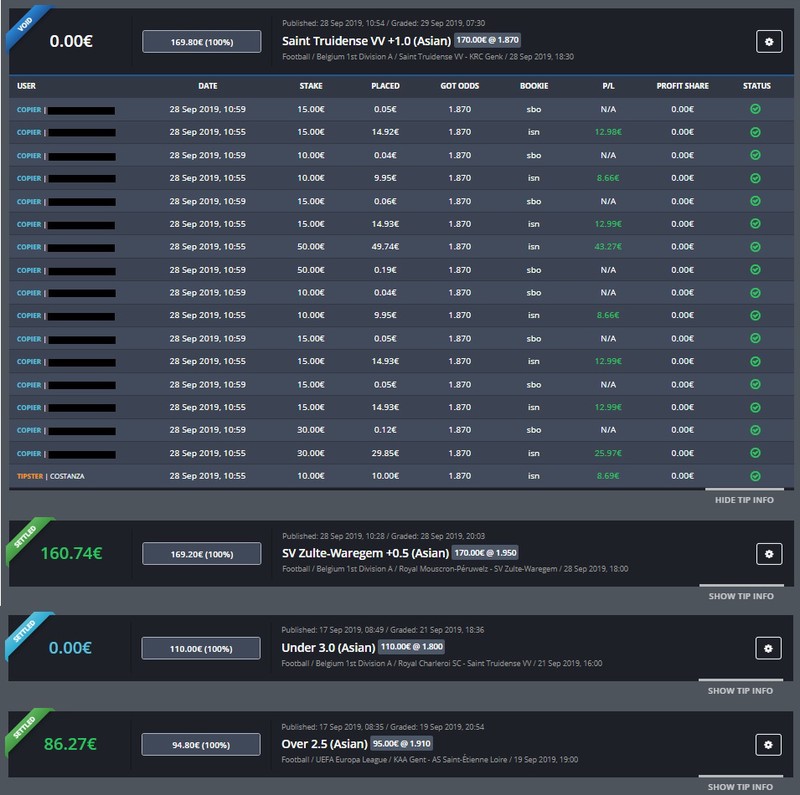 The bet on Stvv +1 shows as a void because it was taken on different bookies (SBO & ISN). Good thing 99%+ of the stake was taken at ISN who processed the bet as a winner. Since then the number active copiers has increased from 8 to 15 and I will continue to do what I can to spot and take the +EV betting situations on Belgian teams.

---
September 2019 BTC Betting Record
4 Bets | 3W-0L-1P | 0.040 BTC Staked | +0.028890 BTC Profit | +72.22% ROI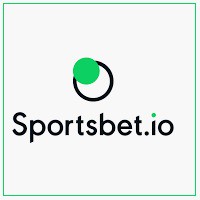 Sportsbet.io has turned in into the BTC only bookie I use the most for my bets as they are an excellent option for anyone who is very selective in their bets. They are also offering Asian handicaps which are the bets I most of the time am looking for.

---
Previous Scorum BTC Bets Records
Sep 2019 | 03W-00L-01P | 40 mBTC Staked | +28.89 Profit | +72.22% ROI
Aug 2019 | 07W-03L-00P | 100 mBTC Staked | +33.86 Profit | +33.86 % ROI
July 2019 | 02W-00L-00P | 20 mBTC Staked | +18 Profit | +90.0 % ROI
Jun 2019 | 00W-00L-00P | 00 mBTC Staked |+00 Profit | +0.00% ROI
May 2019 | 00W-05L-2P | 70 mBTC Staked |-50 Loss | -71.43% ROI
Apr 2019 | 03W-02L-0P | 50 mBTC Staked | +24.17 Profit | +48.34% ROI
Mar 2019 | 03W-03L-1P | 70 mBTC Staked | +4.12 Profit | +5.89% ROI
Feb 2019 | 04W-02L-0P | 60 mBTC Staked | +23.21 Profit | +23.21% ROI
Jan 2019 | 01W-09L-0P | 100 mBTC Staked | -79.64 Loss | -79.64% ROI
Dec 2018 | 04W-10L-1P | 150 mBTC Staked | -58.88 Loss | -39.25% ROI
Nov 2018 | 07W-10L-0P | 170 mBTC Staked | -32.17 Loss | -18.92% ROI
Oct 2018 | 06W-09L-0P | 150 mBTC Staked | -28.29 Loss | -18.86% ROI
Sep 2018 | 13W-0L-1P | 140 mBTC Staked | +141.82 Profit | +101.3% ROI
Aug 2018 | 5W-1L-2P | 80 mBTC Staked | +45.47 Profit | +56.84% ROI
July 2018 | 7W-4L-0P | 110 mBTC Staked | +44.79 Profit | +40.71% ROI
Total | 65W-48L-8P | 1.260 BTC Staked | +0.11535 BTC Profit | +9.15% ROI
---