Big news yesterday for crypto adoption as BTC Bookmaker Sportsbet.io announced they will become the main club partner of English Premier League team Watford FC !

Many teams are sponsored by Gambling Companies, but this is the first time a BTC only bookmaker strikes a sponsorship deal and will be seen on the Jersey of a team playing in the biggest league on the planet that is being watched all over the world.

---
Opportunity for Betscorum ?
This news means that likely more regular sports fans will find their way to the crypto world and might stumble upon the Scorum platform. What they will see right now is a great looking blogging platform dominated by fake payout amounts and an excellent designed 0% Fee Betting Exchange with few sports and no volume whatsoever making scorum look like a complete scam...
---
Sportsbet.io Review
I have been using Sportsbet.io for over a year now and never had any problems with it so far ( I have yet to do a cash out as I keep the minimum on there just to take very selective bets ). They pretty much use the classic European 1x2 type of business model meaning their odds in general are not best and are likely to restrict winning players. They offer plenty of promos including a daily odds boost and if you use them with a lot of discipline only sticking to the +EV betting spots they offer, it is fairly easy to beat them. I see them as a great way to have an alternative to Nitrogensports to shop for the best odds. The sponsorship deal increases my overall confidence in them and I'm looking forward to continue using them in the 2018-2019 Season.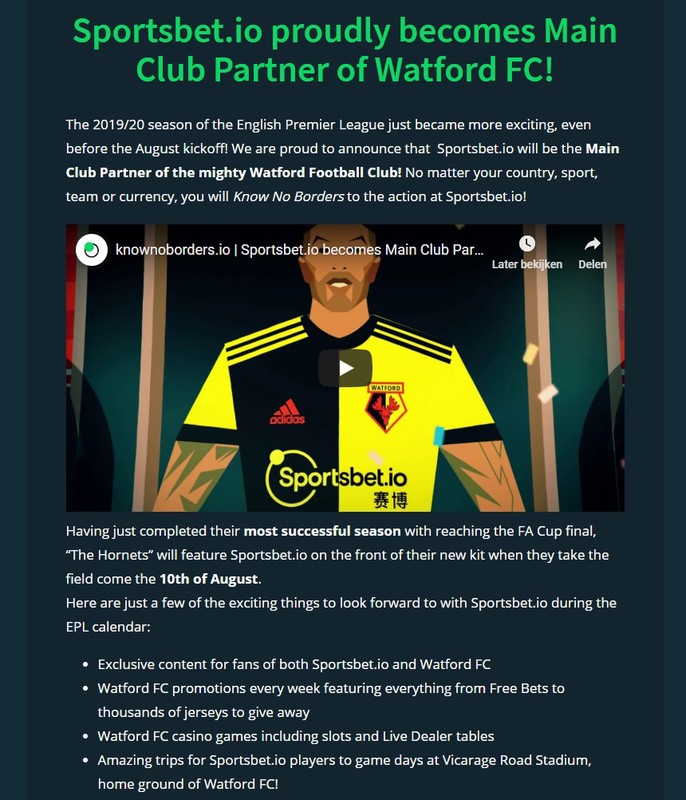 Partnership Promo Offer
Sportsbet.io is known to give players many bonus offers. This is a classic way to keep losing players who just bet whatever regardless of the odds from leaving. This partnership came along with a bonus offer where you get a free 2 mBTC (0.002 BTC) bet (1.5 odds or higher) on Sunday when you place at least a 2mBTC Bet today. I took a 2mBTC bet on Gamba Osaka +0.5 @ 1.54 (pinnacle had 1.518 odds) and will be getting a free bet tomorrow regardless if this one wins or not.

They also have a Welcome Bonus Offer running that gives you 3x your first 2 mBTC bet in free bets (6 mBTC).


---
Anyone who is looking to try it out, feel free to use my Affiliate link or just the Normal Link to go to their website. Thanks and Good Luck!