I'm making these posts weekly as a way to track my personal pre-game handicapping results along with my live betting action on Belgian Teams. These posts will always contain some insights when it comes down to my general approach and what I do to increase my chance of beating the market.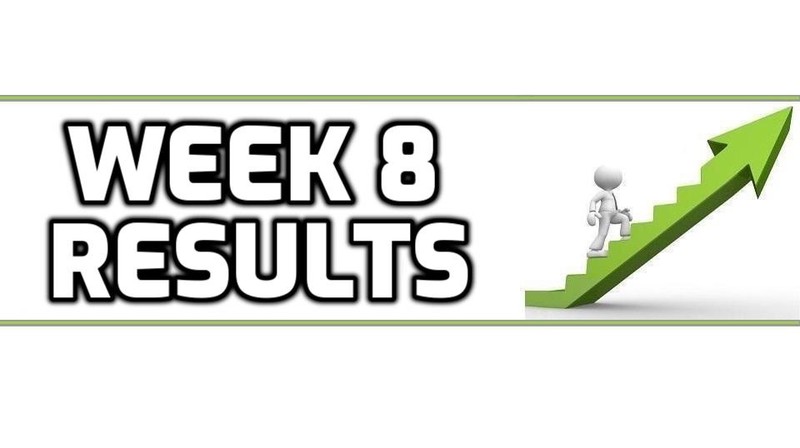 I talked last week on how I was going to go into lockdown and that's pretty much what I did this week. The number of bets I got involved in was highly reduced along with the average Stakes. It resulted in positive results despite the biggest live bet losing along with the small bet I ended up taking in BTC on Harbaoui to score as he got a red card 10 minutes into the match.

This more selective approach does get me thinking about the Volume and Quality over quantity dilemma in betting which in my view is one of the hardest to get right. My betting style is quite wild when it comes down to the number of bets I take on Belgian teams in a season. There are 2 main reasons for this:

Eliminating Luck
The one thing everyone is highly underestimating is how many bets are needed to overcome the natural ups and downs involved in betting. If I were to have only 100 bets in an entire season, the expected ROI would likely be a bit higher, but also would the chance to be down at the end. Having 1000+ bets in a season including smaller edges makes it much more likely to be up at the end when you know what you are doing and have 100% self-discipline. Finding the extent on how far to go with this remains an eternal struggle and I might tone it down a bit next season or at least make the gap between small and bigger stakes larger

Building Volume
If you want to earn serious money with Sports Betting you need to bet a large amount in total since it is extremely hard to do better than +4% ROI. Making ~14000€ in a year means that you need to wager 350000€ in a season. Only having 100 bets brings this at 3500€ for each bet while having 1000 bets brings it at 350€ which is a huge difference. The first is very hard to pull off practically due to limits and will force you to take lower odds on average. The bankroll needed is also way higher when you want to do the same volume on a lower amount of bets.

Overall I'm quite pleased with my general approach and way of going about things. It has worked for me many years but it doesn't keep me from finding possible improvements all the time. It is also something that I adjust during the season based on how good of a read on all the teams I believe I have.

There are 2 more weeks in the league left all packed inside the next 7 days with 3 matches every day from Tuesday to Sunday. I will continue with the same approach I had this week meaning more selective, reduced stakes and mostly focussed on live betting.

---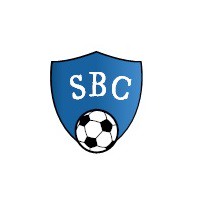 Only 1 official live bet in the SBC Discord Server this week and it ended up losing. I also shared most of the smaller positions I got myself into and all of those did pretty well...

Discord Live-Bets

Club Brugge vs Racing Genk Corners Over 12.5 @ 1.90 (60' 7-2) LOST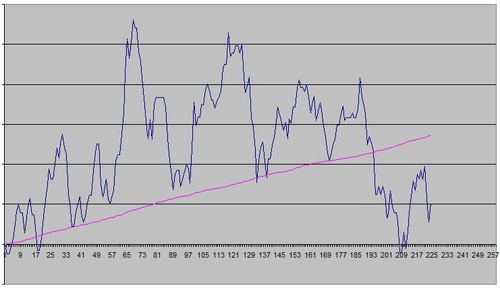 I'm back in the positive for the playoffs after this week but still below the expected pink line. There are still 2 weeks to go and 2 Finals for the last European Ticket and I'm hoping I can crawl up again.

---
Previous Personal Playoffs Results
Week 08 Results 16 Bets | 09W-06L-01P | Staked 07.40u | +1.243u Profit
Week 07 Results 39 Bets | 15W-18L-06P | Staked 14.28u | -2.908u Loss..
Week 06 Results 40 Bets | 18W-19L-03P | Staked 16.02u | -1.477u Loss..
Week 05 Results 39 Bets | 22W-11L-06P | Staked 14.27u | +2.420u Profit
Week 04 Results 13 Bets | 03W-06L-04P | Staked 06.22u | -1.374u Loss...
Week 03 Results 12 Bets | 03W-08L-01P | Staked 05.54u | -2.021u Loss...
Week 02 Results 19 Bets | 13W-04L-02P | Staked 09.09u | +3.917u Profit...
Week 01 Results 45 Bets | 23W-15L-07P | Staked 17.57u | +1.228u Profit...
Playoffs 2018-2019 Total Results
223 Bets| 106W-87L-30P | Staked 87.39u |+1.028u Profit | +1.18% ROI
Regular Season 2018-2019 Results
109 Bets| 489W-460L-141P | Staked 537.860u | +13.297u Profit | +2.47% ROI
---
Let me know in the comments how your betting weekend was!