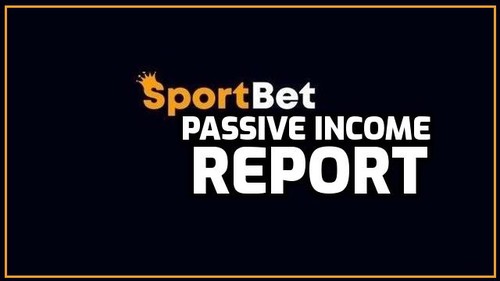 I made a Review on the bookie Sportbet.one which runs on the EOS blockchain a couple of months back and have cost averaged my way in keeping track of the price and the weekly Dividends.

I'm always looking for crypto projects with an upside potential that also offers dividend payouts. Sportbet.one pretty much ticked those boxes as they have a working product and allow holders of the SBET token to share in the Weekly Dividends which are based on actual betting turnovers.

---
Price Evolution
SBET is Trading against EOS on Newdex and there doesn't seem to be all that much a correlation with the ups and downs in price from EOS. Dividends are most of the time what decides the price if they go up, it tends to go up and the other way around.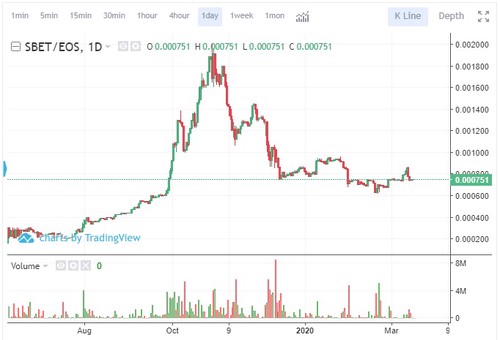 The parabolic move up in price is what caught my eye (like oftentimes is the case) and I slowly started cost averaging in when it was near its peak at ~0.0017 EOS while I also managed to get some near the bottom at 0.00065 EOS.
---
Dividend Payouts
Dividends can be claimed on a weekly basis each Monday and are basically calculated as 3% of the total betting volume that week. Payouts have been processed correctly and very consistently. The average weekly Dividend Percentage based on the price that week is around 0.73%. The Highest was 1.353% and the lowest at 0.472%.

Dividends are paid out in EOS, SBET & BTC based as it's possible to bet with all these currencies on the bookie.


The average weekly payout calculated in EOS for 10k SBET Staked has been around 0.050 EOS

---
Biggest SBET Holders
I also keep track of the biggest SBET holders week by week (See Link). The SBET team account has been holding between 62% and 68% of the tokens and always offers both buy and sell walls on Newdex meaning there is always enough liquidity to get in and out.


Around 96% of all SBET in circulation is currently staked

---
Positives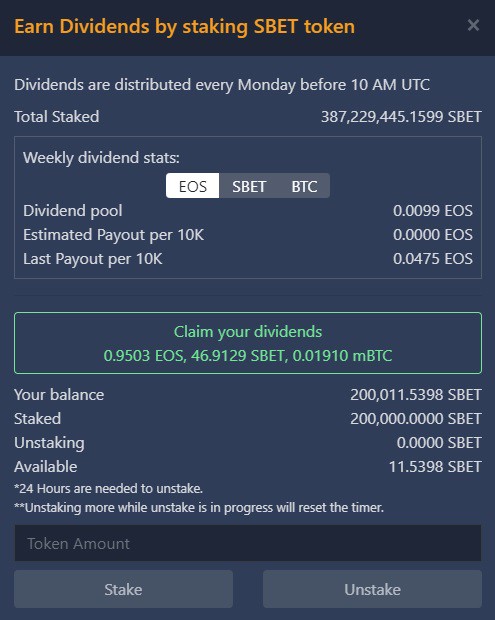 Despite the fact that I'm still down a bit since I started to cost average, there is a lot I like about SBET. Their team seems to be solid and is moving forward recently adding Social media logins. Thay have an active telegram channel and provide the needed CPU for all their users with Dividends payouts being really consistent. Also, the fact that the team has a buy-wall up willing to buy-up their own tokens gives me good confidence and I haven't seen anything shady yet so far. Over the last 20+ weeks, I managed to collect a total of 13.87 EOS | 3165 SBET | 0217 MBTC in dividends. They are adding up week by week and offer nice returns which counter a potential price drop while there is a potential give exponential returns when more people start using the platform.

---
Dangers
There are plenty of dangers involved in investing in SBET as it's a high-risk investment. To start, the number of weekly users is limited to around 120-130 on average and most volume comes from the top 3 accounts meaning dividends are extremely vulnerable in case one of those drops away. For as far as the bookmaker goes, the odds aren't great and they also have no ability to limit winning players since it's easy to make new accounts and bets are done directly from your EOS wallet which means no deposit has to be made. Regulations are also very much a grey zone and might become a problem in case the project would grow a lot.

---
Conclusion
Overall I'm quite pleased with SBET as an investor and plan on buying some more in case the price would go down because of the delayed matches next couple of weeks. I will continue to monitor the dividends and progress the team is making as I move along and see where it goes. My main concern is the number of users is what I would like to see going up more than anything.
---