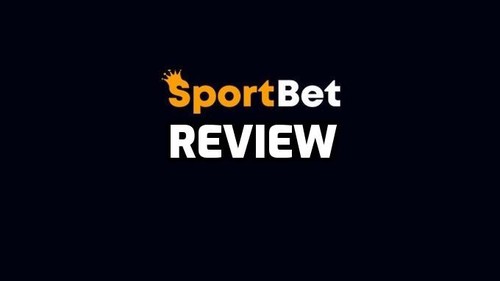 Sportbet.one is a decentralized bookmaker on the EOS Blockchain which I have been watching closely for the past 10+ weeks. Their SBET token pays out weekly dividends to everyone who has it staked. An overview of this project...

---
To start out, everything written in this post is merely my personal view on how I understand things at the start of 2020 and this might not be 100% correct or change with future developments. This is by no means investment advise and please let me know if I made mistakes somewhere...

---
Sportbet.one | SBET Model
The team behind Sportbet.one has built a working Sportbook on the EOS Blockchain which is linked to their SBET token. 3% of the value of all the settled bets gets put into a reward pool which is paid out to stakeholders on a weekly basis. Betting can be done in EOS or SBET directly from your own wallet without having to make an account. BTC is also accepted as a currency. The odds and bet settlements are linked to Bet365 from what I understand.

---

The Bookie
The Sportbet.one bookie is actually very user-friendly and has worked great for me never causing any issues. A lot of Sports and markets are offered with plenty of betting options including Asian Handicaps along with live bets.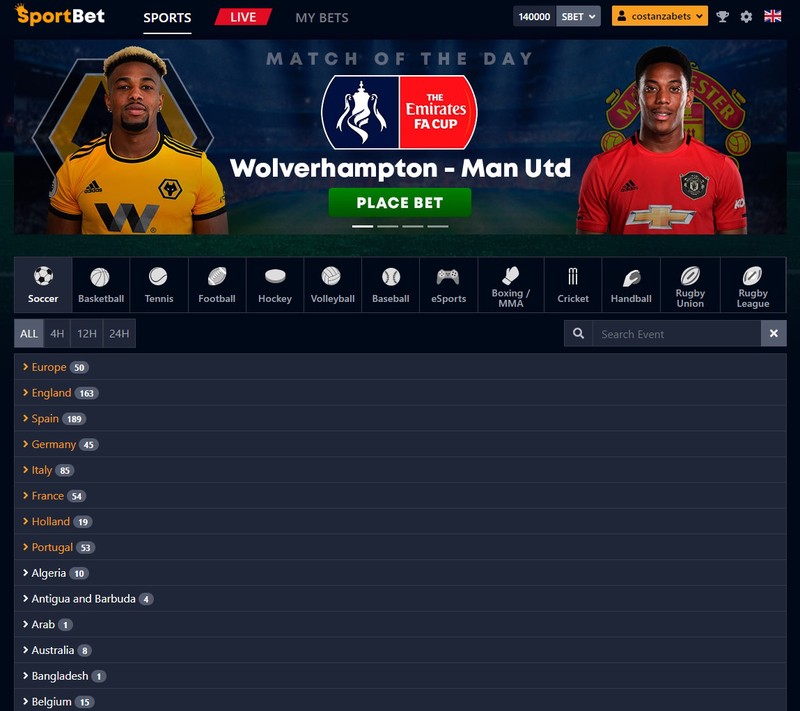 The general odds are similar to most 1x2 bookies have quite a lot of juice and anyone who just uses a single bookie to gamble is very likely to lose over time. They do however at times offer better odds compared to what's available elsewhere making it an excellent option for bettors who want to shop for the best line. It is not a bookie I would use myself on a day-to-day basis simply because I'm able to get much better odds at Sportmarket Pro, but I did manage to make some small bets there the past couple months where they offered better odds.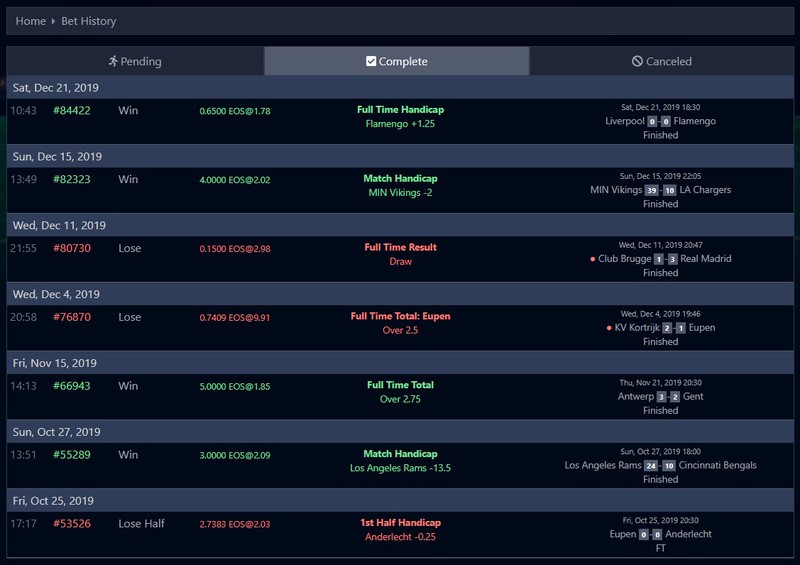 ---
Promotions
2% Cashback: Everyone who uses the SBET token to bet is currently getting an instant 2% cashback which basically increases the odds.
Weekly Leaderboard: This is a weekly event where the top 10 bettors each week get some rewards which currently helps to give the platform more volume increasing the dividends.
Free CPU: Sportbet provides the needed CPU on the EOS blockchain for their users to be able to place bets without needing to stake EOS first.
Referral Program: They offer 0.2% referral program but this hasn't been worked out all that much as there is no page where you can see your referrals and their volume.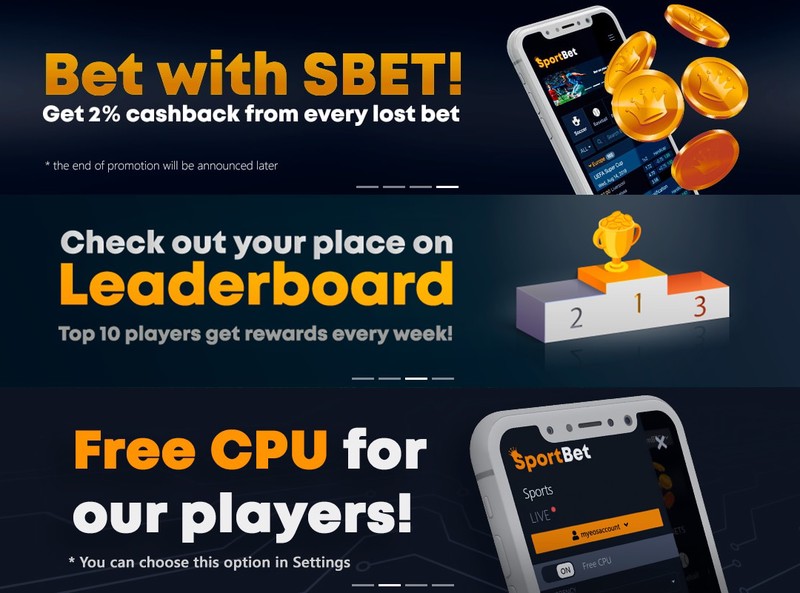 ---
SBET
SBET is a token listed on Newdex. There is a maximum supply of 1 Billion of which 400 Million are currently into circulation. About 64% is owned by the project and they offer both buy and sell walls on the exchange to provide liquidity on both sides.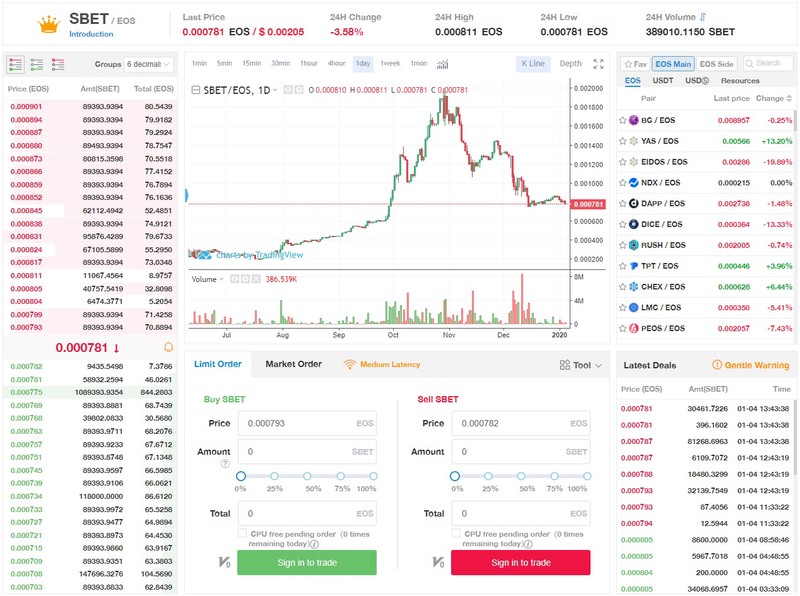 SBET Price and Dividends
The Price of SBET saw a big run-up followed by a correction. It is in a way linked to the expected dividends and the more people use the platform, the higher those will be. While it's a good thing that the value is actually backed up by a working project with revenue, it also makes it quite easy to manipulate things as the team could easily pump the dividends to increase the price and sell some of their bags if they wanted to. I don't see reasons for them having this intention though as they do put up buy walls allowing people to sell to them.

Weekly Dividends have ranged between 1.353% and 0.484% based on the price at the time of the payout the past 9 weeks. The table I have been keeping shows the numbers for 10k SBET staked.

Dividends in EOS | SBET | BTC can be claimed by the ones who have their SBET Staked (It takes 24h to Unstake) every Monday. The current system makes it possible to stake SBET just before the dividends can be claimed and unstake them again right after. Because the overall settled betting volume can be checked it's possible to make an estimation of the dividends. If they are expected higher the price will likely go up while everything is likely to go down if there is less volume. Right now it's actually quite easy to speculate on the price and sell SBET to buy-back more later on when keeping an eye out for this.

---
Team & Developments
The team seems to be good and moving things forward with quite some activity on twitter and their Telegram. I saw them state that they aim to keep the majority of the SBET tokens themselves and there are regular updates with new sports being added along with partnering up with anti-match-fixing detector Federbet.

---
Project Challenges
Sportbet.one is facing quite some challenges in order to really grow.

Regulatory Legal Issues: At the moment I would be surprised if what they were doing is fully legal. I do think they are looking into getting some license but it's unclear at this point and the only thing that is currently present is a small disclaimer at the bottom of their website.
You must be 18 years old to place bets on SportBet. Players are advised to check with the laws and regulations concerning a lottery, gambling, or betting within their jurisdiction. Please, do not place any bets if the activity is illegal in your location. Note that betting is an entertainment vehicle that carries a certain degree of financial risk. Please, arrange your time and funds reasonably.
Bookie Model: They are basically a standard 1x2 bookie but can't really ban winning players. The tool they do have and use us to have far lower betting limits on smaller events while also taking the liberty to void bets with suspicious betting activities on the market.
Crypto Adoption: This last week there have been 100 different accounts who placed a bet with most volume coming from the biggest players. They do solve the issues of being able to bet straight from your own wallet along with the fact that they don't limit individual players. Their target audience is sports bettors/gamblers who are into crypto and also into EOS which narrows things down like crazy and it will take a lot of growth on the crypto market to overcome this.
Scalability: EOS has had its problems the past couple of months and it remains the question of how scalable and affordable it will be for Dapps to run on this blockchain.
Project Profitability: While existing bookmakers don't seem to have many issues making killer profits, having 3% of all volume dividends systematically might at some point be too tricky. It's also hard to get a true estimation of how much they are actually earning and if there are enough losers that keep coming back. Regular 1x2 books tend to give out bonuses that keep losing players on board which is harder for a decentralized bookie like sportbet.
Competition: I do believe blockchain one day will really revolutionize the Sports Betting industry in the form of a crypto Betfair with really small margins that would make the model they are using outdated. It's not looking like this will happen anytime soon though.
Scam Alert: Crypto and scams pretty much go hand in hand and it is possible that SBET is one of them. It is fairly easy to fake volume and pay out dividends from the EOS that came in from people that bought and staked SBET. I don't see any major red flags right now though but also would never invest bigger amounts despite everything looking legit.
---
Conclusion
I do like what Sportbet.one is doing and have some SBET staked myself which gives a little bit of Passive income each week. The bookie itself works just fine, the dividend model ok and the team seems devoted. There are still a lot of challenges to overcome and I see it more as a shorter-term investment. The weekly dividends build up over time while more adoption over time could make them increase which makes the risk-reward ratio worth a small gamble for me.