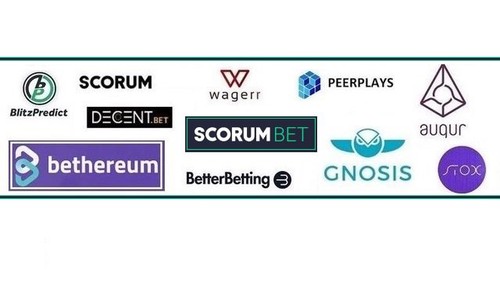 I try to keep track of all the projects that offer Sports betting on a blockchain and making a monthly post with some news surrounding these projects along with price evolutions.

---
News Overview
Most of the blockchain Sports Betting Projects are moving forward but everything continues to go slowly and overall adoption remains quite limited. Similar to the entire crypto market, prices are still very much linked to what Bitcoin is doing.

---
Marginless
This project seems to have been listed on Coinmarketcap. I reviewed this about 11 months ago (See Review). I'm not sure what to think of it right now but I will track it from now on in my monthly table and see how it progresses. Right now it's not something I'm that interested in based on my view when I had a look at it 11 months ago.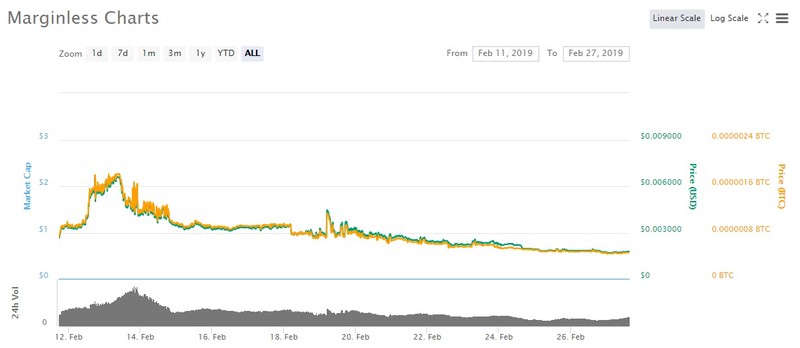 ---
Augur
I have been wanting to look deeper into this project for a while but keep procrastinating it. Today I finally downloaded their windows app (Link). I will test it all out next month and give an update on my experience in next months market overview. I have never been drawn to Augur of any of the 'Prediction Market' projects as a Sports Bettor and my expectations are rather low. First user experience with the app is also very confusing with a lot of data that needs to be processed first after connecting to the Ethereum network. It is by far the biggest project in terms of market cap that relates to sports betting.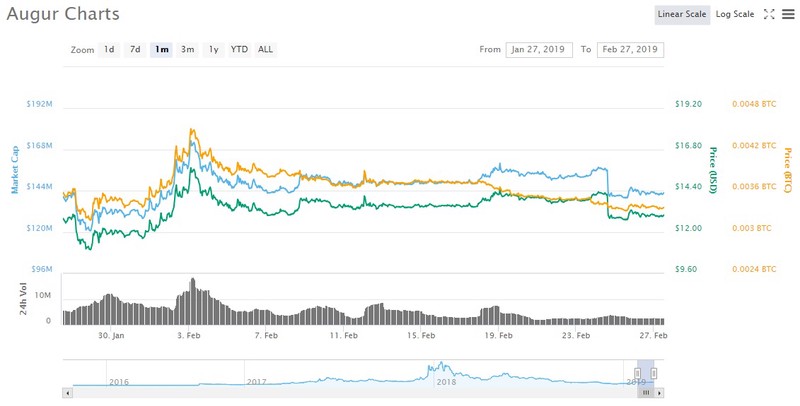 ---
Wagerr
I have not been using Wagerr anymore lately because their platform is just really bad when it comes down to being user-friendly. The period for the token swap between the Waves platform and their main net expired on February 16th and everyone who did not convert their tokens pretty much lost them. They are also working on a lightweight HTML 5.0 interface to place bets which would hopefully make the entire platform more accessible.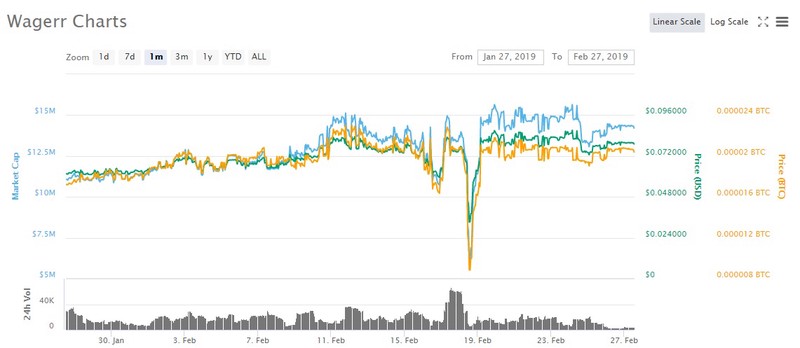 ---
Scorum
Where do I start on this betscorum for this month. They have by far the best betting platform from a technical point of view with a huge potential to actually get adopted even with the markets right now not being favorable. Yet everything seems to be done right now to throw away the first mover advantage and chase the actual sports bettors who were using the betscorum away (See Volume Report). I stick to my current view that they really have a lot of skill when it comes down to building and coding but simply lack when it comes down to marketing and overall vision. To me, the devs are also clearly not sports bettors themselves and don't yet realize how good of a product they have made. It's such a shame and my confidence right now in this project is at an all-time low since nothing points toward anything changing. I have not fully given up on it yet and have a couple of ideas that could be done to revive betscorum after everyone left and overall betting volumes dropped like crazy. (I plan to pitch one in tomorrows post)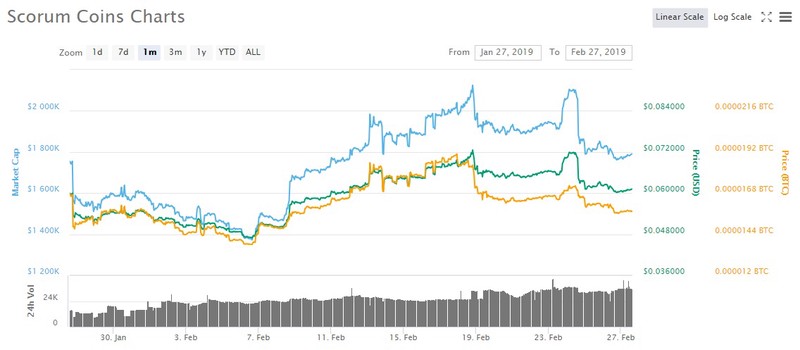 ---
Bookie Pro (Peerplays)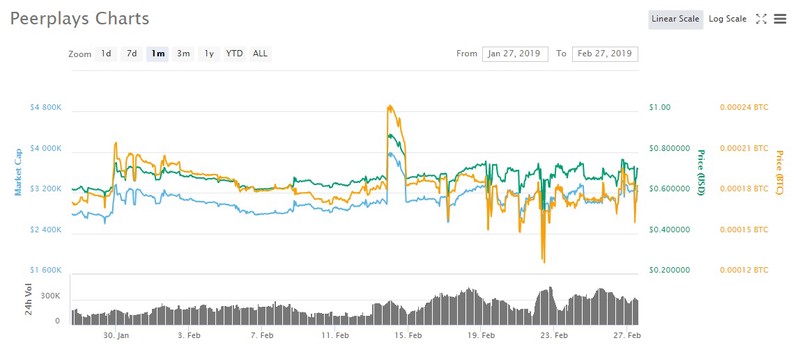 Blitzpredict
As a Sports Bettor I'm a fan of this project even though I have not invested in it yet. I have been using their platform to verify predictions and will continue to do so. They seem to be able to attract real sports bettors and the devs give updates on a regular basis. Their own betting exchange and sportsbook aggregator is not ready yet and they are not yet at the stage where any marketing is needed. I will continue to closely follow this project. Anyone who wants to start tracking their own bets on the Ethereum blockchain can do so by making an account on blitzpredict.io and send an email to experts@blitzpredict.io asking to get added to the list of tipsters.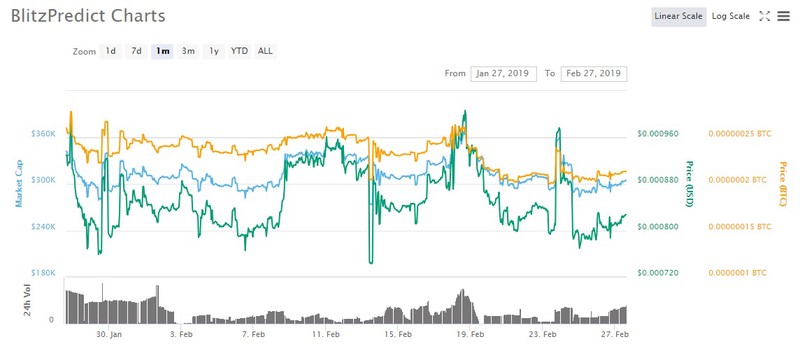 ---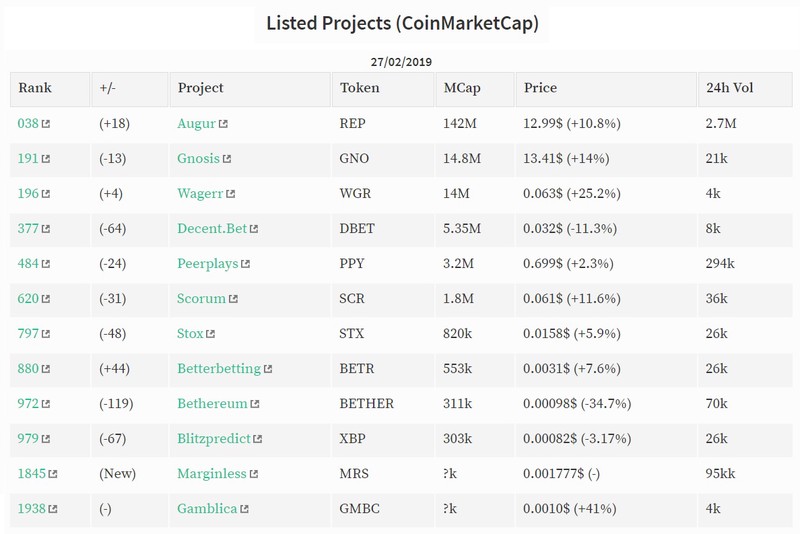 ---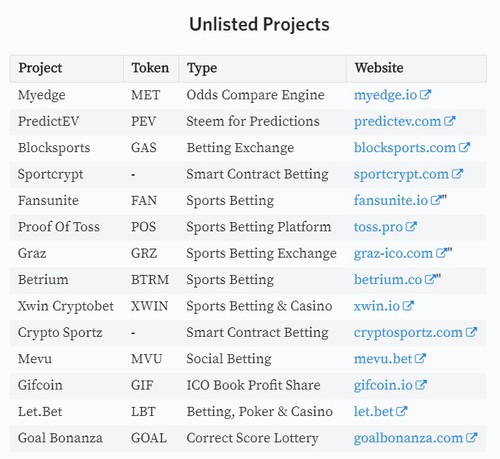 ---
Previous Months
Sports Betting Blockchain January 2019 Update
Sports Betting Blockchain December 2018 Update
Sports Betting Blockchain November 2018 Update
Sports Betting Blockchain October 2018 Update
Sports Betting Blockchain September 2018 Update
Sports Betting Blockchain August 2018 Update
Sports Betting Blockchain June 2018 Update
Sports Betting Blockchain May 2018 Update
Sports Betting Blockchain April 2018 Update
---
Feel free to let me know in the comments if there are newer blockchain projects you know of that have something do do with Sports Betting that has not been added yet to my list.