I try to keep informed of the projects that offer Sports betting on a blockchain and make an overview of news, listings, price evolution,... on a consistent monthly basis. This is what happened in January 2019!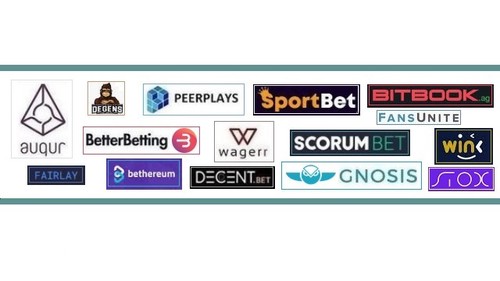 News Overview
Looking back at the first report I made back in April 2018, things have moved forward a lot for many of the projects while new ones were introduced, yet prices trade way lower. There is still a lot of work to make everything more userfriendly but looking at the actual weekly betting volumes on some of the projects it pretty much shows the potential. Wagerr, Degens & sportbet.one all have over 100k $ weekly betting action going on currently despite the limited number of users. With the Superbowl this weekend I would not be surprised to see some new records being set!

---
Project News Updates

Betterbetting
It has been very quiet around Betterbetting while their betr.bet platform remains online and working providing some really good odds at times. I have used them myself during the NFL season as they allow Betting in EOS directly from your own wallet while they are covering the ETH Gas costs. Looking at the betrbetrbetr account used to process the bets on bloks.io, it can be seen that aside from me they have 1 more user who takes 0.1 EOS type stakes. They will certainly need to find a solution for the gas cost if the platform wants to scale over time. While the project has seen little to no progress for a while and feels kind of death which reflects in the 81k marketcap. The fact that it has a working product I actually enjoy to use makes me want to believe that BETR is potentially highly undervalued. I will continue to follow this one closely, this was the latest update from their CEO on Telegram.


---
Wagerr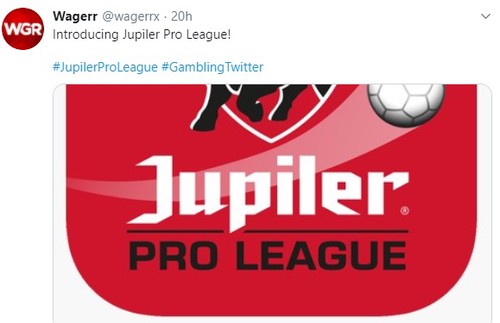 First off great news on Wagerr as they added the Belgian Jupiler League. The odds seem to be automatically adjusting to the existing Asian betting markets but it's still at times possible to get odds on par or better to what is available elsewhere. Being able to get solid odds is one of the main things I'm personally looking for when it comes down to using crypto betting platforms which now puts Wagerr back on my radar as most my betting action comes from the Belgian Jupiler League.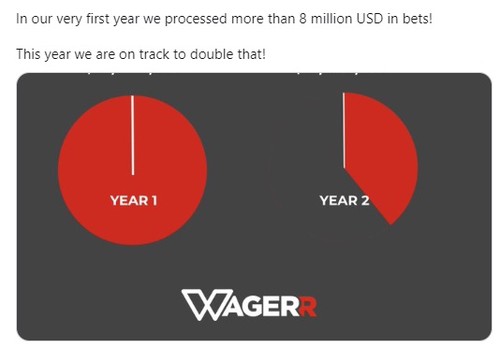 They also continue to provide great info on Twitter (@wagerrx) mostly about betting volumes and token mint/burn. It's nice to see how they are on track to crush their overall betting volumes during the 2nd year of their decentralized bookie. The question remains in how far tokens will be burned or minted based on how players do in their betting. So far a whopping 4 Million Extra WGR had to be minted to close the gap between winners and losers (see explorer). I mentioned last time that their IOS app did not allow for betting which apparently is due to apple policies. They came out with the wagerr pro app for ios last month which has to be downloaded from safari. (Check instructions). I just tried it out but couldn't get it to work.

---
Scorum
There has been an update from the team in January (See Post). The way I'm reading into it, the Scorum blogging platform is alive and they will continue to support that implementing adds. Part of the revenue from those will be used to buy back SCR from the market to keep the reward pool going. For as far as betscorum goes, it's clear that the devs don't really care all that much for it and there don't seem to be any plans to add new sports, provide liquidity and grow its userbase. It's a real shame and I keep repeating that as a product, betscorum is far better compared to the other projects out there. I'm honestly surprised that the SCR price is holding up as I see little to no reason at this moment for anyone to buy into it. Only if you have way too much time on your hands and enjoy writing about Sports it might be worth getting some SCR, but even then it's probably better to just freeroll it as most do.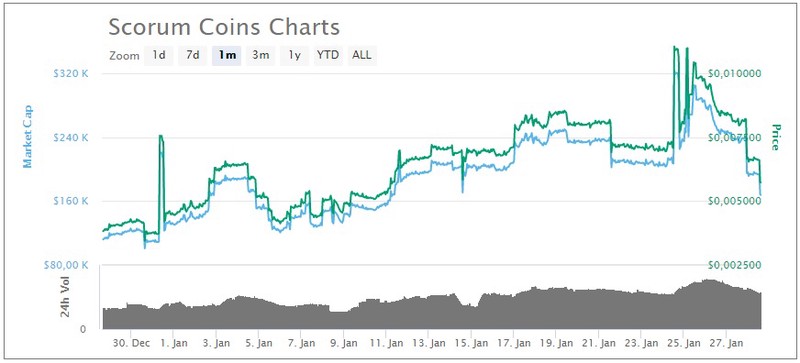 ---
Sportbet.one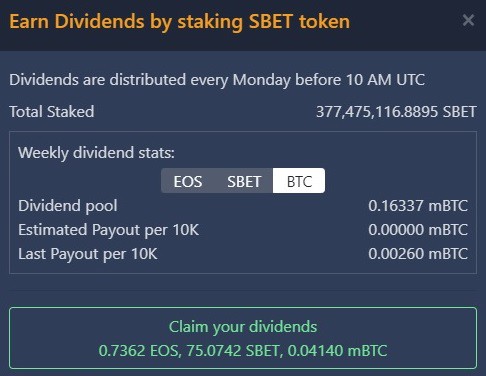 sportbet.one continues to move forward month after month. I do like the aspect where it's possible to have a stake in the bookie getting weekly dividends more compared to actually taking bets there even though the platform itself is good. It is in most cases possible to get better odds elsewhere which makes it really hard to beat long term. Most gamblers don't care so much about odds so I'm glad to be invested cashing in the weekly dividends at the moment.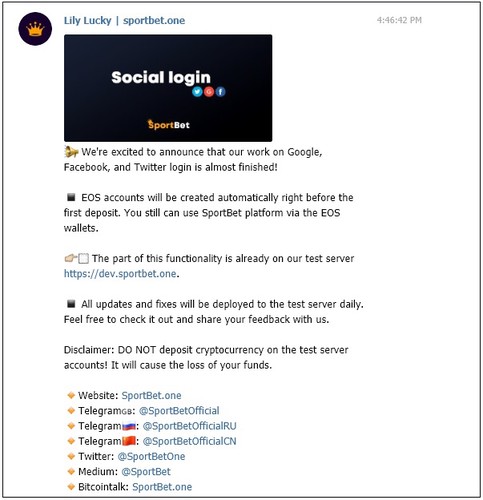 I continue to track the progress week by week and the price along with the dividends seems to have stabilized. They also announced that they will be adding social media logins that generate an EOS account on the first deposit which should help make things way less complicated for the average user who wants to bet without having to deal with country regulation or personal limits. The number of accounts that took at least 1 bet last week was 134 with most volume coming from the top guys which makes it quite vulnerable still as one of them o longer betting can cause a big drop. It will be interesting to see if they can acquire more bettors in the month of February. for a full review check my previous post: Earn Passive Income Staking SBET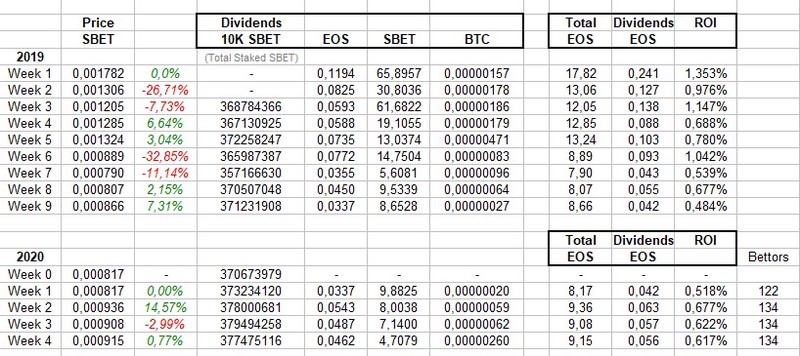 ---
Wink.org
I mentioned Wink.org for the first time last month as a project on the TRON blockchain I overlooked. I also noticed now that the WIN token is listed on coinmarketcap and actually ranks pretty high around place 145 with a 20 million valuation. I added it to the table and will be tracking the price from now on. I hope to have tested the platform by next month and give my first impression on it.


---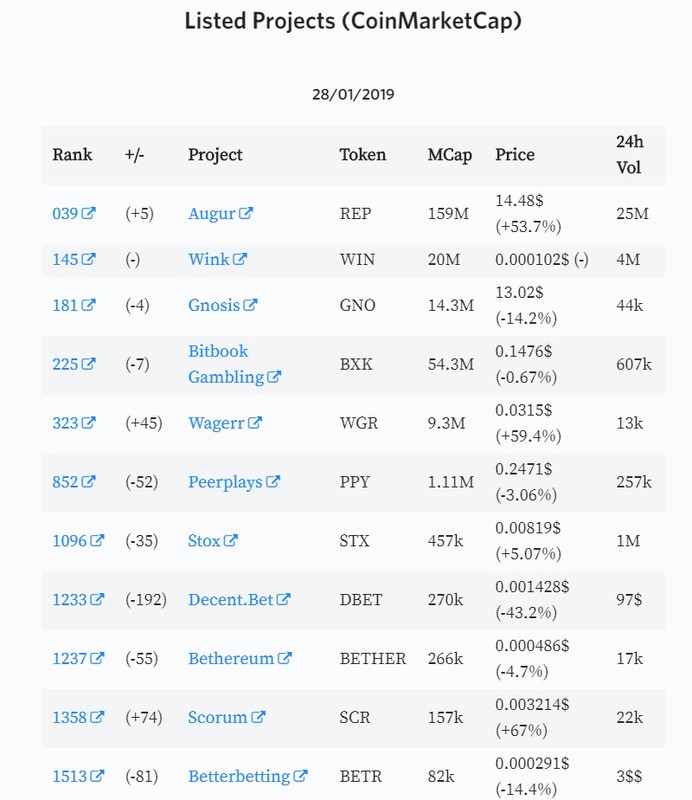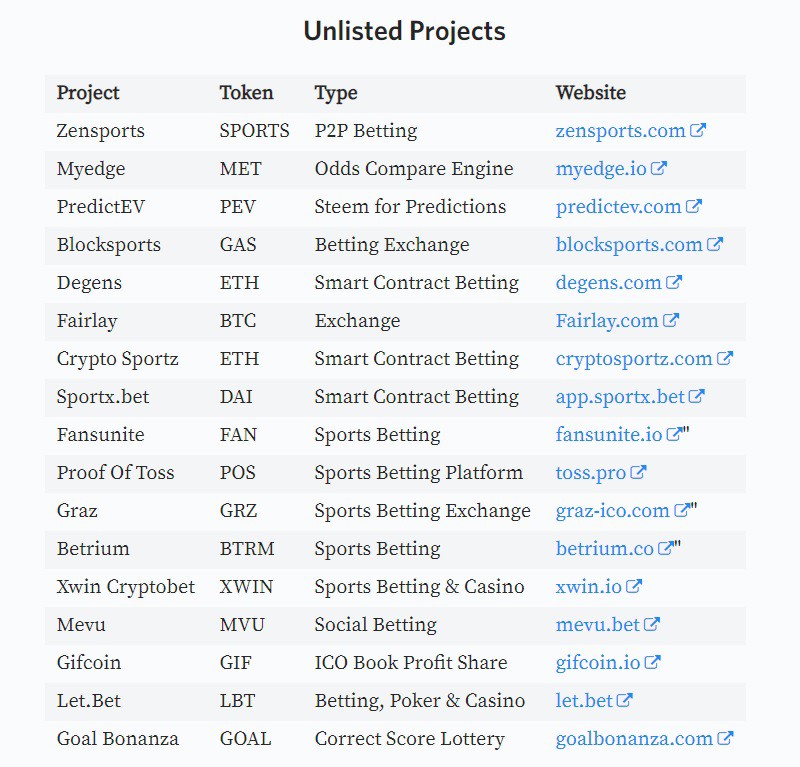 Previous Months
Sports Betting Blockchain Dec 2019 Update
Sports Betting Blockchain Oct 2019 Update
Sports Betting Blockchain Sep 2019 Update
Sports Betting Blockchain Aug 2019 Update
Sports Betting Blockchain July 2019 Update
Sports Betting Blockchain Jun 2019 Update
Sports Betting Blockchain May 2019 Update
Sports Betting Blockchain Apr 2019 Update
Sports Betting Blockchain Mar 2019 Update
Sports Betting Blockchain Feb 2019 Update
Sports Betting Blockchain Jan 2019 Update
Sports Betting Blockchain Dec 2018 Update
Sports Betting Blockchain Nov 2018 Update
Sports Betting Blockchain Oct 2018 Update
Sports Betting Blockchain Sep 2018 Update
Sports Betting Blockchain Aug 2018 Update
Sports Betting Blockchain Jun 2018 Update
Sports Betting Blockchain May 2018 Update
Sports Betting Blockchain Apr 2018 Update
---
Feel free to let me know in the comments if there are newer blockchain projects you know of that have something do do with Sports Betting that has not been added yet to my list.