I try to keep informed of the projects that offer Sports betting on a blockchain and make an overview of news, listings, price evolution,... on a consistent monthly basis. This is what happened in October 2019!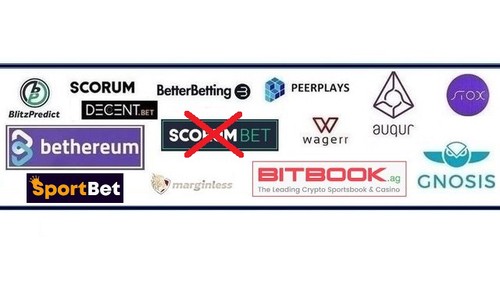 News Overview
While not that much tends to change on a monthly basis when it comes down to Sports Betting on the Blockchain, there has been made a quite big leap forward during the year. Right now there are plenty of options to bet exclusively with crypto and things keep improving. It is still very early on and things aren't always the most user-friendly or work flawlessly but it's slowly getting there. This are some of the current crypto betting options I'm most drawn to myself...

---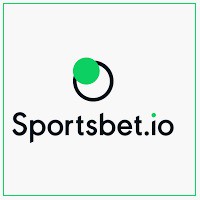 Sportsbet.io Crypto bookie that has improved a lot adding an Asian view and actually offering great odds. Aside from betting in BTC, they also allow other options like ETH, Litecon, Euro, Dollar and recently added TRON while having many others.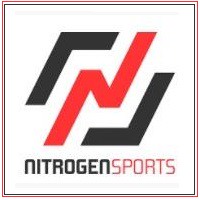 Nitrogensports continues to be one of the more solid BTC exclusive bookies that offer very close to pinnacle odds as the directly copy them.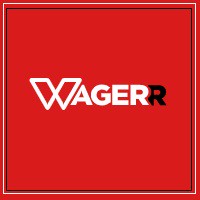 Wagerr has had their bookie up and running and improved a lot in the last few months (Explorer). I like the fact that they are putting a lot of importance on betting volumes and they are quite active on social media. Pretty much anyone can bet but it has to be done with the native WGR token which tends to fluctuate in price.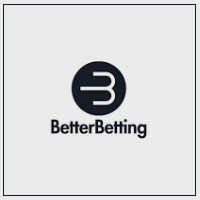 Betterbetting Their platform has been online and works properly offering many betting options and often the best odds on the market. Betting can be done in EOS, BETR or ETH. The gas costs are covered by the platform for the first 2 but not when betting in ETH.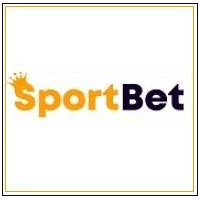 Sportbet.one runs on EOS and allows bets in EOS, SBET or BTC. The bookie looks nice and can be used anonymously by anyone while keeping your funds safe in your own EOS account. Staking SBET allows you to own part of the action and pays out weekly dividends.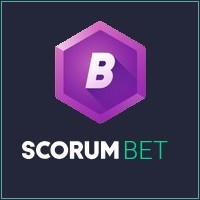 Betscorum By far the platform I would like to use the most. It is an exchange with 0% fees that works properly and looks great and that's about it. The main bottleneck of this project is the dev team who right now simply can't be trusted and aren't doing anything in terms of providing liquidity to get the ball rolling.

These are the projects I'm most drawn to myself for as far as actually using or investing in them goes.
---
Some News on Individual Projects...

Betterbetting
The price dipped below 0.0002$ last month for a moment which put the market cap at around 50k Dollar. They do have a working platform online and have an actual use case of allowing bookies to offer their bets in crypto. The main bottleneck has been Ethereum which they are looking to move away from. In the meantime, there is limited actual use while the price of the token is linked to that as all bets get processed in the BETR token. I have been cost averaging in on the way down and managed to pick some up at the bottom price. I still think this is a project with future potential because I believe the team behind it really understand the betting world.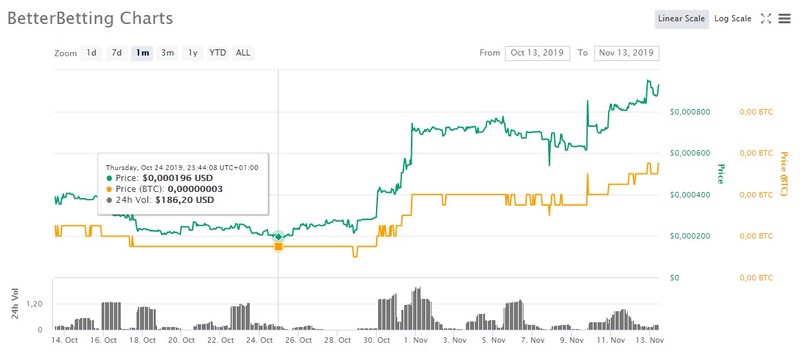 ---
Sportbet.one
I've been digging some more into this project on the EOS network. The bookie itself works great (aside from the current EOS congestion) and solves the issue of being able to bet anonymously. I did invest some in SBET and staked it which gives nice weekly dividends which I believe can help me recover the investment over time. (I see it more as an early adopter gamble). I a however still looking deeper into it trying to get a better grip on it all and will likely make a more in-depth post on it soon. It is currently trading on Newdex at a price of 0.001266 EOS. Last week every 10000 SBET staked gave 0.0825 EOS + 30.8036 SBET +0.00000178 BTC Dividends. (3% of total volume on sportbet.one is paid out as dividends)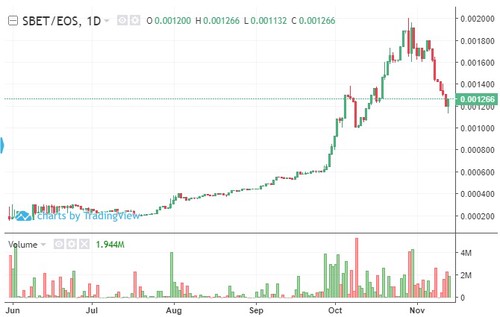 EOS Congestion
Last week it has been difficult to place bets on EOS because of the network congestion. There is an ongoing airdrop of EIDOS tokens which you can get by using the daily EOS CPU power you have (similar to steem voting power). This highly increased the number of transactions and increased the CPU requirements to transact. The 1.8 update allows daps to provide the CPU for their users but not all dapps including Sportsbet and Betterbetting offer this right now. It's not a fundamental flaw that breaks EOS and should be fixed over time.

---
Wagerr
Wagerr has been added to the crex24 exchange and they continue to bring weekly updates on the overall betting volumes which keeps breaking new records.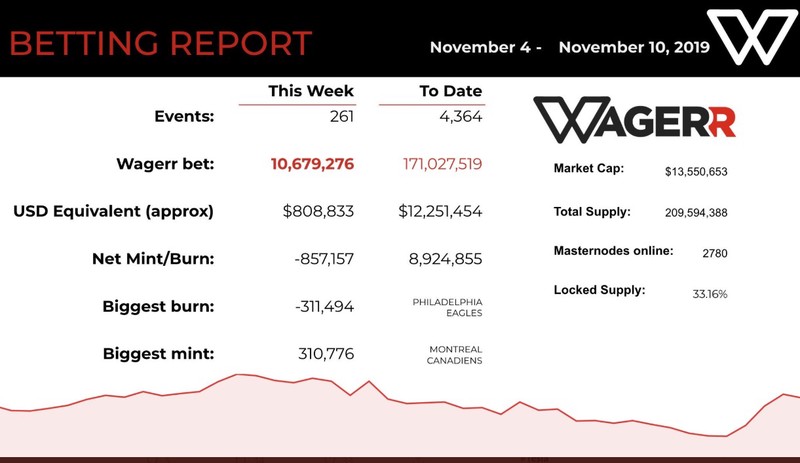 ---
Blitzpredict
They seem to have thrown the towel on everything that involves betting with their platform. They started as a blockchain verified bet predictions platform with intentions to also become a sportsbook aggregator similar to how Sportmarket Pro which I use on a daily basis works. Afterward, they scrapped that and aimed to become a betting exchange using augur and 0x. Right now they seem to have gone into the direction of becoming a real-time debugging took for Ethereum developers. (See Latest Blogpost). I always liked this project even though I never invested since the XBP token seemed to be there just to get funds desperately trying to give it a function afterward. Their new website is blitztools.io and I will remove them from the list as they no longer have anything to do with betting anymore. Really strange evolution.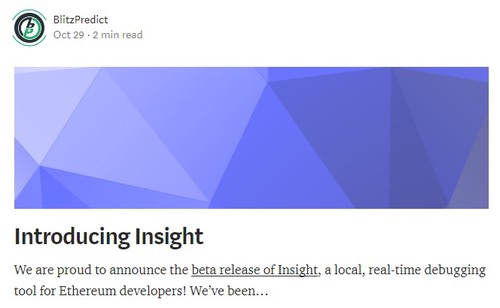 ---
Scorum
Another month and again complete radio silence from the devs who slowly but surely seem to be killing off their own platform. I wrote asking the question if Scorum was a scam or at a discount now 4 months ago back when the price was at 0.0077$. Right now things are not really looking good as nearly all activity on betscorum has died. I personally stopped putting time into taking bets and providing liquidity on there until there are some real updates from the dev team (I doubt they will come). Scorum is now last in the list of betting projects listed on coinmarketcap after I removed MRS & GMBC and it's blockchain only does 748 operations a day according to blocktivity opposed to the 22820 which was the daily record at some point.


The Scorum Price of 0.005256$ will count toward the Scorum Price Prediction Contest. The winner will be announced in a post soon.
---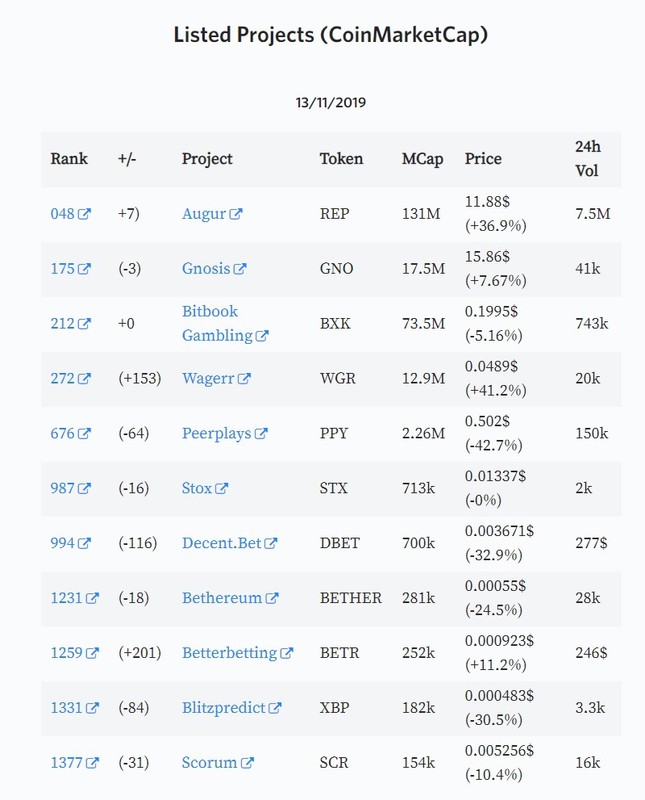 ---
Previous Months
Sports Betting Blockchain October 2019 Update
Sports Betting Blockchain August 2019 Update
Sports Betting Blockchain July 2019 Update
Sports Betting Blockchain Jun 2019 Update
Sports Betting Blockchain May 2019 Update
Sports Betting Blockchain Apr 2019 Update
Sports Betting Blockchain Mar 2019 Update
Sports Betting Blockchain Feb 2019 Update
Sports Betting Blockchain Jan 2019 Update
Sports Betting Blockchain Dec 2018 Update
Sports Betting Blockchain Nov 2018 Update
Sports Betting Blockchain Oct 2018 Update
Sports Betting Blockchain Sep 2018 Update
Sports Betting Blockchain Aug 2018 Update
Sports Betting Blockchain Jun 2018 Update
Sports Betting Blockchain May 2018 Update
Sports Betting Blockchain Apr 2018 Update
---
Feel free to let me know in the comments if there are newer blockchain projects you know of that have something do do with Sports Betting that has not been added yet to my list.