I'm making these weekly posts as a way to track my personal pre-game handicapping results along with my live betting action on Belgian Teams. These posts will usually contain some insights when it comes down to my general approach and what I do to increase my chance of beating the market.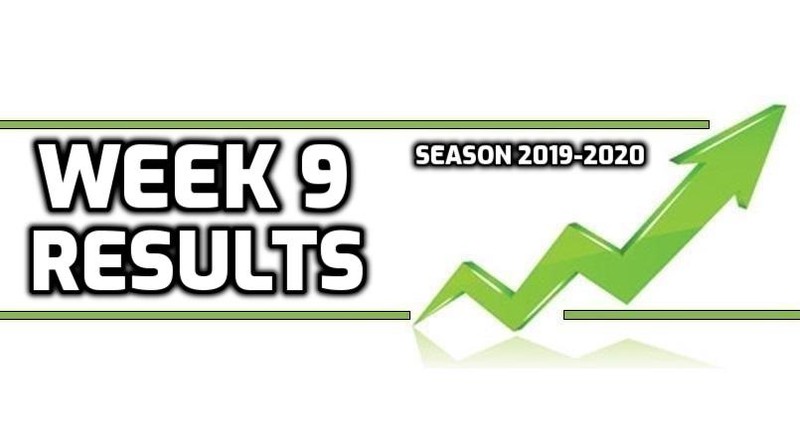 This was one of those weeks that easily could have turned out in a 4 unit loss or more instead of making nearly 4 units profit. A combination of luck on Saturday and I would say good decision along with having extreme discipline during the week and on Sunday brought about the result this week

Mainly the bigger positions I take a bit extra on in BTC and also take on Copytip could have gone the other way around. While I got somewhat unlucky in the cup match of Antwerp where I managed to get in on the -1 Live seconds before the scored the equalizer. A late goal against turned that into a loss. This was made up by Zulte-Waregem who made a late equalizer for 2-2 which landed both my pre-game +0.5 and late Over 3.5 at 2-1 score around minute 82' at big odds. The value on the late over was too big and I forced myself to take it despite the swing it would inevitably bring along. I once wrote an article as part of my Betting Wisdom series that If you want to win, you have to be willing to lose at times and this certainly was one of those cases.

The match between Stvv and Genk was another strange one. Genk was 0-3 head when home fans revolted after which the match was suspended for 5 minutes. Afterward, there was a crazy comeback/collapse situation getting the home team to 3-3 (I had +1 handicap on Stvv). The Genk fans now revolted and the match was fully suspended. Some bookies settled it as a winner (Pinnacle, IBC, ISN which are used on my betting broker Sportmarket Pro along with BTC bookie Nitrogensports) while others voided it (SBO & Singbet). I got all mine settled as a winner.

The Asian betting market was late on publishing their odds this week. I had a couple strong leans like Anderlecht vs Waasland Both To Score which turned out to be totally wrong as stats prevailed which I was close to taking a bet on in BTC as Sportsbet.io was one of the books that had odds available (2.35 at the time on BTS, 2.44 with price boost). The price when Asian bookies released their odds was way lower (1.80) and 1x2 books always follow them automatically lowering their own prices. The hesitation made me not take it up in BTC saving me some in the process.

---
Discipline
In betting, it is very easy to get lost in the pattern of betting bigger favorites you think will win just because they are better. 99% of all sports bettors I would say fall into this trap thinking they outsmart the market while being stuck at micro stakes. Being able to look at yourself as an outsider and observe your thinking process is an absolute key requirement if you want to beat this market in the long run. On Sunday, I really had to resist taking the favorites which saved me quite some units as none of them managed to win. If anything, blogging and keeping a close betting record does wonders when it comes down to training this ability to take distance increasing Discipline like crazy.

---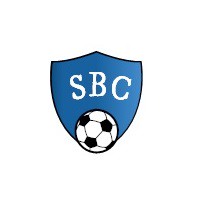 I do start to feel a bit of pressure to keep up the results as they are right now which simply is not possible. Up to this point, the idea has always been to also bet all live-bets I share on the SBC Discord on Copytip aswel. The main issue is that it becomes harder for Draw No Bet type of plays with a high chance of a push because the copiers on Copytip would be faced with a small liquidity fee regardless of the outcome. It can be quite the struggle to share bets and this is one of those examples. I'll see where to go with it. Trying to get the best possible results always remains priority though. Only 2 big live bets this week which resulted in some profit.

Discord Live-Bets Week 9

Antwerp -1 @ 1.97 (33' 1-1) FT 2-2 LOST
Moeskroen vs Zulte-Waregem Over 3.5 @ 2.52 (82' 2-1) FT 2-2 WON

---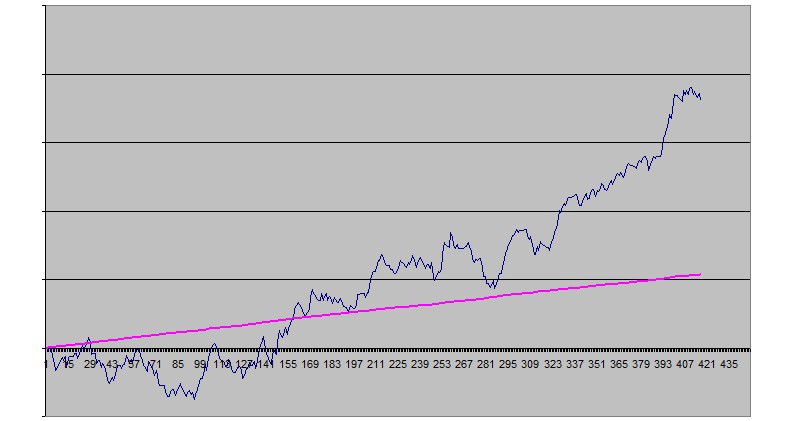 I got fairly unlucky early on in the season but things have evened out by now with this upswing the past couple of weeks. The graph looks very healthy though and I'm quite pleased with my focus hand handicapping so far. There is always the danger to start slacking a bit when results are great and downswings at one point are inevitable. As the season progresses, betting also tends to get a bit more difficult also. Looking at the graphs of 2017-2018 season and 2018-2019 season it can clearly be seen that last year was one of those cases. There still are 21 more weeks and plenty of matches left now and I'm highly looking forward to how everything will resolve itself this season.


---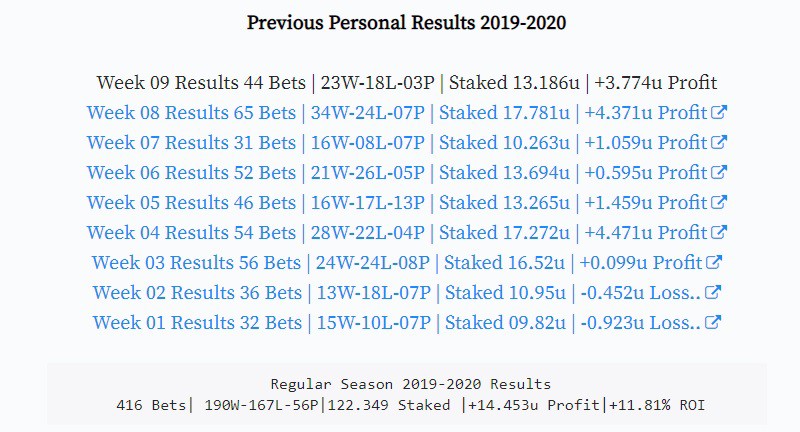 ---
Let me know in the comments how your own betting week was or leave a link to your own results tracking post and I'll make sure to give it an upvote!