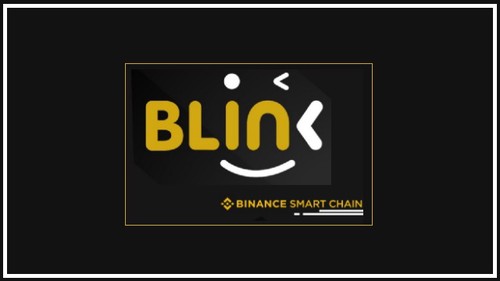 I continue to keep close track of both the news and dividends from the Wink.org & Sportbet.one platforms bringing regular updates on how they are doing to help keeping track for myself and to inform those that might be interested...

BIG WINK NEWS
Today, Wink.org made an announcement that they are partnering up with Binance Chain (See Medium Article) launching a Blink this Wednesday. This is how I personally understand it in human language...
Basically, they will make a clone of the Wink.org website that runs separately on the Binance Chain with BNB as the main currency to bet with. 30% from all profit made on that site will be distributed to existing WIN holders; 10% to DICE holders & 10% to LIVE token holders. The platform will be called Blink and have its own BLINk (BLK) token to which the other 50% of earnings will go to. BLK tokens will be distributed this way
Mining (Including Genesis Mining) 30%
Ecosystem Support 20%
Binancence Gaming Developer Support 15%
Team 15%
Initial Dex Offering 20%
This pretty much makes it so that the platform gets opened up to potential new users who are outside of the Tron ecosystem while the 'Ponzi Mining' scheme is being reset over there. I expect quite some 'play-2-mine' users in the short term to move to Blink in order to get a much better mining deal which likely will affect DICE & LIVE token holders. I would not be surprised to see Dividends go up a lot in the coming weeks to cool back down again after the initial stage where early miners come in trying to get as many BLK tokens they can from the start. Only DICE will be supported early on.
Overall my first impression is that this will be a rather good thing for WIN token holders but it remains to be seen and the coming months will make that more clear.
The Dividends right now remain quite solid and are up compared to last week with the 21-day moving average still showing returns of over 1% weekly while the 100-day moving average is able to keep the uptrend.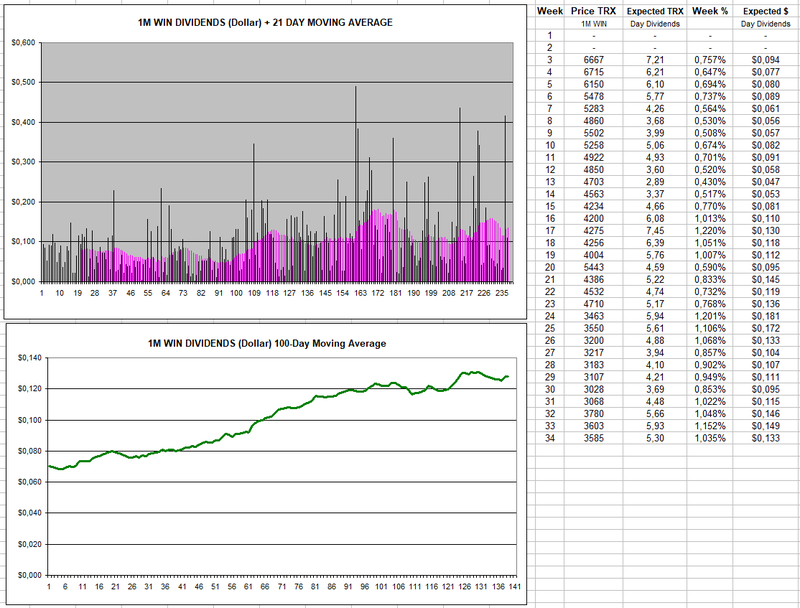 I'm also still at a stage where I might cost average my way into the WIN token some more the coming weeks as I do anticipate something of a peak once BLINk launces and gamblers start to deliberately lose money in orde to mine.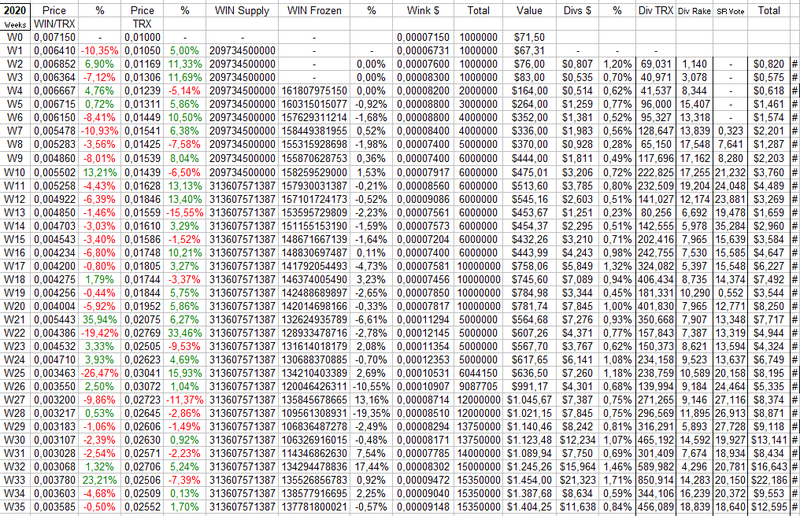 ---
SPORTBET.ONE DIVIDENDS
SBET had another pretty low-profile week with ok dividends but no signs of the number of players increasing just yet. It also looks like there was a rather big transfer in token Distribution with 50% (20 Million) of the tokens in circulation going from the Team to a whale account who was frequently in the top volume spots in the past. Looking at the transfer on the EOS blockchain, it states that it's an OTC deal but for all I know it's a puppet account from the devs.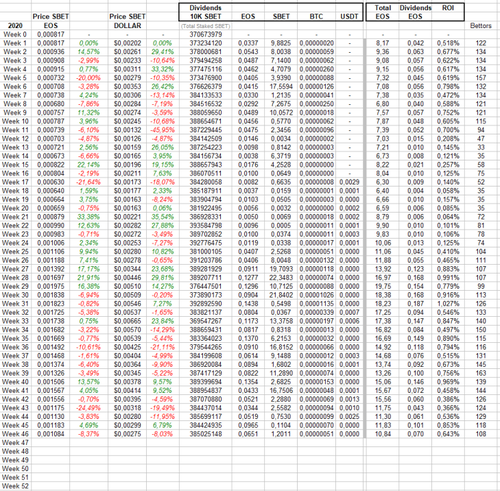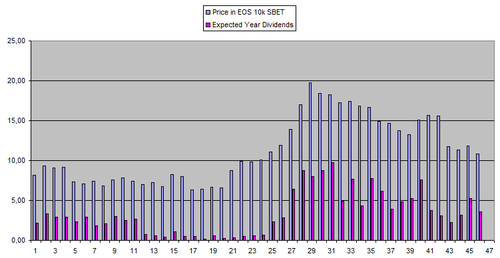 ---
That's it for this week!