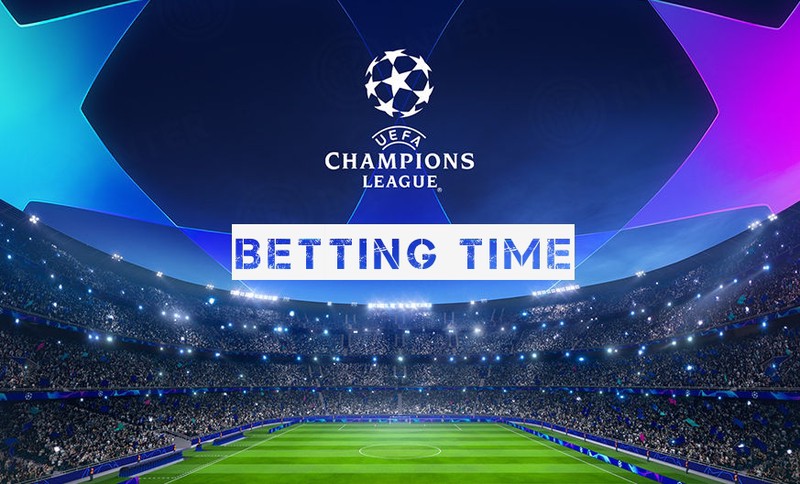 Here we are again Betscorum community! Tonight Champions League is back again, if you go to the stadium get ready to consume your vocal chords and jump all the time, if you go to the pub with friends the atmosphere will be similar to that one of the stadium, if you stay at home like me, make yourself comfortable on an armchair or sofa and get ready for the show!
Four challenges, eight teams, the best of European football will be staged between Tuesday and Wednesday.
The first two games scheduled at 9:00 pm (CET) are those that involve three English teams, Liverpool at Anfield vs Porto and the derby, Tottenham vs Manchester City. Many champions among the ranks of these 4 teams, Salah, Mané and Virgil Van Dijk against Casillas, Brahimi and Aboubakar on one side; Kane, Alli and Lloris against Aguero, De Bruyne and Sterling on the other. All these just to name a few.
The other four teams on stage Wednesday, again at 9.00 pm (CET), will see Ajax play against Juventus and Manchester United vs Barcelona. Ziyek, Tadic and De Ligt against Cristiano Ronaldo (still in doubt), Dybala and Chiellini,; Pogba, Rashford and Lukaku against Messi, Suarez and Piqué. Absolute stars of the football world ready to challenge each other with a lot goals (we hope!) and saves that they must be spectacular.
For some it will be a "shop window" where to show themselves, such as for the young boys of Ajax who, until now have, managed to give to their fans and all football lovers a great show and even eliminate the reigning champions of Real Madrid, for others it will be a reason for confirmations and ambitions, players united with a single goal, to bring the big-eared cup home and expand their palmarés.
Challenges and consequent very delicate choices for bettors, on the other hand in Europe everything is possible and the unexpected is always around the corner.
Rieccoci qui amici di Betscorum! Sta sera torna in campo la Champions League, se andate allo stadio preparatevi ad esaurire le vostre corde vocali e saltellare tutto il tempo, se andate al pub con gli amici l'atmosfera sarà simile, se resterete a casa come farò io, mettetevi comodi su poltrona o divano e preparatevi allo spettacolo!
Quattro sfide, otto squadre, il meglio del calcio europeo andrà in scena tra martedì e mercoledì.
Le prime due partite in programma alle 21:00 sono quelle che vedono coinvolte ben 3 squadre inglesi, il Liverpool ad Anfield contro il Porto derby Tottenham contro Manchester City. Tanti campioni tra le file di queste 4 formazioni, Salah, Mane e Virgil Van Dijk contro Casillas, Brahimi e Aboubakar da un lato, dall'altro Kane, Alli e Lloris contro Aguero, De Bruyne e Sterling. Tutti questi soltanto per citarne alcuni.
Le altre quattro formazioni in scena mercoledì, sempre alle 21:00, vedranno sfidarsi Ajax contro Juventus e Manchester United contro Barcellona. Ziyek, Tadic e De Ligt contro Cristiano Ronaldo (ancora in dubbio), Dybala e Chiellini, Pogba, Rashford e Lukaku contro Messi, Suarez e Piqué. Stelle assolute del calcio mondiale pronte a sfidarsi a suon di gol e parate che si preannunciano spettacolari.
Per alcuni sarà una vetrina dove mettersi in mostra, come ad esempio per i giovani ragazzi dell'Ajax che finora sono riusciti a dare spettacolo e addirittura eliminare i campioni in carica del Real Madrid, per altri sarà motivo di conferme e ambizioni, giocatori uniti con un unico obiettivo, portare a casa la Coppa dalle grandi orecchie e ampliare il proprio palmarès.
Sfide e conseguenti scelte molto delicate per gli scommettitori, d'altronde in Europa tutto è possibile e gli imprevisti sono sempre dietro l'angolo.

The result of this challenge seems to have already been written, in one hand, one of the most good shape and strongest of the entire European football scenario that is still fighting for the victory of the Premier against the City of Guardiola, for now it is in the lead at two points of advantage from the rivals who have yet to regain a game, the same situation for the Portuguese team that is fighting against the eternal rivals of Benfica for the conquest of the maximum championship, they are both paired at 69 points in the standings, to both teams therefore these commitments they could take away energy and play at the same level, even if the English team is clearly stronger and more favored, having never lost in this competition against Porto in the previous 6 games, as the following statistics show.

Il risultato di questa sfida sembra già scritto, da una parte una delle formazioni più in forma e più forte dell'intero scenario calcistico Europeo che sta lottando per la vittoria della Premier contro il City di Guardiola, per ora si trova in testa a due punti di vantaggio dai rivali che però devono ancora recuperare una partita, stessa situazione per la squadra portoghese che sta lottando contro gli eterni rivali del Benfica per la conquista del massimo campionato, sono entrambe appaiate a 69 punti in classifica, ad entrambe le squadre quindi questi impegni potrebbero togliere energie e se la giocano alla pari, anche se la squadra inglese appare nettamente più forte e favorita, non avendo mai perso in questa competizione contro il Porto nelle precedenti 6 partite, come dimostrano le seguenti statistiche.
Victory percentages:
Liverpool 74%
Draw 17%
Porto 9%

There is always a first time and here it is, the two never met before in the Champions League. The guests are, as mentioned earlier, struggling to win the championship, while the home team is fighting with Arsenal, Chelsea, Manchester and Chelsea for two places in the Champions League for next season. A difficult season finale for both teams, challenges that could take away their physical and mental energy, really important factor for the continuation of this competition. The City seems clearly favored for the passage of the round, even if in Europe it will certainly not be like in the league, Tottenham will fight until the last second to be able to go as far as possible, the derby is always the derby and the qualities of Spurs team players are high level.

C'è sempre una prima volta ed eccola qui, le due non si erano mai affrontate prima d'ora in Champions. Gli ospiti stanno, come già detto in precedenza, lottando per vincere il campionato, mentre la squadra di casa sta lottando con Arsenal, Chelsea, Manchester e Chelsea per due posti in Champions per la prossima stagione. Un finale di stagione tosto per entrambe le compagini, sfide che potrebbero togliere loro energie fisiche e mentali importanti per il proseguo in questa competizione. Il City sembra nettamente favorito per il passaggio del turno, anche se in Europa non sarà sicuramente come in campionato, il Tottenham lotterà fino all'ultimo secondo per riuscire ada andare il più avanti possibili, il derby è sempre il derby e le qualità della squadra dei giocatori degli Spurs sono di altissimo livello.
Victory percentages:
Tottenham 23%
Draw 26%
Manchester City 51%

The home team is fighting hard with PSV Eindhoven to win the championship in their country, they are both at 71 points at the moment, a spectacular head-to-head but could take away essential energy in view of this challenge against Juventus, that has in fact already won his another scudetto, the number 35, and that could play with less distractions in this Cup. The young Ajax promises against the already established champions of the Italian team, one of them his the most awaited CR7, that seems to have recovered from the injury that occurred in the national team twenty days ago and that wanted to be present already in the Saturday home match against AC Milan. It will be the number nine match between the two in this competition and the Dutch team's last victory against the black and whites dates back to 1973, when they won the competition in Belgrade final for 1-0.

La squadra di casa sta lottando duramente con il PSV Eindhoven per la conquista del campionato, sono momentaneamente entrambe a quota 71 punti, un testa a testa spettacolare che però potrebbe togliere energie essenziali in vista di questa sfida contro una Juventus che ha già ormai di fatto vinto il suo ennesimo scudetto, il numero 35, e che potrebbe giocare con meno distrazioni in coppa. Le giovani promesse dell'Ajax contro i campioni già affermati della squadra italiana, uno su tutti il tanto atteso CR7 che sembra essersi ripreso dall'infortunio verificatosi in nazionale una ventina di giorni fa e che voleva essere presente già nella sfida casalinga di sabato scorso contro il Milan. Sarà la gara numero nove tra le due in questa competizione e l'ultima vittoria della squadra olandese contro i bianconeri risale addirittura al 1973, quando vinsero la competizione a Belgrado per 1-0.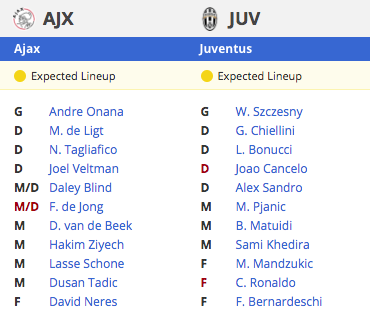 Victory percentages:
Ajax 28%
Draw 29%
Juventus 43%

The Red Devils in the league have no big ambitions other than to earn a place in Europe, they will have to fight against Arsenal and Chelsea to succeed, which could distract them. On the other hand, Barca is leading the championship with 9 points behind Atletico, who badly lost the direct match lately for 2 goals to 0, this could benefit the Spanish team that could push at most the accelerator against the British since the victory in La Liga seems more and more likely. Lionel Messi aims to win his fifth career champion to try to reach his long-time rival, Cristiano Ronaldo, who is already at 5. Pogba and his companions, however, will certainly not be watching, the World champion also wants expand your personal and Club's board with the trophy that you want to win the most in a Club team.

Il Red Devils in campionato non hanno grandi ambizioni se non quelle di guadagnarsi un posto in Europa, dovranno lottare contro Arsenal e Chelsea per riuscirci, il che potrebbe distrarli. Il Barca invece è da solo in testa la campionato con 9 punti di distacco dall'Atletico, che ha perso malamente lo scontro diretto nell'ultima sfida di campionato per 2 reti a 0, questo potrebbe andare a vantaggio della squadra spagnola che potrà così spingere al massimo l'acceleratore contro gli inglesi visto che la vittoria in Liga sembra cosa sempre più probabile. Lionel Messi punta a conquistare la sua quinta Champions in carriera per cercare di raggiungere il suo rivale di sempre, Cristiano Ronaldo, il quale si trova già a 5. Pogba e compagni però non staranno certamente a guardare, il campione del Mondo vuole anch'esso ampliare la propria bacheca personale e quella del Club con il trofeo al quale ambire più prestigioso per una squadra di Club.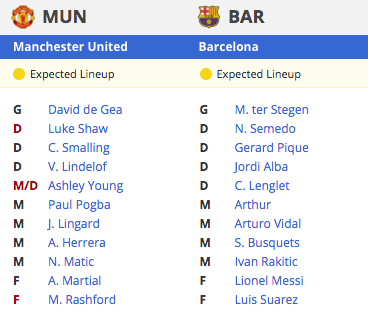 Victory percentages:
Manchester United 26%
Draw 26%
Barcelona 48%
⚽️⚽️⚽️⚽️⚽️⚽️⚽️⚽️⚽️⚽️⚽️⚽️⚽️⚽️⚽️⚽️⚽️⚽️⚽️⚽️⚽️⚽️⚽️⚽️⚽️⚽️⚽️⚽️⚽️⚽️⚽️⚽️⚽️⚽️
And now it's time to see my predictions on Betscorum for this championship round with a couple of screenshots and on Scorum Italia TV!
Ed ora è giunto il momento di vedere i miei pronostici su Betscorum per questo turno di campionato con un paio di screenshot e su Scorum Italia TV!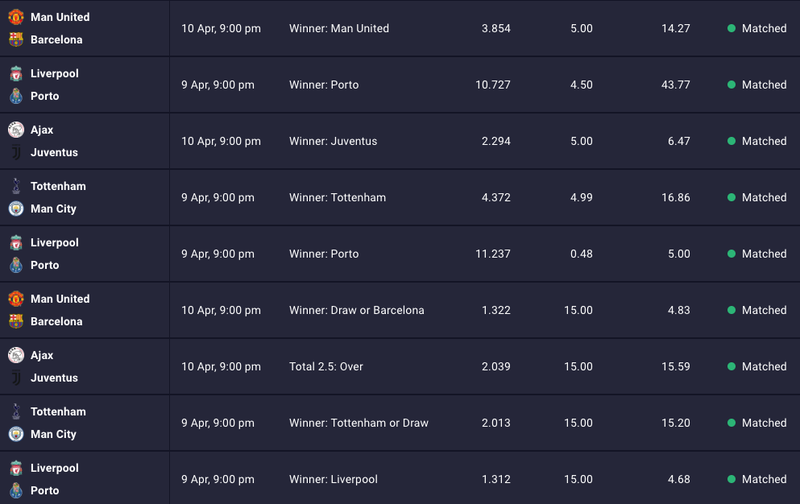 Good luck to you all and see ya soon, enjoy watching!
Buona visione a tutti e buona fortuna!
⚽️⚽️⚽️⚽️⚽️⚽️⚽️⚽️⚽️⚽️⚽️⚽️⚽️⚽️⚽️⚽️⚽️⚽️⚽️⚽️⚽️⚽️⚽️⚽️⚽️⚽️⚽️⚽️⚽️⚽️⚽️⚽️⚽️⚽️
Scorum Italia TV is part of Scorum-Italia witness, we are expecting you on our YouTube channel, and remind you that any kind of feedback, idea or participation will be appreciated! We love this community, you are great, and if you would like to contribute to our initiatives, let us know... united we stand, divided we fall!
Check also the Bet Bot powered by @julienbh!
⚽️⚽️⚽️⚽️⚽️⚽️⚽️⚽️⚽️⚽️⚽️⚽️⚽️⚽️⚽️⚽️⚽️⚽️⚽️⚽️⚽️⚽️⚽️⚽️⚽️⚽️⚽️⚽️⚽️⚽️⚽️⚽️⚽️⚽️
Follow and subscribe also on: