A lot of bets today with a lot of matches after Thanksgiving and a night without NBA. Close to the end of the month and to the first "NBA bets" evaluation, I hope it will stay in positive figures !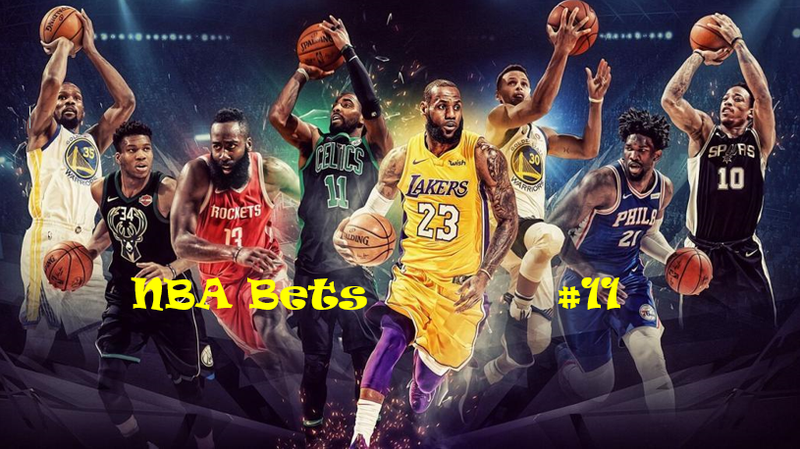 Wilson Chandler (Under 5.5 RB) @1.900
Jimmy Butler (Under 5.5 RB) @1.657
It's not a secret, the Sixers have their franchise player with Joel Embiid. He is the one who makes them win, the one who makes the stats and will definitively play the all-star game. So most of the defensive rebounds are for him. Chandler has a limited game time, and most of his matches remain under 5.5 rebounds. Butler is turning around 4 since he arrived in Phili. On top of that, even with being one of the worst NBA team since LBJ left, Cleveland is one of the team conceding the smallest amount of rebounds.
Tobias Harris (Under 2.5 AST) @1.877

When you look at the stats, this bet was a winning one 11 out of 17 times which is already higher than a 1.877 odd. Add to it maybe the best defensive team, the Grizzlies, as opponent and you have a good bet :-)
Khris Middleton (Over 4.5 AST) @2.150

I took this one because lately, with Lopez shooting well, Giannis less forcing the scoring, Bledsoe finding his role, the Bucks are playing more and more as a team. Against an attacking and weaker team as Phoenix I think it will be even more obvious. I like Middleton a lot and I think he is taking a lot of pleasure playing in such a team this year. He is shooting less and participating more in the play. If you take the last 10 games, he is 7 times over 4.5 AST.
Deandre Ayton (Under 10.5 RBS) @1.699

And I kept the best for the end. The under RB on Brook Lopez's match-up. I took this bet 6 times, 6 times it was a winning one. I will not fully explain the analyse again, you can find it in my previous posts, but basically Lopez shooting 3 points, taking his match up far from the paint, so less RB !
Previous bets and results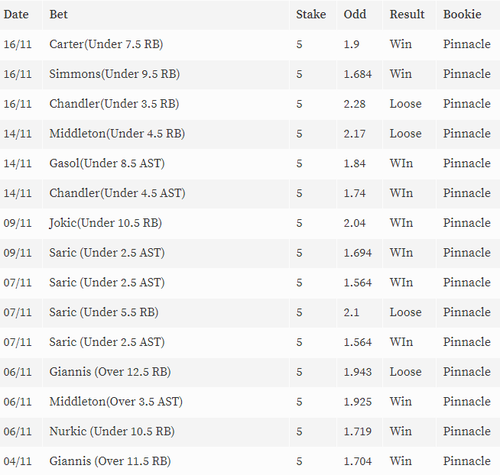 Overall results
Bets (Place / Win / Loose) : 23 / 13 / 10
Staked : 115 Units
Result : 5.91 Units
ROI : 5.14%