Odds Boost Liverpool v Tottenham
Preview Liverpool v Tottenham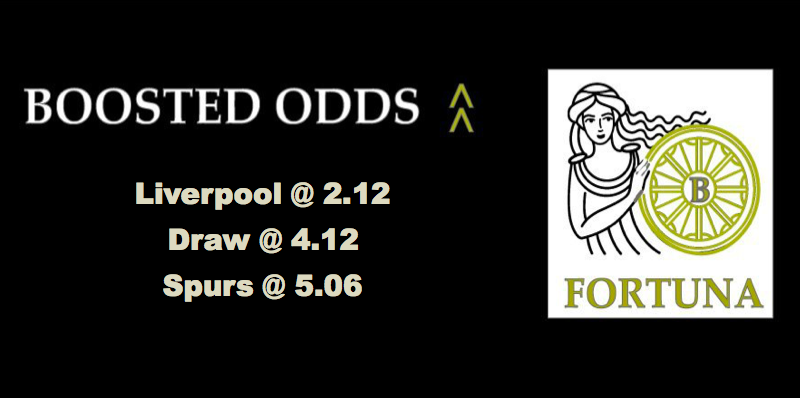 The traditional finale to the European football season is upon us and to be quite frank even as a Spurs supporter I find it all to be a little bit anticlimactic. 24 days have passed since Spurs romped back to grab a famous last gasp winner against Ajax while an additional 24hours has slipped by from the time that Liverpool humbled the mighty Barcelona at Anfield. It's June the 1st and we are already 4 games into the Cricket World Cup, shouldn't we have had the football season done and dusted by now?
The additional time off appears to have given Spurs a chance to get a few of their first team players back into action although how match fit they will be remains to be seen. That of course includes England captain and Tottenham talisman Harry Kane who suffered an ankle injury against the beautiful footballing side AKA dirty cheating bastards that are Man City in the quarter finals of this competition. Beyond this being a once in a life-time chance to play for Tottenham in a Champions League final, Kane will also be hoping to prove his fitness to England manager Gareth Southgate ahead of the Nations League Finals that take place later this summer.
Having watched Kane attempt to come back from similar injuries over the years I can't see him being a particularly potent weapon for Spurs in this match. He is a player who needs game time and plenty of it to regain his sharpness and while you would never wish an injury on your star player, if his knock meant him sitting this game out alongside missing his international commitments then it really wouldn't be the worse thing in the world. A nice long break followed by a proper pre-season is what Kane needs and to be honest Spurs have been doing alright without him!
If he doesn't start tomorrow it would appear that Spurs will go for Son and Lucas Moura upfront and ultimately that may be a better tactical option than a half-fit Kane up against VVD. If Moura and Son can run the channels in behind Liverpool's attacking full-backs and pull their central defenders into areas that they wouldn't ideally want to go into then perhaps they might have a chance. That plan of course also involves getting midfield runners like Alli, Eriksen and Sissoko into the box to take advantage of any space created.
In general, Spurs major concern will be who is going to anchor the midfield with Dier and Wanyama both looking a long way short of the kind of quality that you would expect from a side that has found itself in this position. Another Harry, this time Winks, is being touted for his own return from injury but again this reeks rather of desperation in asking a relatively inexperienced player to come back from a lengthy lay-off and play a defining roll in a game of this magnitude.
While you might hear the commentary team come out with the occasional platitude about this being the dawn of a bright future for Spurs come what may, I would take any such comment with a very large pinch of salt. Several key members of this squad including the likes of Eriksen and Alderweireld already have one foot out of the door and this game may well represent Spurs first and last chance of a Champions League win in my lifetime .......
For Liverpool, this match is an opportunity to overcome both the disappointment of missing out on the league title and their CL final defeat of last year. We saw earlier in the year that Liverpool didn't react particularly well to taking a sizeable lead over City in the Premier League and Klopp must be hoping that his side doesn't freeze up again in a match that they are big favourites to win.
Liverpool of course have their own centre-forward who is battling for fitness as Roberto Firmnio looks to make a return to the starting 11. Regardless of his participation, Liverpool can take comfort from the fact that they beat Spurs twice in the league this league this season with both games finishing 2-1 in favour of the Reds.
This summer looks likely to be one of consolidation for the Anfield club with little action expected to take place in the transfer window. The biggest change though could yet come in the attitude and mentality of the players. Klopp has been a breath of fresh air to the Premier League and has built an excellent squad of players around him and yet they are still to win a major trophy. If they get their first on Saturday night then you do wonder if there might be a fair few to follow in the coming years .....
---

Like getting better than market rate odds?
Then be sure to use and support bet.bot created by julienbh / waveyourflags that provides odds @ 10% better than Pinnacle on certain lines