Odds Boost Leicester v Chelsea
Odds Boost Burnley v Arsenal
Odds Boost Spurs v Everton
Coming home from a European triumph back into the Premier League has never been an easy thing. Will these 3 teams be suffering from a hangover literally or figuratively? Bet on the 3 London clubs having their focus on other things as we head into the final round of EPL games for the season.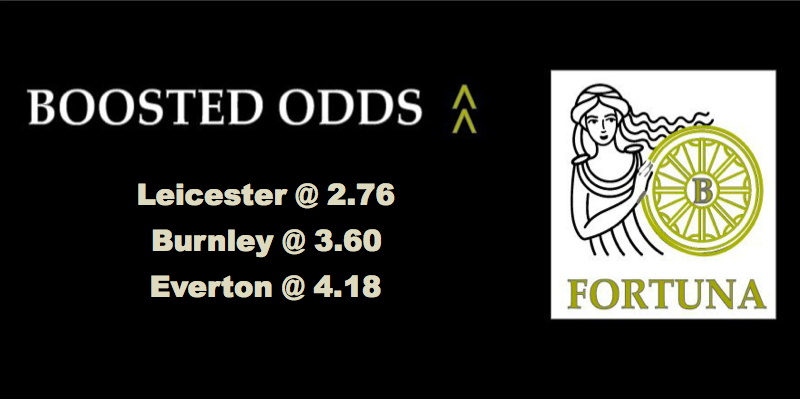 Leicester v Chelsea
This match sees 2 sides that have enjoyed decent finishes to the season going head to head. Despite some obvious on-field and off-field issues Mauricio Sarri has managed to guide his team to 2 finals and at present they sit 3rd in the table knowing if they match or better Spurs results this afternoon they can claim the local bragging rights of the best team in London. As for Leicester, they have been reinvigorated under new boss Brendan Rogers and still have a chance of finishing 8th if they can get a win here today. Of course the real test for the Foxes will be whether they can take this form forward into next season in order to challenge higher up the table.
Speaking of next season, this match could yet be the final Premier League appearance for Eden Hazard in a Chelsea shirt. The Belgian forward has been fairly coy in regards his future at the club but it seems almost certain that Real Madrid will come in with an offer although how long the saga will drag on for is anyone's guess. On the other side, while not quite as high profile this looks likely to be Danny Simpson and Shinji Okazaki's final appearances for the club. Both were heroes of those crazy days in 2016 when for a moment Leicester were the greatest club in all the land.
Leicester have won 4 out of their last 5 matches at the King Power Stadium and they oh so nearly managed to take a point off Man City in their last outing but for a late Vincent Company screamer. By contrast Chelsea's away form of late has been decidedly patchy and they have conceded in their last 8 trips on the road. The hosts are looking to do the double over their West London guests today after beating them 1-0 at Stamford Bridge earlier in the season and you fancy with Chelsea potentially resting a few weary legs that they might just manage to pull it off.
Place your bets here on betscorum
Burnley v Arsenal
The next 2 games involving the 2 North London clubs are the only matches in this last weekend of fixtures that really have any significance in regards final league positions and their effect on next season. A big Arsenal win and heavy Spurs defeat could yet see them sneak a place in next year's Champions League but that permutation looks unlikely with the Gunners needing to pull off an 8 goal swing. What they must be careful of is Manchester United sneaking up to potentially knock them down to 6th. If that happens and Arsenal don't win the Europa League final then not only would they be stuck in the less prestigious European competition for another year they will also be asked to go through a qualify round to do so!
Unai Emery has by in large had a successful first season in charge of Arsenal but the wheels seem to have really fallen off over the final few weeks and a big showing in this match and the Europa League final will be crucial to their planning for next year. Away form is definitely something that will need to come under the microscope as the Gunners have looked very soft on their travels in the Premier League all season.
Burnley of course can vouch for how demanding early season Europa League games can be and that will be used in their defence against what has been a below average season. In general the club have gone from one of defensive organisation and gritty performances to one of more open play but with a tendency to concede soft goals. The result is that Burnley have scored a record number of goals in the EPL this year but are also conceding 0.7 more per game at the other end. Sean Dyche will no doubt be looking for a big home performance to ease them into the summer and the new season beyond
Place your bets here on betscorum
Tottenham v Everton
Spurs need a point to secure Champions League football for another season or better yet if they can improve on Chelsea's result then they will move up to 3rd place. After a highly emotional tie against Ajax on Wednesday night their plight isn't improved by a lengthy list of injuries and suspensions with Son and Foyth both unavailable as a result of the red cards they received against Bournemouth while Vertonghen and Rose are nursing knocks that look unlikely to be risked in this match. One man who will be available is the new toast of Tottenham, Lucas Moura who teammate Christian Eriksen suggested should have a statue built of him following his heroics in Amsterdam. While that may yet come to pass if Spurs pull off the most unlikeliest of Champions League wins, you can be sure that he and the whole team will get a very warm welcome on their return to North London this afternoon
The signs for Everton in this late season have been fairly encouraging. If nothing else Marco Silva has done enough to keep his job over the summer and that must be something of a relief for an Everton side that has lacked stability in the past few years. The 5 wins they have achieved in their last 7 games have been based on the back of their defensive qualities with their only defeat and goals conceded during that period coming as the result of a bit of a slip up against Fulham. If Everton can continue this form into next year and perhaps get an out and out centre forward to begin scoring goals alongside Sigurdsson and Richarlison then they will no doubt be challenging for a top 6 spot, something that their ambition in the transfer market will demand.
The only problem for Everton is that they have a truly shocking record against Spurs in recent history. They were humiliated 6-2 in the reverse fixture over the festive period and have not beaten the North Londoners in their last 12 EPL meetings. Is it time for them to change their fortunes today?
Place your bets here on betscorum
---
Like getting better than market rate odds?
Then be sure to use and support bet.bot created by julienbh / waveyourflags that provides odds @ 10% better than Pinnacle on certain lines