Hi newbie,
I hope you are as excited about the Betscorum platform as most people here are.
For those who are used to bet with a regular bookmaker, rather than with a betting exchange Betscorum might not be completely clear to you. Don't worry, because I had the same when I looked at it. Luckily, there are always great people around that want to help. Personally, I received that help from @philnewton earlier today. A massive thank you to Phil, for taking the effort to explain the unclear bits to me. Now I have a much better understanding of it, which I would now like to share with anyone else who is struggling out there.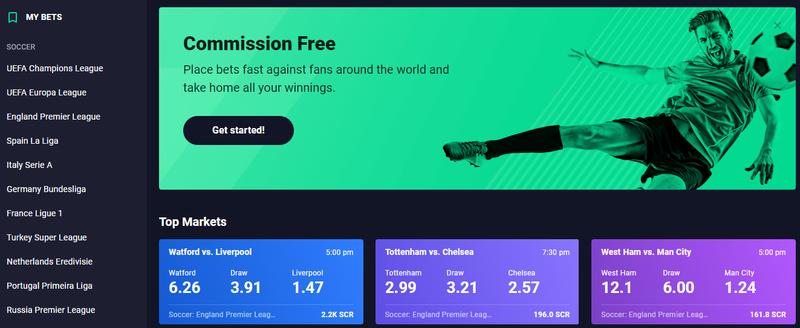 Logging in and the platform
The first thing you need is an account, either at scorum.com or at betscorum.com directly. Once you have the account, you need to log in with your personal key. Very Important: Save your login key! If you lose the key you will not be able to log into your account anymore. Password resetting is not possible on Scorum.

Once you are in you see the sports and the available leagues on the left side. At the moment only soccer is available, but there will be more sports in the near future.
You can select the league you want from the menu on the left. Other than that you can select one of the "Hot" matches named as "Top Markets", or you can pick one of the "Upcoming matches".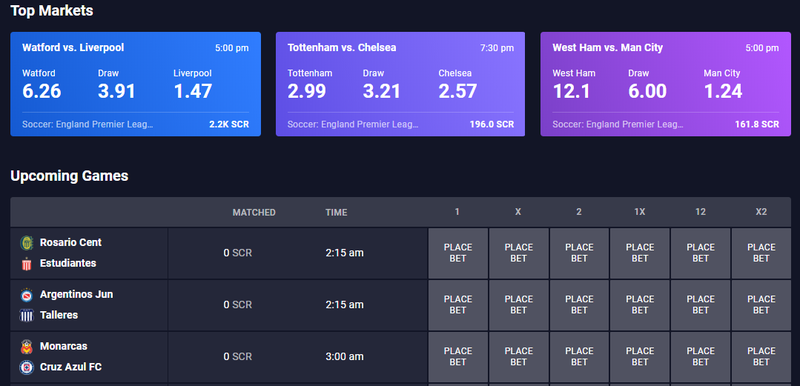 On the example above you can see that there are already bets placed on the so-called Top Markets. The upcoming games in the example above are all without any bets at the moment. This is quite normal now, as the platform was only launched today. In the future most markets will receive bets, at least that is what is expected.
Placing a bet on one of the Top Markets
Let's select the Watford vs. Liverpool game from the example at the top.
On the top of the screen, you see the two team names mentioned, as well as the logos of each team on the sides. In the middle you can see: Watford 6.26 | Draw 3.91 | Liverpool 1.47. These are the best odds currently available to bet on when it comes to this market. A total of 2,298 SCR has already been matched. I will explain what that means a bit later. So far everything works like a normal bookmaker would work. If you fancy Liverpool to win, you can place a bet on them with odds 1.47, meaning you would multiply your stake with 1.47 to know what possible amount you would receive in returns when you win the bet. Let's say you bet 10 SCR at Liverpool. If they win you get 14.70 SCR back, if they do not win, you will lose 10 SCR.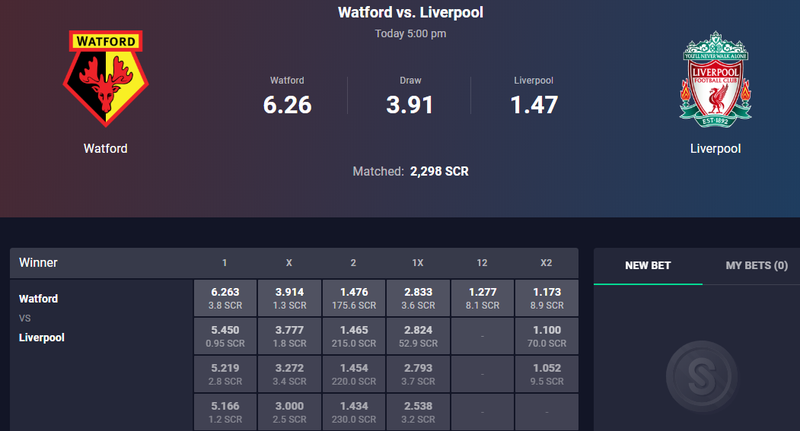 The bets as described above can also be seen on the bottom part of the screen. Watford to win at 6.263, a draw at 3.914 and Liverpool to win at 1.476 are all available. You also see the 1X, 12 and X2 options available. If you believe Liverpool will win, but you feel Watford might be able to manage a draw too, then you can go for the X2 option above, which means it will either be a draw or a Liverpool win, for 1.173 odds. When you want to place a bet on any of these, just click on it, fill in your stake and place the bet.
Now comes the tricky part. You can see that there are more odds mentioned in the screenshot. If you want, you can bet on these odds too, but as you can see, these are all lower odds than the ones above it. The other ones are all odds made available by other users. How to do this will be explained below. For you to bet on a Liverpool win it makes no sense to place the bet at the 1.465 odd, if you have 1.476 available. It's not much of a difference, but the higher the odd is you want to bet on, the better it is of course. Underneath the odds, you see SCR amounts. That is the number of SCR is needed in order for the bet to be matched.
Matching bets
Matching a current bet is actually very simple. If you place your bet on Liverpool to win for 1.476 that means that someone else has placed a 1X bet (Watford to win, or a draw). In order for the complete bet to be matched people need to bet on Liverpool to win for 175.6 SCR. That doesn't mean you need to bet that many SCR to be able to place the bet. It means that several people have the opportunity to match the bet, with a total of 175.6 SCR divided among those people. If you would bet 5 SCR on that, then that number will chance into 170.6 SCR afterward, meaning people can still place the same bet.
What happens if a bet is matched?
In the example above, you will play for 5 SCR and if you win, you will receive 5*1.47=7.35 SCR back. In case you lose the bet, your 5 SCR will go to the one who created the odds.
Now imagine that a lot of people feel the same as you and they all bet some SCR on Liverpool to win for 1.47 odds as well, then the number underneath will decrease, all the way down until 0 SCR. Whenever it is 0 SCR, the odd will be removed and is then being replaced by the next highest odd available, in this case, 1.465 will be moving up.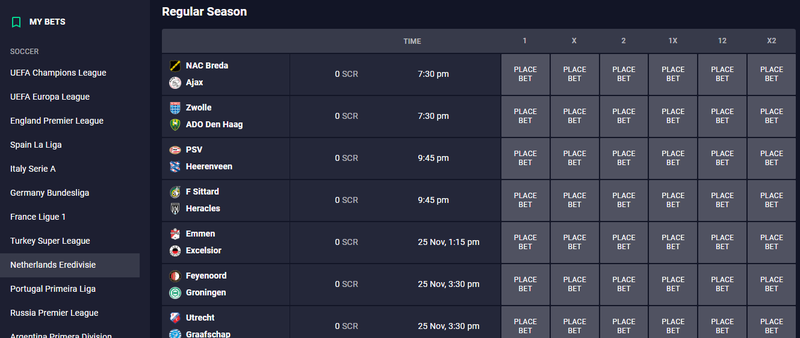 Making odds available for other users by being the bookmaker

In the screenshot above you see some upcoming matches in the Dutch Eredivisie. None of these matches currently have odds available. One of the great features of this platform is that you can be the bookmaker.
Maybe you have read my post named Fraste Bets: Feyenoord vs. FC Groningen and you completely agree with me that this should be an easy win for Feyenoord. You can then click on the match and make a bet. You can choose your own odds even. If you want to bet on Feyenoord to win with 23.00 odds, you can do that. However, I can already tell you that such a bet will never be matched by anyone else. The trick is that you need to set odds that will trigger other people to bet against you. At the same time you would aim to create a better odd for yourself then the odd your regular bookmaker would offer.

My suggestion is to have a look at other bookmakers to see what sort of odds they offer on the same match. If I go to www.efbet.com for instance, I can see they currently have a Feyenoord win available for 1.30 odds. What if you could get 1.60 odds for the exact same bet? That would be a great opportunity, right? Well, you can do it on Betscorum.
In order to do so, you would need to click on the green button "Place new bet". You then have to choose a market. For instance, who will be the winner, or how many goals will they score, what will be the correct score?
Let's keep the example simple and let's go for a Feyenoord win, and we want the 1.60 odds as described above. You select "Winner" as the market, then Feyenoord, you type in your odds (1.600) and your stake in SCR. Once you fill that in, it will automatically show the profit you are making in case you win the bet.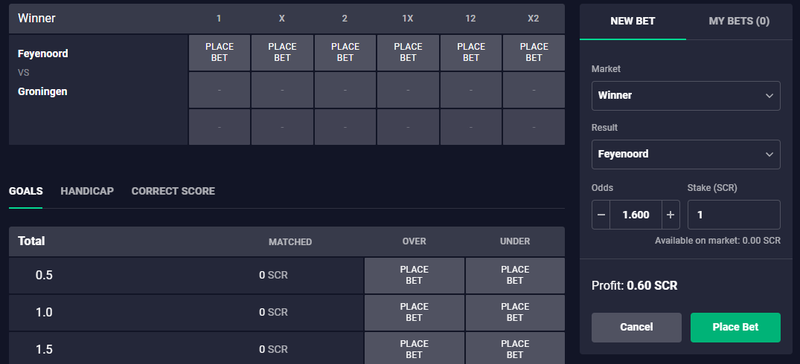 When you click on "Place Bet" your bet will be accepted, but will still need to be matched first in order to become valid.
As you can see below, the bet that you just placed, is not visible as you placed it for the others. They will see the exact opposite. In order for anyone to match your 1.60 odds bet, they would need to place a bet on either a draw or FC Groningen to win. They would need to bet 0.60 SCR with odds 2.666 in order to match the bet. Once someone does, then the bet will be removed from the available ones again, until someone else places a new bet.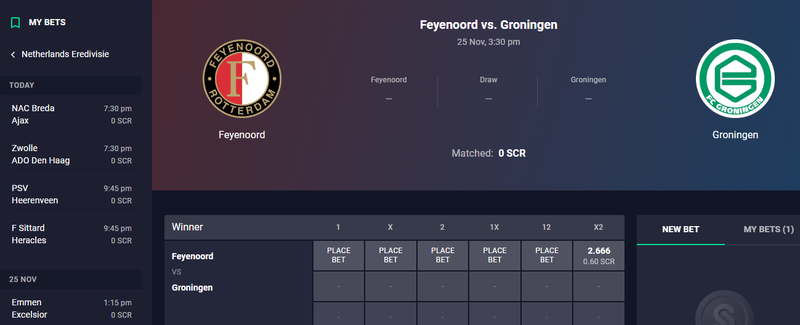 This is it. I hope it's all understandable to you. I aimed to explain it as clearly as possible. There might be more options that need explanation, or there might be features that I have not discovered yet. Also, new features will be added at some point. If you have any questions please drop me a message and I will do my best to assist you as much as possible.
Now all I need is SCR, which I don't have very much, unfortunately. I would love to purchase some, but I don't have any other cryptocurrencies available. If there is anyone out there that knows an alternative on how to order SCR using a debit or credit card (not yet available on Scorum), please let me know!

Thank you for reading!
Frank