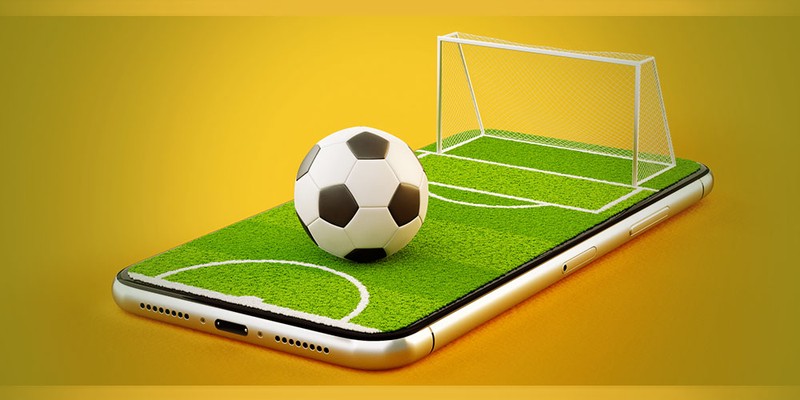 Sports betting is an important part of Scorum and will become more important in the future when new people arrive and new sports will be added. At the moment football/soccer is the only sport that has been launched.
To me, sports betting is fun, it is not necessarily something to make a lot of money from. Others might see that completely different. Placing a bet on a game that you are going to watch, but which is not featuring your favorite team, is the best, in my opinion. This way you will add an extra dimension to the game, as suddenly you will be supporting one of the teams. In other situations, you might not be betting on a team, but on the number of goals. It's great fun when you bet on the over 2.5 goals in a match in which you are neutral and the players start banging them in. However, if you can manage it to get to a situation in which you will be making money in the long run, then that is great. The problem is that you do not know in advance if you will succeed in that or not.
As Costanza pointed out earlier this week, it is important to keep track of your bets. It is also important to not start over again all the time after you notice things aren't going as well as you expected them to go from scratch. When I was reading that, I immediately recognized myself in it. I always tend to start keeping track of my bets, and then after a couple of days I quit, or I make amendments, or whatsoever.
Yesterday Costanza also announced that soon the Scorum SBC League will start and that the SBC team will give their support to anyone who wants to blog about their bets and keep track of them properly. There is no necessity to make a profit, what is important to them is that we move Scorum forward and that this will be done by properly sharing your thoughts and keeping track of the results.
From the moment that I joined Scorum, I have been impressed by the systems the SBC members have, from which they (partially) pick their bets. I always wanted to have such a system but never thought I could pull it off properly. However, when I saw these, I thought I could actually do it myself too. I did some research on the internet, as to how to make such a system, and got all sorts of information from all sorts of websites and started working on it in December. Now I have the feeling that it is done, and ready to be shared. Of course, if I feel the need to change a few criteria, I will do so, but the general idea behind it will remain the same. The post by Costanza comes on a very pleasant moment as you can see. I was already working on this, but the SBC League might actually be what I need in order to keep myself going on with this for a bit longer this time.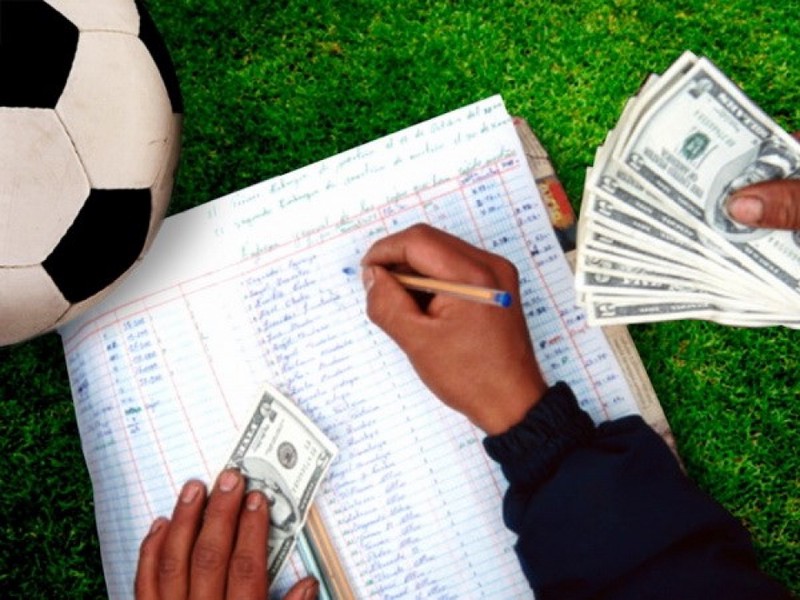 So, what is this FBBS System?
The F can stand for Frank, my name, for Fraste, my nickname, for Football, for Fun, you name it. FB as a combination can be Football, and the B's, in general, could be Bet, Bets, Betting and so on, whereas the S could stand for Scorum or System. So I've not yet decided what would be best here, but if it's up to me it means it all.
Fraste Bets Betting System
Football Bets BetScorum
Fun Bets Betting System
What I did, was to start with some research on the internet. What information do people use in order to create a system? I found a ton of information on the internet, including all sorts of ways on how to implement that, in many various ways. It became clear to me, that there wasn't going to be a straightforward plan that I would be able to start using. To be honest, that I already knew, but it got confirmed, let's say it like that.
What I decided to do, is to, first of all, think of what sort of information I find important to include in my system, that can potentially help me in getting the information I need to start betting. What sort of information do I need, in order to make that prediction as close to reality as possible? That is not easy, because not only do you need to be able to find that information, you will also need to be able to classify it to its importance. Is it more important to be able to score a goal, or to keep a clean sheet? Does it matter how many corners a team receives in order to score goals? Does that depend on how many goals a team scores out of a corner on average, or does such a statistic not matter at all? Then also, how easy is it, to implement such a statistic into the system that you are creating, so that it will take you as least time as possible to generate the results you are dying to receive. If it takes too much effort to get these results automatically, then you can better research manually, which is what I have been doing mainly up until now.
Cool, so which criteria did I include now?
Well, quite a bit to be really fair. A lot of information is based on the current league tables. The good thing is there are many websites on the internet, where you can find these updated league tables, and from where you can copy them into Excel, or Libre Office.
With that information, you can calculate the average number of scored goals per team, but also the average number of conceded goals. That can then result in average scoring power of a team, and the average defending strength. In some leagues it happens that certain games get postponed, meaning some teams play more games than others in some parts of the season. Therefore I found it important to calculate the average points scored per team in a match. All those can be done for the combination of home and away matches, but of course, they can also be split up in the home and away statistics to become more accurate.
You get the point, basically, you will be able to calculate how likely it is how often a team will score, and how well they will defend, but it is also depending on how well the other team can score against the defenders of the first team. I'm not going to share this formula with you, but there are plenty of examples about this all over the internet. With these statistics, you already have an idea as to how the match should end, but there are more criteria that you can include. Think about the recent form of a team. Would you take the last five games they played in consideration or the last ten games? Will you include only league games, or do cup and Champions League matches count in there too? Will you make a separation between home and away matches here? Or will you both include home and away matches, but also the last five matches on either location? These are all things you will have to consider for yourself when making such a system. When you have agreed with yourself as to what you want to include, you need to agree on how important each of these criteria is. You have 100% importance to divide over all these criteria. Some could be worth 20%, then you have only 60% left for all the other criteria. There's no golden rule for this. This is all up to you, and of course, these are the things you can easily amend and adjust over time to see if that will improve your results. The hard part is of course that not one single match is the same and that you don't really know if making a change will result in a positive or a negative result.
Also, you can include factors like the home advantage, the importance of a match, and how many days in between matches they were able to rest. Some teams will be more motivated for city derbies, whereas others seem to care less about it. If you have such knowledge on the teams, that can be vital information to include.
FBBS data explained
All this information mentioned above will provide results. It will give us probabilities of how likely a team is to win, to draw or to lose. Those are becoming the odds that FBBS would give to the teams. That information will then need to be compared with the information on Betscorum to see if there is value to place that bet or not.
FBBS Odds
FBBS Odds, are basically the odds created by the FBBS system.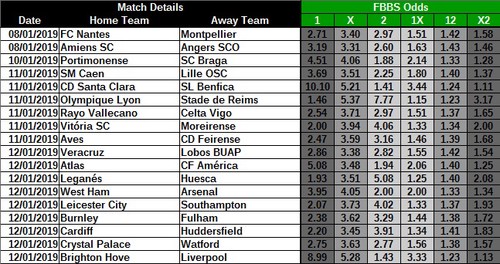 These are the odds that we want to be looking for on Betscorum (or other bookies if you want). All of these calculated together result in a 100% probability, as of course one of these options will indeed happen. The difference in color is there to show you which option is the opposite of the other. So if you bet on 1, then X2 is the opposite, hence both options have the same color.
Scorum Odds
Scorum Odds, are of course the odds, as you would find them on BetScorum. As you can see not all options are filled in with odds. In some situations, odds aren't available on Betscorum, because no one has placed a bet on the opposite result yet.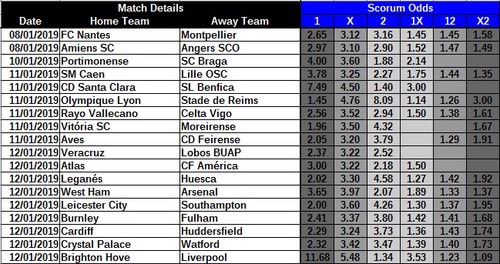 This is normal and can be a good thing if you want to place a bet on that option, as it will give you the opportunity to create the odd. Now it is time to compare the FBBS odds with the Scorum odds to see if you can find interesting bets. Let's take SM Caen vs. Lille OSC as an example. Would it be worth to bet on the home team, SM Caen in this case? Yes! It certainly would, as according to the statistics we filled in the odds for SM Caen should be 3.69, however, on Scorum they are available for 3.78. This means that FBBS believes that the chance that SM Caen will win, is larger than what is currently available at Betscorum. It would not be good in this case to bet on a draw, as the odds on Scorum are 3.25, whereas according to FBBS they should be 3.51, which means you get less value for the best as you should get if you would place the bet of course. It would however also be good to bet on Lille OSC. FBBS gives Lille odds of 2.25, whereas on Scorum they are available for 2.27. That is not a big difference, but it is a good option, as the Scorum user placing that bet had more faith in SM Caen or a draw in comparison with FBBS. In this case, it would also be good to play the 12 bet, which means you win when either team wins, but you will lose in case of a draw. When looking at the odds you need to see what option would be the best to follow, based on these odds and based on the probabilities. FBBS calculates for me on which team I should bet and with which stake I should do that.
Bets and Calculations
So, in this case, FBBS advised me to go for Lille OSC and to place the bet with 3 SCR. Of course, the amount depends on how much you are willing to spend. At the moment I am willing to spend up to 10 SCR maximum per bet, but if for you this is 100 SCR per bet, then the 3 SCR should be a 30 SCR bet.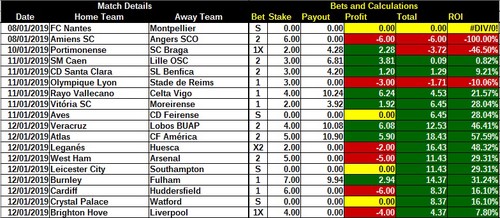 Lille OSC did win in the end and that resulted in a profit for that game. As you can see Betscorum paid me back 6.81 SCR. When deducting the 3 SCR that I used, the profit is 3.81 SCR. As my bet for Amiens SC vs. Angers SCO didn't go well, I immediately was 6 SCR in debt after the first bet. The second was already a bit of recovery and with this Lille OSC bet, I went into the green for the first time. When Lyon did not win against Stade de Reims, I went again down in the red numbers. The next four bets went completely well and I started to build up some SCR winnings. Later on, four bets went wrong, unfortunately. Huesca, Arsenal, Cardiff, and Brighton all let me down, but at that stage, I was still in the green altogether. By the way, when you see yellow and an "S" as a bet, that means FBBS advised me not to bet, and therefore I skipped it.
Further results
I played a couple more bets today, which were unfortunately not as good as the previous one. As a result, I am currently back in the red numbers. This doesn't say anything, however, and a couple of good matches can get me back on track.

Bets for today
Based on the FBBS odds I have placed quite some bets for today, so hopefully, that will result in a positive day, rather than a negative.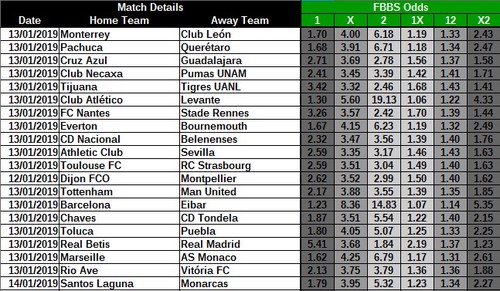 Based on these FBBS odds, and the odds available on Betscorum I placed the following bets:
Monterrey vs. Club León, Stake 4 on (1) at 1.70
Pachuca vs. Querétaro, Stake 9 on (1) at 1.75
Cruz Azul vs. Guadalajara, Skip
Club Necaxa vs. Pumas UNAM, Stake 2 on (1) at 2.35
Tijuana vs. Tigres UANL, Stake 4 on (2) at 2.62

Club Atlético vs. Levante, Stake 5 on (1) at 1.30

FC Nantes vs. Stade Rennes, Stake 5 on (2) at 2.93

Everton vs. Bournemouth, Stake 3 on (1) at 1.78

CD Nacional vs. Belenenses, Stake 5 on (1) at 2.42

Athletic Club - Sevilla, Stake 6 on (1) at 2.86

Toulouse FC - RC Strasbourg, Stake 4 on (X2) at 1.63

Dijon FCO - Montpellier, Stake 5 on (1) at 3.43

Tottenham - Man Utd, Stake 2 on (X2) at 1.83

Barcelona - Eibar, Skip

Chaves vs. CD Tondela, Stake 3 on (1) at 2.16

Toluca vs. Puebla, Stake 4 on (1) at 1.80

Real Betis vs. Real Madrid, Stake 3 on (2) at 2.17

Marseille vs. AS Monaco, Stake 3 on (1) at 1.68

Rio Ave vs. Vitória FC, Stake 3 on (X2) at 1.90

Santos Laguna vs. Monarcas, Skip