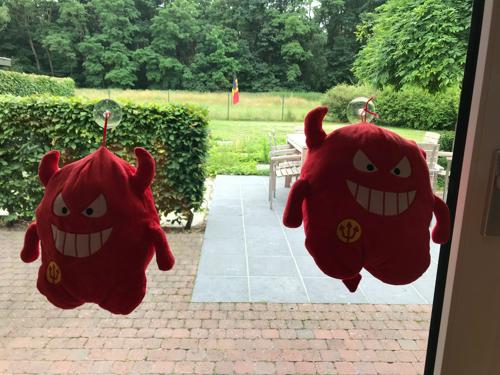 Yesterday was a blast. Belgium did win their first match! While it wasn't a great performance, we did score the 3 points! And what a beauty of Driesje Mertens. Also good to know that Lukaku is one of the guys were we always can trust on!
On the betting side, I did score the home run. 3 bets, 3 wins! I was doubting about also putting these in a acca, but I did chicken out. Silly me.
Today 2 more games of the first round and already the second game of the second round robin round!
Colombia - Japan
Japan lost 4 of their last 6 games, while Colombia only lost one. Colombia is the more experienced squad with a quarter final in the last world cup, that is also were they faced each other the last time. Which did result in a 4-1 victory for Colombia. And I do see Colombia taking the 3 points again! Japan isn't as bad as everybody does expect, with lots of players in the European Leagues. But I do foresee a 2 goal difference at the final whistle.
The Asian Handicap where Colombia does start with a one goal disadvantage will be my pick with odds of 2.38.
Poland - Senegal
Well I can be short about this one. I do predict an easy victory for Poland. Senegal didn't have the best preparation with even a scoreless draw against Luxemburg, a defeat against Croatia to end the preparation with a 2-0 victory against South Korea.
Poland on the other hand, did crush Lithuania with 4-0 and had a 2-2 draw against Chili!
I will go for the Poland ML bets with odds of 2.303.
Russia - Egypt
We were all be waiting on the first Match of Salah on this World Cup after his unfortunate injury in the Champions League finals. I did already predict that Egypt would not use him in the first game, because it wasn't there that they needed to collect their points! They have to win against Russia otherwise the tournament is already over for Egypt. Russia did start with a 5-0 victory against Saudi Arabia, the weakest team on the world cup! But the 5-0 score was flattering!
I do see Egypt win this match, encouraged by the return of Salah in the team! Egypt leading at half time and the final whistle has odds of 7. But that would be pushing the betting gods!
The Draw No Bet and Egypt as winner (Egypt +0) also has decent odds with 2.759. So this will be my pick!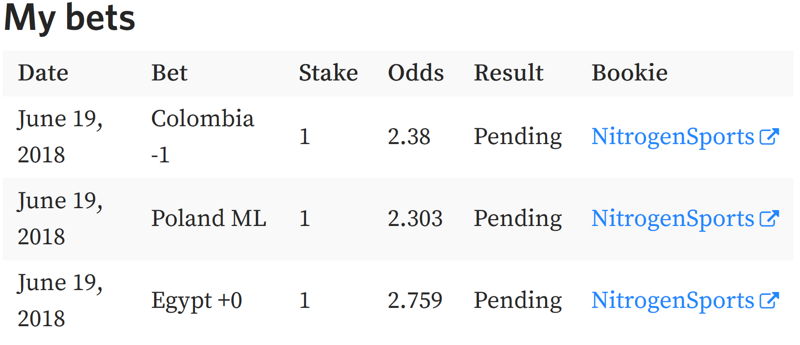 World Cup Record so far:

Nitrogensports.eu
All my bets are placed on nitrogensports.eu!
If the odds I am presenting to you are better than the ones your bookie has, give it a shot!
It is a Bitcoin bookie!
Help Wanted!
If anyone already figured out, how I can post tables on the Scorum website!
Please let me know! This will make my postings my better! Thanks in advance!
Keep the faith,
Peter