Well January is half way and January 2019 is the first month that I am using Betscorum as my preferred bookie. So it is time to see how I am doing.
The first thing that I did was to tailor my own betting record spread sheet so that I would be easy to track my betscorum bets! As my name reveal I am more like a Parlay bettor but this isn't offered at betscorum and will probably never be offered at Scorum.

January 2019!

Well for the moment everything is running smooth. My last 2 bets were big loosers (-190) but overall I am deep in the green. My overall profit for the moment is 839 SCR, that represent a ROI of 29,66%.
I did play 15 out of the 16 days. I did record 8 winning days and 7 loosing days.The sceond of January was my best day with a profit of 333 SCR (72% ROI) followed by the 12th of January was my best day with a profit of 326 SCR (45% ROI).
Most of these bets were announced here on Scorum: https://scorum.com/en-us/betting/@fullcoverbetting/premier-league-bets-12-01-2019.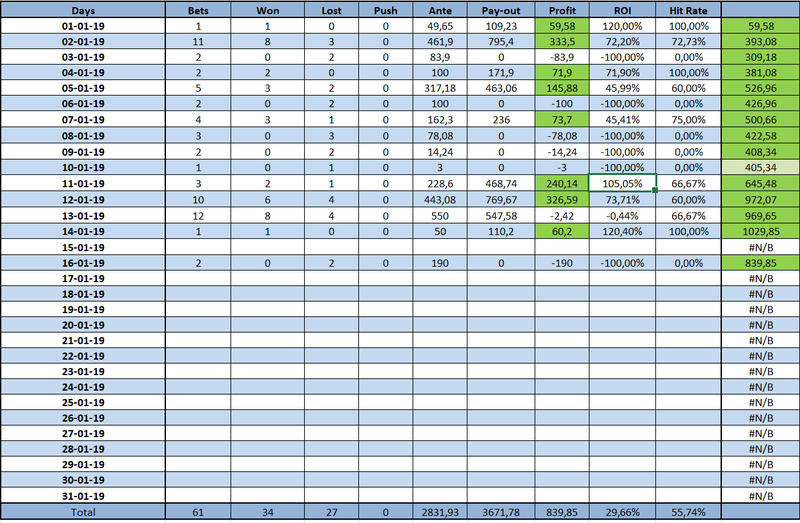 In total I played 61 bets and risked 2831 SCR. Yes, I know peanuts!

Betting types

But like the nerd I am, I also do know which betting types are working for me a more important which aren't!

Looks like the Over/Unders are should be my main playground! In this market most of my profit was made! 31 bets and 19 winners. Good for a ROI of 40,35%. Just great!
More important is that the Double chance (betting on 1X, 12 or X2) doesn't work for me. I did loose 82 SCR in this market.

Let's have a look at those bets!

Maybe the problem was that I got an unmatched bet, while I was thinking that it was matched. The bet on Valencia should have been one of 90SCR! Probably a user mistake :(
Different Leagues

Time to dive a little deeper. I am not alone interested in the sort of betting types which are working and which aren't, but I am also interested in how the bets in the different league are doing!

I do know that the beginning of January isn't the best time to start a betting sheer for a new exchange, due to the number of winter breaks going on! That is way a lot of league don't have any bets.
First let's start with the good league! Of course the Premier League did get most of the total ante! 900 SCR was bet on it and it delivered. A profit of 580 SCR! A ROI of more than 64%. I do know that this figure isn't sustainable I wish it would. Also the hit rate of 70% was great!
On the bottom we do have the league I don't know much about it! Not even one win in the Egyptian League and only a hit rate of 33% in the Mexican league!
The Ligue 1 is down due to the bets of Today. Just too much trust in Monaco, I really believed that they could win. To bad I was wrong. The missed penalty also did cost me quite some SCR. But sometimes luck is with you and other times lady fortune decided that the favor won't be granted! That's why it is always important to look at the bigger picture!

Weekdays!

But this isn't enough! I also like to know if the week bets are better than the weekend bets or the other way around!

Here it is! Saturday games are of course the best. The reason behind this is very simple. Most Premier League games are played on Saturday!
The dashboard!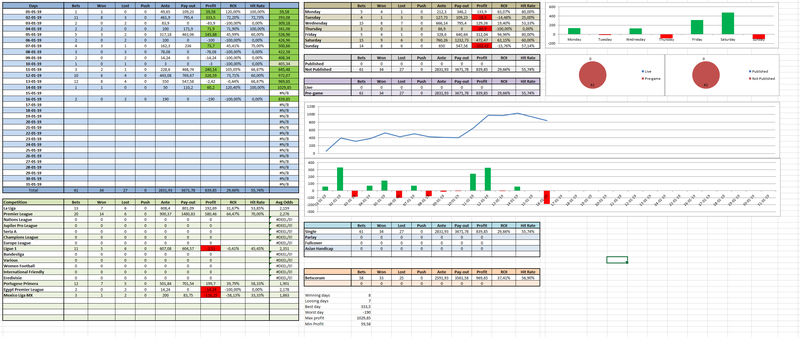 The dashboard at the moment looks like this! Still need to do some tailoring because the odds are important I will need to add the average odds and so on!
Do you keep track of your bets?
If so, how do you keep track of them?
If not, why not?
If you do want to keep track and are interested in an easy betting sheet, I can always recommend the following:
http://www.aussportsbetting.com/tools/betting-tracker-excel-worksheet/
This is a link to an external site, with which I do have no connection!
Keep on using betscorum!
Cheers,
Peter