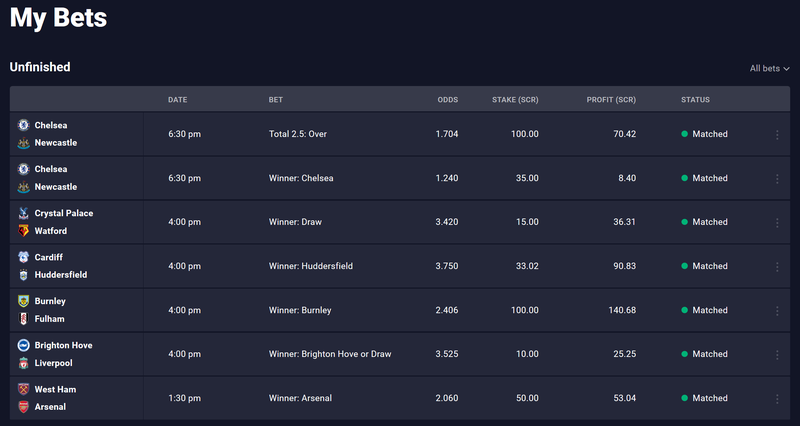 Well I don't share my bets very often. I did during the World Cup but haven't done this in week. There is a good reason for that, which has nothing to do with my profits or losses. As a sport bettor I am fully compliant. Designed my own betting track record sheets and so on.
The reason that I don't post these bets is because I do write the Premier League and Jupiler Pro League Prediction models, which normally 4 posts a week. More than enough. But since there are no games in the Jupiler Pro League, I will share some with you.

In this post I will also give you some more insight in the model and a view under the hood.

Most of these bets are based on my Jupiler Pro League model. Which can be found here: https://scorum.com/en-us/football/@fullcoverbetting/premier-league-prediction-model-round-22
West Ham vs Arsenal

I decided to place a moderate bet on Arsenal for this one.
The odds of 2.060 represent a probability of a little bit above 48%.
West Ham's home record isn't that bad this season with 4 wins out of 11 games. Arsenal on the other side only managed to win 4 of their 10 away games. Still the model (both models actually) do calculate a probability of above 51% for an Arsenal win. Which means that all odds above 1,9 odds can be considered a EV bet.

Brighton vs Liverpool

Liverpool had their first defeat of the season in the last round. Yes this was against a complete different kind of opponent then Brighton is. Liverpool did win 8 out of their 11 away games this season, scoring 22 times and only conceded 7 goals. Impressive. Yes.
But it is sports and sports betting and both aren't always logical. The odds for a Brighton win are in my opinion too high, which doesn't mean that it will happen. Odds of 11 represents a probability of 9%. That means that if Brighton would win once out of 10 home games against Liverpool, and you always would back Brighton you will make a profit on the long term.
The model does give Brighton a much bigger chance with a probability between 13 and 25%, which do represent odds between 7,25 and 3,96. Do you remind yourself that Brighton did win 50% of their home games this season and only lost 2.
So the odds of 3,525 (28,36%) for a 1X (Brighton win or draw) are good enough for me.

But because it is a riskier bet, I did only put a tenner on it.
Burnley vs Fulham

A real relegation battle this early in the season. The teams are separated by 4 points.
The Fulham - Burnley game earlier this season did end in a 1-1 draw.
Fulham did loose 7 of their away games, while Burnley did win 4 of their home games. In these kind of games the home advantage really can kick in.
Also both models do give Burnley an advantage. The lowest probability for a Burnley win is 42,29%, so odds of 2,40 (41,66%) are again good enough to place my bet. A rather bigger one with 100SCR at stake.

A draw is also possible, but one have to make choices.
I do personally expect a low scoring game but the models do disagree with each other, so I will stay away from that market! There were no odds available for the BTTS, otherwise I would have gone for "No".
Cardiff vs Huddersfield

Another game in the deepest cellars of the Premier League. If Huddersfield does want to prologue their stay in the EPL, they must win this game.
Because I am not so sure the stake is also lowered for this game. Here I am just following the models. Both models do think that Huddersfield has a 30% chance of winning this game, the odds offered do think that there is only a 26% probability.
Chelsea vs Newcastle

Here both models do see Chelsea winning. But because of the odds I did only place a small bet on Chelsea.

My interest did go to the over odds. And this one is against all statistics.
For the 11 games that Chelsea did play at home only 4 games did end in a over 2.5. But if we look at the past 4 season, they do have an over 2.5 game in 54% of all their home games.

Also Newcastle is exactly an over team. Only 47% of their games did have 3 goals or more this season, and if we have a look at the away games we only see 4 out of 10 overs.
But here I am basing my bet on the Asian odds which are dropping. First the over 3 (asian odds) opened at 2.17 but is dropping toward 2.040.
Sometimes one how to take a small gamble in life. That why I decided to put 100 SCR on it.
Overall

7 bets placed. A total ante of 343.
One of the 2 big bets should win, to be able to make a profit.
I will see how thing evolve during the games.
Cheers,
Peter
For the ones which do want to count the words, here are the results.

859 words 4,428 characters