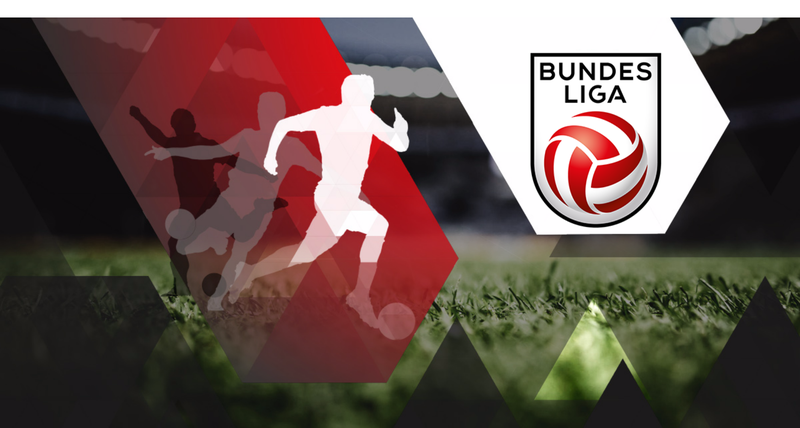 Another weekend is here with the zeal and zest of Bundesliga fixtures. Unlike before, this time we have predictable winners for some of the games while I also planned to take some calculated risks where the situation permitted. Kindly, see my below-mentioned predictions and picks for Bundesliga and let me know your opinion about them. Also, from now on I shall try to place my own odds to provide better back odds, therefore, if you find it interesting to bet against these picks then I hope you find value bets.
---

The home team are in serious trouble as they could not mark a single victory in their recent fixtures because of which they have fallen to 16th position i.e. just above the relegation zone. Their last fixture was perhaps a good chance for them to recover from the miserable condition but they could only manage a draw and now they are back to facing a stronger side. Well, let not the visitor's recent losses confuse us as those fixtures were against the might teams like Leipzig and Bremen. Overall, they were the charm of the league because of which they could hold a spot in the top six but due to their recent losses, they are down to 9th. The visitor's goal-scoring potential is almost three times that of the hosts and they possess a considerably better defense as well. Moreover, the host's home form is also not very charming as they could only secure 17% of the wins while the visitors could grab some points in 50% of their away fixtures. On any given day, the visitors are a much better team than the hosts and if this fixture would happen again, there won't be any doubt in backing the away team.

The mighty Bremen are going to host the struggling mid-table rival Freiburg this Saturday with an intent to crush them down and they might not be wrong in believing so because they have proven themselves to be a very competent opponent throughout the season. The host's exceptional form is evident from their recent fixtures where they have victories written all over except a couple of draws against the stronger teams. However, the visitors have been a tricky opponent for the hosts as in their recent head-to-head fixtures they could only beat the visitors for 1/3 times. But, we can say that those were the times when Freiburg were in good form, however, as of recent they are inconsistent. This might be a good opportunity for the hosts to grab another handsome victory.

The hosts in this fixture are in deep trouble as they have consecutively lost all of their recent fixtures and are sitting at almost the bottom of the table. They did try to recover from this situation and scored some early goals against a few opponents but could hardly defend their lead. It would be extremely frustrating for them to have another tough fixture with one of the giants of the league. The visitors started off the season with a spark but things went sideways as they could only mark a single victory in their recent fixtures. They would be somewhat relieved to have this fixture considering the terrible form of the hosts. If they fail to gain all 3 points from this fixture as well, it surely would be a trauma for the players which they avoid at any cost. Therefore, we can expect the visitors charging in with all they have got and that I believe is a positive sign for us. I also speculate that the hosts would also try to take advantage of the current form of the visitors and might be able to find the visitors net.

This is one of the most interesting Bundesliga fixtures as we have got two ferocious teams facing each other this weekend. The hosts are sitting at the 3rd place while the visitors are 3 ranks below them but both of the teams have a huge potential. The hosts were finding it hard to score recently, therefore, most of their victories were due to their rock-solid defense as they could manage clean sheets for over 70% of the time when playing at home ground. I believe that the visitors are capable of breaking through the host's defense but the thing that troubles the thought is their poor defense as they have also conceded an average of 1.5 goals. The visitors away form does not seem terrible and is almost same as the host's home form, therefore, if the visitors manage to keep things tight at the back, I believe they can at least manage to fetch a draw from this fixture. That's right, even though I have a troublesome history with the Wolfs but I think the low odds available for Leipzig do not justify their form. Hence, it is more favorable to back the away/draw option.

The mighty Dortmund are back to their league fixtures after facing a horrible defeat at the hands of Bayern with 5 goals to nil. This would have surely delivered a dent in their pride as they previously lost to Spurs and even an underdog Augsburg. The teams like Mainz despite their poor form can consider such scenarios as good opportunities. The visitors are back to their winning ways with handsome 5 goals to nil against Freiburg after some consecutive defeats. I am getting an overall negative vibe backing the home team here with such low odds and even with -1.5 handicap as they have seldom beaten this opponent with 2 goals margin in their head-to-head fixtures. On the other hand, there is also a possibility that the hosts might turn out to be aggressive and would like to reclaim their lost respect. In any case, I believe backing the over 2.5 goals option is more reasonable than backing a team. At maximum, I can go with the 2 goal advantage to the visitors with slightly lower odds.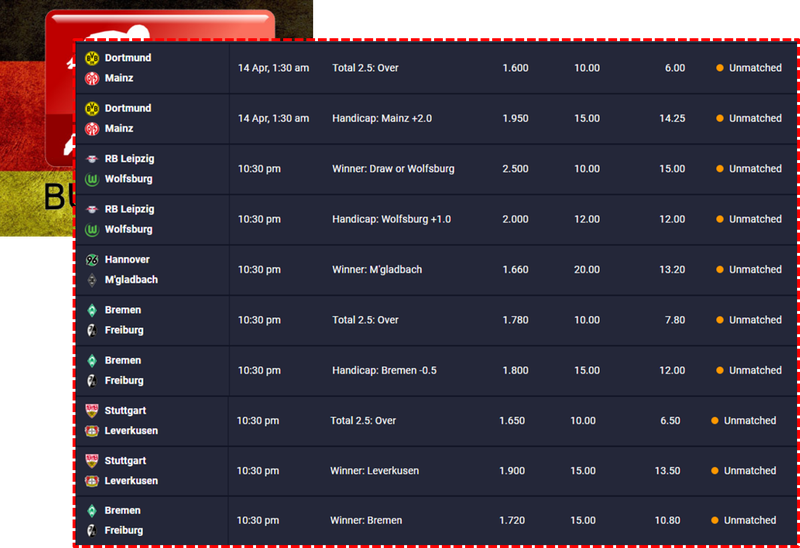 ---
Reminder Note:
All of my bets are unmatched because I have realized that I was accepting lower odds due to their availability which I am not going to do anymore. Instead by placing these bets I am offering higher back odds, therefore, if interested you would find the best value provided on betscorum without any arb margins.