As you might have noticed that a large number of fixtures from different leagues are available for this Saturday and most of the slots are still on 'place a bet' option so this post would not only provide you the overview and picks for the respective leagues but also update you with the adequate/high-value odds that you can grab or if unavailable can offer and match successfully. Most of the time, we do not have to worry about this issue as much higher odds are usually offered on scorum betting exchange but for example just yesterday, my prediction model suggested me to bet on Kilmarnock's win from Scottish Premiership and I checked the odds for the home win on betscorum and they initially seemed to be catchy (3.75). However, for a quick cross-check I visited another website and the odds were much higher (5.8) over there. At first, I hesitated and doubted the validity of my prediction model and decided to exclude that specific bet but my model is still under a trial-run and optimization period, so I preferred to place a small stake on the home win by offering better odds on the other end (taking 5.6).
Scorum Bookie initiative (by Scorum betting community) to match your bets:

After a whole day of waiting, my bet was still unmatched so I knocked on the door of 'Scorum Bookie' at the 'match my bet' section of the SBC's discord channel. A bundle of thanks to their great initiative that my bet was finally matched and I managed to have some juicy profit (Yes, the home team won). So, hope you have got an idea about what to do if your bets are not matched or if lower odds are offered. Anyways, as before the summary of my recent bets would be presented later at the end of the post and for now, let's have a look at the prediction and picks for German Bundesliga and the new entry is Argentina Primera Division.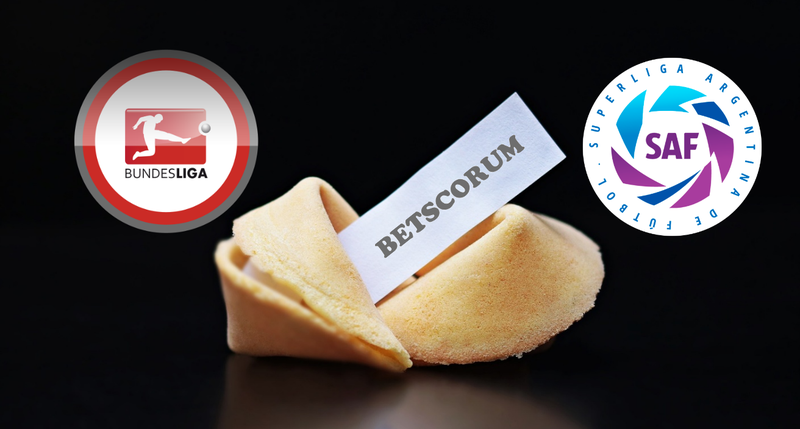 German Bundesliga
Hertha BSC VS Schalke

The two teams are from different halves of the standings i.e. host is at 7th place and Schalke at 12th. Despite the hosts have overall more wins than the visitors but both teams current forms show an equal number of win/draw/loss of 2 each. In fact, their head to head matches were also equally won by both sides with a minimum record of draws. However, Hertha has a slightly better form at home than the away form of the visitors with a difference of about 10% which is not significant as well. So, this fixture is a very tough call considering the fact that their collective scoring potential for above 2.5 goals is also at about 55%, so a better option for this one would be:
Home win (Small stake) @2.69

Both teams to score @1.89

Bet value: Medium-High

2. Dortmund VS Hannover
If you were following Bundesliga then you already know that this is probably one of the most predictable fixtures as Dortmund is sitting right at the top of the table and Hannover is from the rock bottom. So, it is an inevitable home win but the odds for a home win are very low therefore any alternative option is desired. The next best option could be over 2.5 goals with the odds of @1.35 but is not very valuable hence, we can look at the scoring and conceding stats of the two teams where the hosts have an average goal score of 2.5 and the visitor's conceding average is 2.1 in addition to the scoring and conceding potential vice versa so we could speculate a high possibility of score above 3.0 goals.
Over 3.0 @2.0

Bet value: Medium-High

3. Mgladbach (Borussia) VS Augsburg
This is the second topper-underdog fixture where the host is clearly performing better than the visitors achieving over 50% wins while the visitors are at 0%. The odds offered on the host win are also higher than expected for such performances i.e. @1.67. But, let not the figures make you jump into blind conclusions as out of the visitors 2 draws in their recent games, 1 was with Borussia back in this very season (December 2018). In addition, 69% of their head-to-head matches for the last 2 years have ended up in a draw so I would suggest not to go beyond your usual stake.
Home win @1.67

Bet Value: Medium

4. Freiburg vs. Hoffenheim
Their current standing in the table is not the true representation of their forms and potentials. Even though Freiburg is about 6 places lower than the visitors but they had better recent wins where the visitors mostly managed draws. But, it could be due to the fact that the Freiburg's fixtures were relatively easier than those of Hoffenheim's so a possibility for an away win is there. However, considering the draw-loving nature of both teams and much better availability of odds I am tempted to place a bet on:
Draw @4.0

Bet value: High but Risky

5. Wolfsburg VS Leverkusen
This is one of the toughest fixtures from tomorrow's game-day as both teams are equally strong, very close in standings, lost their recent matches to relatively underdogs but in a great form before that. Both teams have almost equal win-draw-loss ratios however their head-to-head games were mostly won by Leverkusen. The visitors away form is also slightly better than the home form of the hosts but strangely my prediction model is tipping me a home win even with the +- error margin so, in order to comply with my model for its evaluation, I shall take the home win.
Home win @2.80, but for a safer bet I shall suggest Home/Draw @1.59 (1.44 offered at other exchanges)

Bet value: High. All available odds on betscorum.com for this fixture are much better than elsewhere.

6. Mainz VS Nurnberg
Even though the two teams are from the second half of the table, however, Mainz is performing exceptionally well as compared to Nunberg as the visitors are yearning for a win recently while the hosts earned their first one recently after a long drought of draws. Their head-to-head results are also in favor of the hosts however, both teams are haunted by draws with sky-high percentages of 52 and 35%, respectively. The goals from their matches hardly go over 2.5/match so under 2.5 can be a good option along with a home win.
Home win @1.73 (however, slightly lower odds are available for the home win only so I shall have to wait)

Bet Value: Medium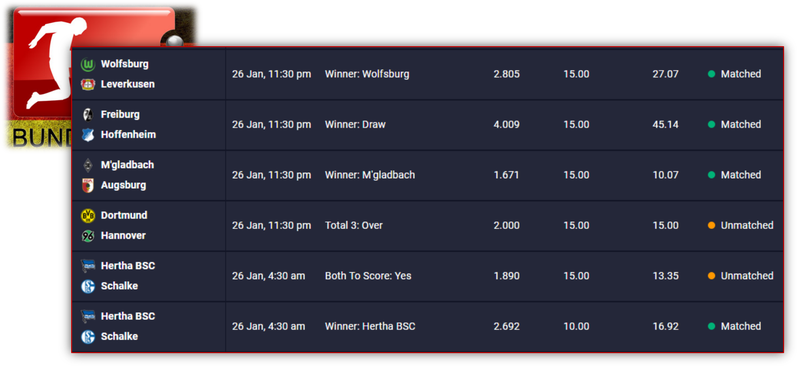 ---
Argentina Primera Division
Godoy Cruz VS Lanus
The visitors here are almost from the bottom (21st) of the table and considering this league's table is longer as compared to others, the team is still performing better than their opponents. Even though the home team is comfortably sitting in one of the front rows (7th), Lanus has shown considerable improvement in their form as both teams have equal win-draws for the last 4 matches and their head-to-head fixtures have been inconsistent. Their head-to-head fixtures had a long gap of 2 years, after which when they faced each other, Cruz beat Lanus with 3 goals lead which says it all.
Home win @2.36 (Somebody had placed a bet on the opposite but with just 1 SCR so I took it and would have to wait for the rest to match)

Bet Value: High

2. Banfield VS San Martin SJ
Banfield have been bashing Martin SJ in their previous head-to-head matches, the recent of which was in 2017 so much cannot be said from their fixture history. Their recent form indicates that both teams have an almost equal form with hosts performing slightly better than the visitors which is not significant to announce their domination here. However, the visitors have lost above 60% of their matches in away form and considering the high 35% win and 35% draw home stats for Banfield we could predict their victory.
Home win @1.95

Bet value: Medium-low as the odds are a little less for the home team considering that the recent form of the away team is challenging.

3. Defensa y Just VS San Lorenzo
The clash between the host team at the second place in the standings and the visitors at the 4th last, which already makes it a one-sided match, however, the defense secured these points through their exceptional performance in the start of the tournament which declined with the passage of time but they still managed to secure some wins before the break. The most interesting aspect of this game is that in their head-to-head clashes Defensa never won a single match but that could be due to their terrible performance in the previous season (2016-17) so currently they are a better bet.
Home win @1.79

Bet Value: Medium


---
Betting Summary for Recent Picks:
So, before the predictions, I mentioned one of the bets and you can see the result in the attached picture below. Overall, this time my profit and ROI for 24, 25th of January was in negative even though I was doing pretty well for 24th but due to less number of betting options for 25th I became a bit lazy to gather all the data properly and lost all three bets. Anyhow, it happens, the lesson was learned and I shall try to be more systematic in the future whether it is about a single bet or many.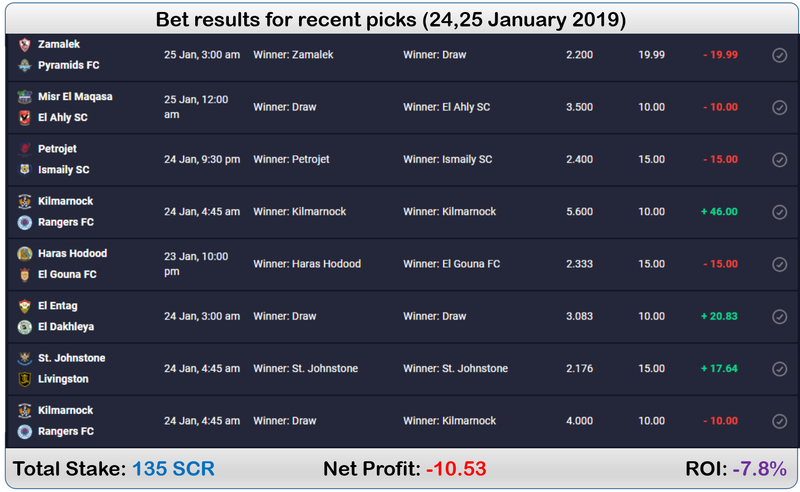 Hope it would get better soon and may the odds be in your favor. Also, in comments:
Do let me know your opinion about my good picks for the upcoming matches.