The launch of betscorum has caused several alterations in my weekend schedule and now I excitedly wait for this time to bet on a number of available fixtures while predicting the outcomes of the games. So far, this has been an interesting activity as it helped me expand my knowledge of the leagues, the participating teams and have made me more disciplined towards my betting approach. I would admit that it has not been an easy task because I feel responsible for the predictions that I provide but I am glad that the analysis presented in these posts assisted some fellow users with their winning picks, which I got to know through their kind comments. Therefore, without any further delay, let's get to more predictions for the games from French Ligue 1 and Netherlands Eredivisie.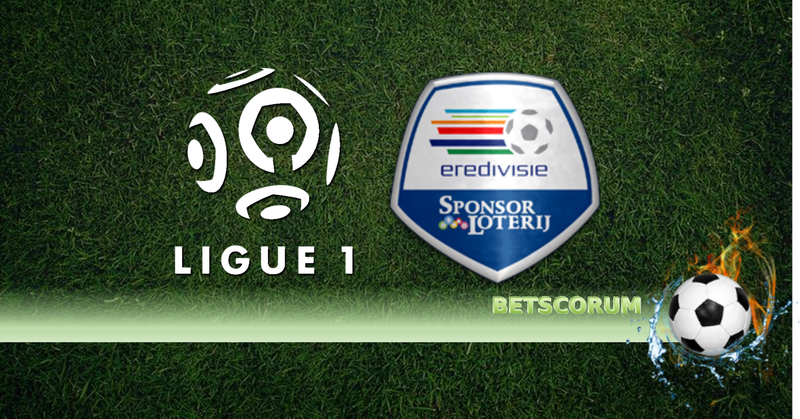 ---
RC Strasbourg vs. Olympique Lyon
The hosts were once the charm of the league as they previously marked decent victories and were beaming with a good form. That form is now gone with the wind and we are witnessing a team with confused gameplay evident from their recent losses and draws even against the underdogs. The visitors are not heading towards Jupiter either as they were finding it hard to score and just recently claimed comparatively better victories against the rock bottom teams like Caen and Toulouse. The visitor's away form is also not very adequate as they lost about 50% of the matches and they failed to even find the net in the last two fixtures against Nice and Monaco. Their recent head-to-head ties were equally won by both teams. The home team's goal scoring potential is slightly less than the visitors, however, their defense was comparatively better. Considering the situation, giving a goal advantage (handicap +1) to the home team @1.95 (as available elsewhere) is a good grab but was not offered on betscorum so I might have to grab the +0.5 option later (if not matched).
2. AS Monaco vs. Bordeaux
I discussed the current form of the home team in one of my previous posts and I would like to repeat that the hosts have incredibly recovered from ruins due to the return of their beloved coach. They are on an unbeaten run for the recent 6-7 games and in short even though the host's previous goal scoring/conceding stats were terrible but they are not a true reflection of their current form. The visitors, on the other hand, have fallen into the abyss of a losing streak and nothing seems to be going their way despite that they are sitting a couple of ranks above than the hosts. Even though the visitor's fixtures were comparatively tougher but they also hardly managed a draw with the rock-bottom team Guingamp which says a lot about their current form. The hosts are going to be the favorites in this fixture and I think they are rightly so as their home form is also much better than the visitor's away form.
3. Dijon FCO vs. Stade de Reims
The hosts are sitting at the bottom of the table and waiting for relegation as they demonstrated a terrible performance in their recent fixtures. They lost most of the games and could only mark a single victory against Monaco where that team was struggling with their performance at that time. This might be the host's last chance to survive and they would try their best, which might turn out to be a bit unlucky for the visitors as they are in good form and are currently at the 6th place in the standings. However, it would require a considerable effort by the hosts to break the good defense and penetrating attack of the visitors. The visitors away form is not that excellent but they are not a poor team as well and they didn't lose a single game in their recent fixtures. The overall scenario may make it a bit harder for the visitors to claim a victory here but I believe they probably would but with a small margin.
4. Amiens SC vs. Nimes Ol.
This is a fixture between teams with almost equal form. Well, some might argue that Amiens has been performing better lately and that is true but they have not been very consistent. The visitors have in fact won more games recently than the hosts and they have also secured a place about 6 ranks above the home team. The hosts have got some adequate home form and that might go in their favor but visitors have a higher goal scoring potential while keeping the back of their lineup solid. Therefore, the most logical option here would be a draw, while my prediction model is also presenting the possibility of an away win.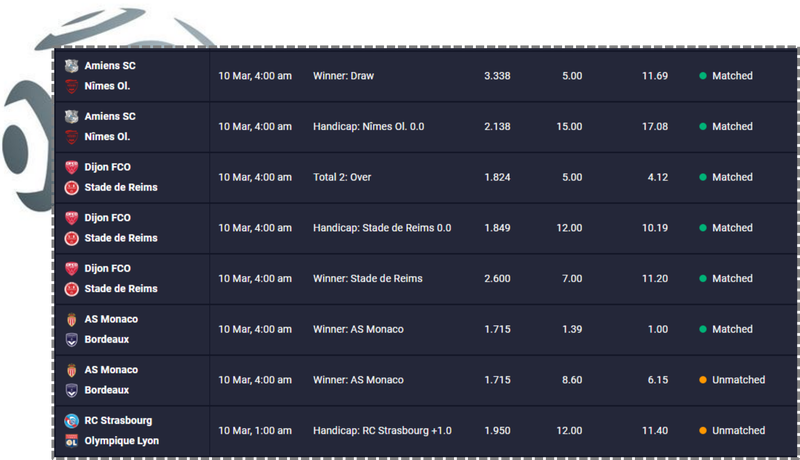 ---
VVV Venlo vs. Excelsior
The hosts started off the season well and then some dark magic took away their weapons causing them to lose all of their recent fixtures. Even then they are currently at the bottom of the first half of the table while the visitors are about 4 ranks below them. But, the visitors have a slightly better form as they won almost 50% of their recent games and are aiming for more. A troublesome thing here is that the visitor's away form is still questionable as they could only secure 17% of the wins. Both teams have almost similar goal scoring potential, however, the visitor's defense is slightly weaker than that of the home team. The comparison of the overall stats and forms direct towards a draw but my hesitation is due to the fact that the draws are a bit rare to be found in this league. Therefore, a better option would be:
2. PSV vs. NAC Breda
The hosts here are the giants of the league who are going to welcome Breda, an underdog to their home ground for a massacre. This is a completely one-sided fixture where the visitors have not ever won/draw a single game for about a decade and it is highly unlikely that they would leave a memorable impact this time. The hosts have been brutal with scoring as they almost always scored over 2 goals in over 70% of their fixtures. In addition, they have a rock-solid defense which makes things even harder for their opponents. There might not be any question about the home win here but we might need to grab some better odds which could be found in giving away a goal or two.
3. ADO Den Haag vs. Heerenveen
The visitors were once a disappointment but later they managed to recover their form and now they are going hot with some good winnings while blasting their opponent's nets. Who would have predicted a mind-blowing 4 goals draw with Ajax and 2 goals tie with PSV! But, that is the only issue with the team that they also allow their opponents to score massively. The hosts are favorites in this fixture only because their defense is better than the visitors and of course because of home advantage, however, I believe that the visitors are a stronger team here at least if they manage to keep their form this time as well. Due to the possibility of a high scoring game, a draw might not be an adequate option as well and it is worth backing the visitors at the juicy odds of 2.9.
4. Willem II vs. Graafschap
Despite the hosts are at the 11th rank and the visitors are at 17th but their recent win percentage is almost the same which means that the hosts are not in the best of their form. The host's home form is much better than the away form of the visitors and their goal scoring potential is also considerable, however, the last head-to-head reverse fixture was won by Graafschap. The visitors might not taste a victory in this one as the home team would be looking to strike harder and grab the maximum points out of this game in order to recover their lost confidence.
The odds for Eredivisie have not been offered by betty yet, so if you find it suitable to match any from the provided bets, kindly feel free to do so.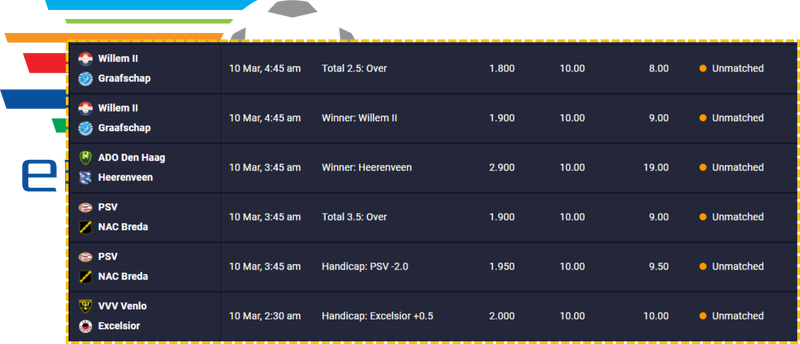 ---
Have a great weekend and;

Do let me know about your favorite picks from these leagues.