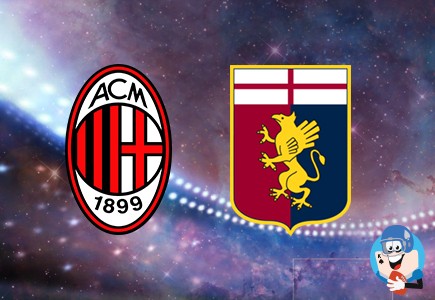 Stadio San Siro will host the postponed fixture game between Ac Milan and Genoa, in a match that promise to be a very scintillating one. The both teams are coming to this game in high spirit so it will sure be a tough and long night for the both teams. Genoa head into this match following a back to back draws, with one coming from a surprised 1-1 draw against the League Leaders Juventus. So they might want to use this as springboard to give them a boost and motivations ahead of the clash against the I Rossoneri. Ac Milan have been quite dominant in their head to head matches winning 12 matches out of 22 matches played between them, while the Rossoblu only have just managed just 6 times. Rossoblu are on a quest today to beat Ac Milan both is certain the Both managers are desperate for a win here, but the favorite still remains the home team, and they might probably rely on the fact that Genoa have only won once at Milan in the 12 games played from September '93.
Ac Milan have get back to winning ways by beating Sampdoria 3-2 in a hard fought and entertaining match. Ac Milan before the win against Sampdoria have lost 2 games consecutively in the italian seria A. The Ac Milan manager Gattuso seems to have serious issues with his center backs because the team concedes a few cheap goals and the defenders aren't helping at all. Last Sunday's 3-2 win vs Sampdoria was a good sign for the I Rossoneri, when they were down 2-1, the team seems to get the best of cohesion across all areas of the pitch, and they where really quick to recover and manage to overturn the 2-1 by winning the game.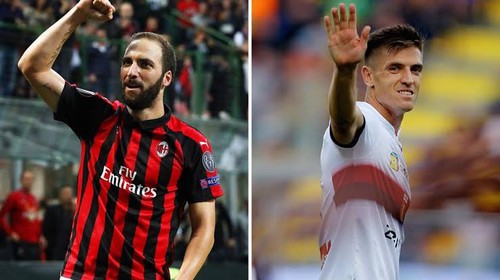 The both teams will have an eye on their in-form Strikers Gonzalo Higuain and Krzysztof Piątek who are both scoring goals freely for their respective clubs. Genoa's Forward Krzysztof Piątek has been enjoying a stellar start to his Seria A debut since his move this summer from the Polish side Cracovia, the young lad has scored a whooping 13 goals in just 10 matches, with 9 goals in the league and 4 goals in the Coppa Italia. Higuain on the other hand, have been pretty much a strong force when playing against Genoa, The Argentine has a fine record against them overall, with him scoring six times in eight meetings. The Argentine forward have scored 7 goals so far this season for the Rossoneri since his move from Juventus this summer, with 5 goals in the league and 2 goals in the Uefa Europa league.

PRE-MATCH FACTS:
Genoa have scored in all of there matches this season.

Genoa have won only one point against AC Milan in their last three Serie A meetings

AC Milan have conceded goals in each of their last 15 Serie A games

AC Milan have netted 18 goals in the current Serie A season.

PREDICTION
The both teams have been involved in a seria a match on last Sunday, with both teams notching a high scoring game, so for this game, there will be a goal fest between them. Serie A this time round has been full of goal gallores between average teams. Genoa have scored in all of there matches this season. Ac milan have also conceded in over 80% of there matches at home so far this season, Backing both team to score sure looks promising and also a safe bet considering how miserable Milan's Defense are and they will likely concede in this match too.
MY PICKS:
Over 2.5 Goals @ odds 1.664

Both teams to score @ odds 1.88
Over 3.5 cards @ odds 1.61
Ac Milan to get the most cards @ odds 2.97
BEST OF LUCK