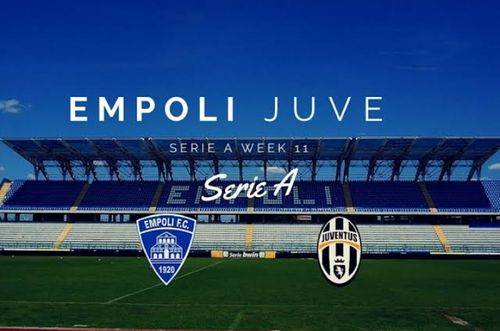 The match between Empoli v Juventus will surely bring a lot of options for betting opportunities and it will be a fun match to watch because ever since Cristiano Ronaldo joined them in the summer, they have been undoubtedly playing an exciting football and also the fans have been coming out hugely in numbers just to catch a glimpse of the player who has won almost anything it is to win in the Game.
Juventus will look to rebound after that surprised 1-1 draw to the I Rossoblu(Genoa) in the League game, by playing against the 18th position Empoli, who are the 3rd worst team in the league with only 6 points from 9 games played in the league so far. Empoli have only managed to win only 1 game at home, and that was against Cagliari who are also having a poor start to the season with 6 points.
Despite that, Juventus are just 4 points clear from Napoli who are looking to be the only corrival in the Seria A League, Juventus will definitely wanna get more points and take this match against Empoli seriously to avoid what happens against Genoa to repeat itself. And coming to this game vs Empoli, the Old Ladies where on the back of a very good performance in the Champions League, where they won 1-0 against Manchester United, so they will look at being more expressive in attack and they sure will be having a high hopes of beating Empoli easily.
The Azurri have not tasted any victory since that win against Cagliari, and after 8 matches played without winning a single game, they will try and beat Juventus, who have been pretty dominant in their previous head-to-head matches but that won't stop them from getting an unlikely results against the Old Ladies because they will be looking to an inspiration which helps them to record a famous 2-1 victory in front of their own fans in the Coppa Italia back in December 2007.
PREDICTION:
Empoli v Juventus is just a great match to stake on and you will probably be withdrawing some quick cash today. Juventus is the big favorite to win this match and with the look of it, it sure looks certain that the Old Ladies will be winning this match with ease by scoring probably 3-4 goals and likely I'm tipping them to do a clean sheet because all the players are highly motivated for this game. Backing the Old Ladies to score 3-4 Goals is because the Juventus manager, ''Allegri'' do have reserved players from each position who always make a difference when they are introduced to the match and also with Cristiano Ronaldo upfront, they sure look to be scoring with ease, and also he will try to score against Empoli this evening and close the gap on the current Seria A top scorer Piatek who has managed to score 9 goals in 9 matches compared to Cr7 5 goals growing tally.

PRE-MATCH FACTS:
Juventus have won their last 6 matches against Empoli in all competitions.

Juventus have scored at least 2 goals in 5 of their last 6 matches against Empoli in all competitions.

Empoli have failed to win a single game in their last 8 previous matches.

Juventus forward Cristiano Ronaldo is taking the most shots per game in Serie A and across Europe's Top Tier Divisions.

Empoli team is considered the third aggressive team in Seria A, with 20 yellow cards and one red card in 9 league fixtures so far.

MY PICKS:
Over 2.5 Goals @ odds 1.664

Juventus to win @ odds 1.30

Empoli to get the most cards @ odds 1.90

Over 2.5 toatal cards @ odds 1.46

Race to 3 goals, Juventus @ odds 2.65

Cristiano Ronaldo to score a goal at anytime @ odds 1.80