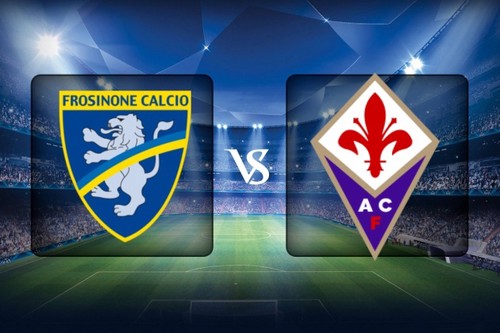 Frosinone and Fiorentina face off at Stadio Comunale Matusa, in a match that promise to be a very good game to bet on, with a lot of market options to choose from.
Fiorentina head into this match after a 3 consecutive draws in the league, making it their 4th draw in the last 11 matches. After 4 wins and 3 losses, the away team Fiorentina are currently seating on 8th position in the league standings, having won 16points so far since the start of the 2018/19 season. La viola previous match against AS Roma was a hard fought game, and they sure looks to be getting away with a win, after 3 matches been played without a win. J. Veretout gave them the lead in the first half through a penalty which was neatly converted, to make it 1-0 in the 35th minute. But they were quite unfortunate, in the 85th minutes, they were punished by AS Roma Versatile defender, A. Florenzi who made sure LA Viola will be without a win in Four(4) consecutive matches by securing a draw for his team with a sublime finish. They sure will be looking to get that result behind them today by trying to win against Moreno Longo struggling side Frosinone who have managed just 1 win in 11 matches played in the Seria A so far.
The home team Frosinone are currently in the 19 position on the Seria A table Log, with just 6 points won so far, after 1 win, 3 draws and 7 losses. Moreno Longo team have been an high scoring team of recents, notching 9 goals,in their last 5 matches played but Defensive consistency hasn't Defensive consistency hasn't been their best feature of yet, as they have conceded 9 goals in their last 6 matches played, but they are quite good offensively.
Frosinone head into this match after a disappointing draw game against parma. They really dominate the match but they were just unlucky to get a win, though they had a lot of chances to score and it does look like they will be winning the match when the home team Parma got a Red Card in 61st minute, but unfortunately they were not lucky enough in front of goal. Fiorentina also has defensive issues and so it is important to highlight that they also show great difficulties defending their opponent's counter attacks, with that in mind the Home team Frosinone will surely try and capitalize on that coming to this game tonight.
PRE-MATCH FACTS:
Fiorentina are unbeaten in their two Serie A meetings against Frosinone

Fiorentina have managed three(3) consecutive 1-1 draws in their last thre(3) matches played in the Serie A – the Last time they shared four draws in a row was in December 1996

Frosinone are one of only two Serie A sides yet to concede a headed goal in this campaign (along with Inter).

Frosinone have failed to win 10 of their last 11 matches.

This will be the third Serie A meeting between the two sides.

PREDICTION:
Though the away team Fiorentina are far better than the home side Frosinone. And they are in better form this season so I believe Fiorentina has a great advantage over the home side with their experience and with the fact that they have had a success rate when playing against this Frosinone side, with them winning 2 out of 3 matches played between them, with just a draw 0-0. Its safe to say that this game won't probably be an high scoring event, so my tip is to bet on the Under market.
MY PICKS:
Under 2.5 Goals @ odds 1.890

Fiorentina to win @ odds 1.80

Fouls - Under 28.5 @ odds 1.99

Shot on targets - Under 9.5 @ odds 1.768